New York City
Cabán leads Queens DA race, but Katz demands recount
Cabán leads Queens DA race, but Katz demands recount.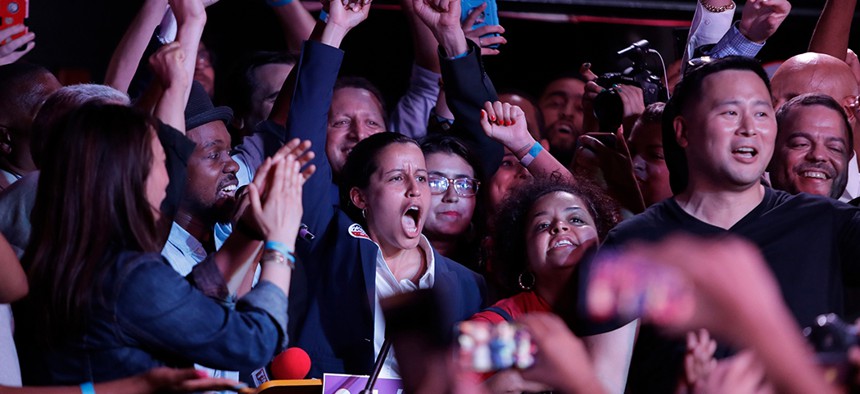 Tiffany Cabán appears likely to have pulled off an impressive upset. The public defender and banner-holder of the anti-establishment progressive movement in Queens led Queens Borough President Melinda Katz by 1,090 votes – or 1.27 percentage points – with more than 98 percent of the votes tallied late on Tuesday night for the Democratic nomination for Queens district attorney.
That was enough for Cabán. "Tonight," she said on stage at her election night party at a nightclub in Woodside, "we won the Queens district attorney's office."
But the race hasn't been called yet. Katz hasn't conceded, and she called for a recount when she spoke at her election night party in Forest Hills shortly before Cabán.
A Cabán win in the Democratic primary would be a dramatic turn of events in favor of decarceral policies she has pledged to enact as the county's top law enforcement officer. And it could shake up politics in the borough even more, further signalling the weakening of the political machine and its traditional power base in the Queens County Democratic Party. The county party organization and much of the political establishment backed Katz. 
At Katz's party, Queens County Democratic Party Chairman Rep. Gregory Meeks took to the stage. "This thing ain't over folks," he said to the crowd. "Every vote will be counted." 
Moments later, Katz echoed his promise. "I want everyone to know," she said to the beyond-capacity crowd at Banter, an Irish pub. "We are doing a recount."
Queens has largely been resistant to progressive, anti-establishment candidates in the vein of Cabán. Bernie Sanders didn't win the borough in the 2016 presidential primary. Neither did Cynthia Nixon in the 2018 gubernatorial primary, or Jumaane Williams in the 2019 New York City public advocate special election. Until now, Rep. Alexandria Ocasio-Cortez's upset victory in last year's congressional primary was the exception. Her district spans parts of both Queens and the Bronx – and the gentrified liberal precincts in western Queens that delivered Ocasio-Cortez's victory made up a larger share of her district than they do of the borough as a whole. 
But the progressive coalition that helped elect Ocasio-Cortez appears to have been victorious boroughwide Tuesday night. Cabán had strong support from the Democratic Socialists of America, the Working Families Party and Ocasio-Cortez herself. Her campaign attracted donations from across the country, with just 15% of her $450,000 in campaign contributions coming from Queens, according to The New York Times. Last week, she was endorsed by U.S. Sens. Bernie Sanders and Elizabeth Warren – the two leading presidential candidates of the Democratic field's left flank. The national attention was backed up by a strong ground game, with an army of volunteers fanning across the borough knocking on doors. In western Queens, many residents reported being visited multiple times by Cabán volunteers and never once by representatives of any other candidate. 
That vote total was quite low – less than 90,000 in all, or just over 8% of the borough's 766,000 active registered Democrats. That's well under the 100,000 or so votes that experts predicted, and may have been kept down by the morning's rainy weather and the afternoon's muggy heat. 
Gov. Andrew Cuomo, a Katz supporter and establishment veteran who carried Queens by a wide margin in last year's gubernatorial primary, predicted exactly this possibility on Monday, when he warned that low turnout might favor Cabán.
Striking geographic difference in vote strength b/w Katz and Cabán #QueensDA #nycprimary (Draft map based on unofficial @BOENYC night-of results, w/98% reporting.) pic.twitter.com/gbyM2dZD6l

— Steven Romalewski (@SR_spatial) June 26, 2019
Cabán struck a defiant tone Tuesday night as the first-time candidate declared victory over Katz, who has held elected office in Queens on and off since 1994. 
"When we started this thing, they said I was too young," the 31 year-old Cabán said. "They said I didn't look like a district attorney. They said we couldn't (build from the grassroots). They said we couldn't win, but we did it y'all."
Katz's campaign clarified late Tuesday night that there would not be a recount in the traditional sense – the vote margin was too large for that, at over 1%. But Katz's campaign was waiting for every vote to be counted, including the 3,400 absentee ballots, which would make up more than 3% of the vote total. 
Ed Wallace, an attorney from Greenberg Traurig and former colleague of Katz at the law firm, told City & State that he'd expect Katz to have somewhat of an advantage in the absentee ballots, since the voters who fill them out tend to be older, and more likely to support Katz. (They also were often filled out before Cabán received her late-breaking endorsements.) Still, absentee ballot results are rarely radically different from the race as a whole, and Katz has more than a 1,000-vote margin to make up. 
Katz has been here before. When she ran for Congress in 1998, Anthony Weiner led by fewer than 300 votes on election night. She didn't concede until after a recount. "Think about how different history would be if I'd beaten Anthony Weiner," she told City & State in an interview this month, more than 20 years after that election. "He beat me by 398 votes."
The winner of the Democratic primary is all but guaranteed victory in the deep blue borough against Republican attorney Daniel Kogen in November.
With Katz facing an apparent loss Tuesday night, some supporters looked for a silver lining. "(Katz) still keeps her day job, so that's good," an unidentified supporter was overheard saying at Katz's event. "Maybe this woman (Cabán) will suck!"
With reporting by Erica Scalise and Ethan Stark-Miller