New York City
Cabán likely to face pushback within Queens DA's office
If she becomes Queens district attorney, Tiffany Cabán will have to manage career prosecutors and other staff who may not welcome the young progressive's "decarceral" policy agenda.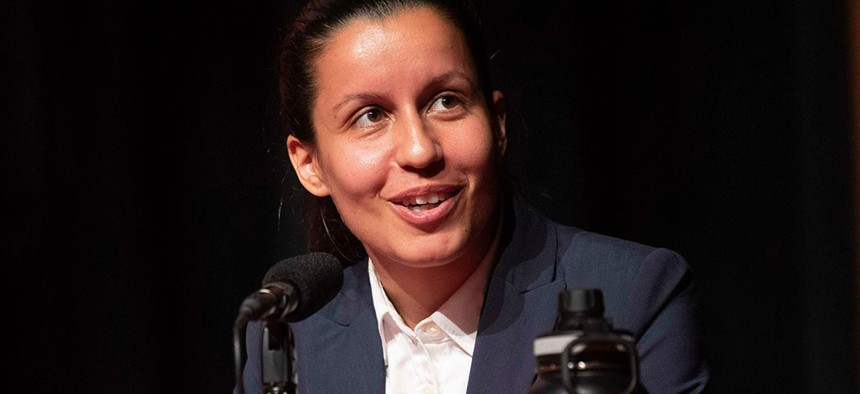 Tiffany Cabán is likely to become the next Queens district attorney, but the 31-year-old public defender will still have tough task ahead of her. Upon taking over the office, assuming she maintains a lead over Melinda Katz in the Democratic primary vote tally and wins the general election, Cabán will have to manage career prosecutors and other staff within the office who may not welcome the young progressive's policy agenda. 
Several former prosecutors in the Queens and Brooklyn district attorneys' offices said that Cabán's transition will include certain turnover within the office. "I'm sure a bunch of people there who have been there their entire careers, who never anticipated or thought about new leadership – particularly leadership like this – they're going to look to get out," said Kenneth Montgomery, a former assistant prosecutor in the Kings County district attorney's office, who now teaches at Fordham Law School and Brooklyn College. Referring to the longtime Queens DA who recently passed away and a more conservative candidate in the recent primary, Montgomery added, "there are loyalists: there are Richard Brown loyalists, there are Greg Lasak loyalists, there are loyalists to the Democratic Party and there are people who are not with a public defender coming in, saying that the things that they were doing may not have been the best way to do things."
In any DA's office – though perhaps especially in Queens, which hasn't seen new leadership in nearly three decades – the prosecutors and other staff may not go along with Cabán's "decarceral" policies, such as not prosecuting many minor offenses. This may be especially so because Brown was, by New York City Democratic standards, a more punitive, law-and-order focused prosecutor. "You're talking about a traditionally conservative office, where people, they don't see don't see the causal relationship between race and poverty and prosecution," Montgomery said. "They are going to be resistant to anyone who is coming along and interrupting that (system)." 
While Cabán will likely have to let some of those people go, some departures could happen voluntarily, according to Eugene O'Donnell, a former NYPD officer and former prosecutor in both the Queens and Kings counties district attorney's offices, who is now a lecturer at John Jay College of Criminal Justice. "I'm sure there'll be a bunch of voluntary departures and retirements, knowing some of the people in Queens, some of those people will never work with her, I don't think," said O'Donnell, who added he didn't support a specific candidate in the Queens DA Democratic primary. "They're from Mars and she's from Venus. I'm sure people will leave." 
Cabán would be the second current female district attorney in New York City, joining Darcel Clark in Bronx County and the first openly gay district attorney in the city's history. 
Hermann Walz, a former assistant district attorney in both Queens and Kings counties, however, said that there may not be a widespread exodus. "There's a lot of people, mid-level management, for whom this is a job, they're waiting for their pensions, they're going to stick it out and say, 'Well I'll just sit here and do my job and see what happens,'" said Walz, who is now a lecturer at John Jay. Still, that doesn't mean that the whole office will embrace her. "Some people are not going to like her in the office no matter what," said Walz. "They'll be jealous. She's younger than most people, you know. Bear that in mind. And there's a lot of people there who think they're smarter than everybody else. A lot of people probably are more knowledgeable about the law, etc. than her. But she won, so she's the boss."
Other cities across the country have seen similar dynamics play out when a progressive enters the DA's office, including in Philadelphia, where Larry Krasner was elected district attorney in 2017 and in Suffolk County, Massachusetts, where Rachael Rollins took office in 2019. For Krasner – who, along with Rollins, endorsed Cabán – the first week in office included the ousting of 31 prosecutors, with 139 employees leaving in 2018. "I think that Krasner is (Cabán's) hero, and I think Krasner cleared out his office in Philly," O'Donnell said. "So I would expect the same thing to happen. The people in the Queens DA's office are career prosecutors. These are people that tend to be very serious, committed long-term professionals. And I don't see them having much of an appetite to work with somebody that comes out of the blue."
With high turnover, however, comes the risk of losing experienced professionals with institutional knowledge and expertise. "The Queens DA's office, of all the five boroughs' offices, would have the most seasoned, savvy long-term prosecutors, because I think it's a pretty low-turnover office," O'Donnell said.
Both Krasner and Rollins have received some criticism for parts of their progressive agendas – like bail reform – stalling. Former prosecutors had some advice for what Cabán can do to ensure a smooth transition, insofar as that's possible. "There's a lot to know about being a prosecutor, there's a lot to learn. Typically, even people that consider themselves to have her kind of politics learn, sooner rather than later – or later rather than sooner – that public safety is actually a balancing act," O'Donnell said. "You can't have a cult of personality in the prosecutor's office."
Choosing the right people to replace any departing staff will also be crucial. "I think you should be surrounding yourself with intelligent people with experience and perspective," Montgomery said. "If you want to be doing some of the things that she's doing, it has to be people who have tried cases… and people who can get things done, who understand how the judiciary works."
While Cabán no doubt has a throng of enthusiastic supporters who would want to help implement her vision, they may not be the people to choose for the "nuts and bolts" work of the office, according to Walz. "Somebody has to get up and write the cases, somebody has to hire the people, somebody has to decide what cases and what are the plea bargains, etc. That's probably the part she doesn't know most of all. Who does what and how," said Walz, who was hired in the Queens DA's office by Greg Lasak – who was an assistant district attorney in the office at the time – and said he "loosely" supported him in the Democratic primary. "(For) the nuts and bolts, you can find somebody who doesn't necessarily care what the agenda of the office is to say, 'this is how it should run and this is what I should do.'"
But resistance from personnel may be offset by some of the circumstances that are more conducive to criminal justice reform than a few decades ago when Brown took office. "(It's) a new era and a new day, there's new technologies and less crime," said Walz. "It's an opportunity to reinvent the office entirely."