New York City
Fact-checking the debates for Queens district attorney
City & State fact-checked some of the claims made by Queens DA candidates in the back-to-back debates that took place this week.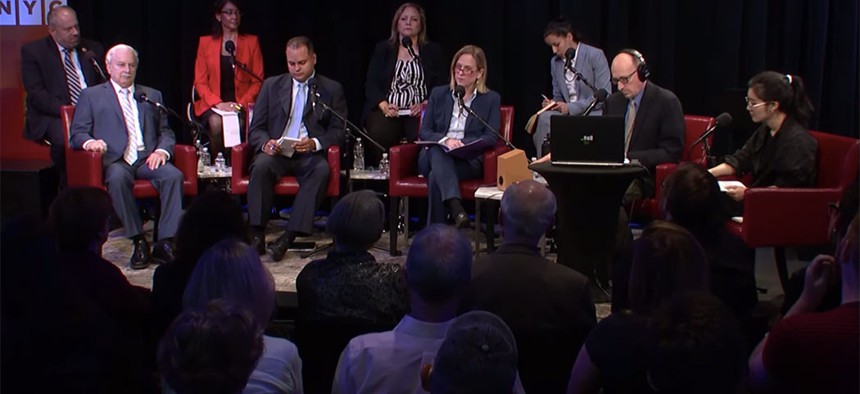 The seven Democratic candidates for Queens district attorney have been challenging each other's records for months in a series of small debates and forums. But this week they hit the big time, with back-to-back broadcast forums, on Tuesday night on cable station NY1 and on Wednesday morning on public radio station WNYC.
The candidates mostly stuck to their own records in the two debates. Nobody even took the bait when, during the WNYC debate, co-moderator Christine Chung from The City asked the candidates a question that seemed designed to ruffle feathers: "(Candidate Tiffany) Cabán has a "decline to prosecute" list of certain crimes. … Who disagrees with any of those?"
Instead, as usual in this contest, there was a lot of agreement on the issues. But the debates weren't total love fests, and one candidate got more than her fair share of attacks: Queens Borough President Melinda Katz, who has a target on her back thanks to being the presumptive frontrunner. So City & State took a look at some of the candidates' claims, against Katz and others, that deserved closer scrutiny.
Claim: Katz couldn't answer a simple question about grand juries.
Debate response: Mina Malik, who previously worked as an assistant district attorney in Queens, sought to highlight Katz's lack of experience in criminal court in Tuesday's NY1 debate. "Can you tell us, and describe for us," Malik asked, "the number of grand jurors that you need, and what constitutes a quorum, and what number you need to return an indictment?"
"You could do it in New York with 12," Katz responded, "but that's not really the issue." She then pivoted to discussing her record as an elected official.
At the WNYC debate Wednesday, Malik brought up the previous night's exchange, saying she had asked Katz "a simple question about basic criminal law in terms of grand jury practice, and she couldn't answer it."
Katz responded that 12 people have to vote and 16 people make a quorum, then said Malik's "gotcha attitude" wouldn't work in the district attorney's office.
Fact check: Katz, the only candidate in the race without some experience in criminal court, apparently didn't want to get into the details of grand juries. But her initial response – "You could do it in New York with 12" – did correctly answer the part of Malik's question about the number of jurors needed for an indictment. According to the state's 2017 Grand Juror's Handbook, grand juries have 23 members, 16 jurors constitutes a quorum for deliberating or hearing evidence, and at least 12 jurors must agree to return an indictment.
Claim: Katz shifted her position on cash bail.
Debate response: When asked on NY1 for her position on a new state law limiting the circumstances in which judges can ask for cash bail from a defendant, Katz was clear: "Under my administration, we will have no cash bail."
Later, New York City Councilman Rory Lancman accused her of changing her tune. The councilman said Katz previously supported only limiting cash bail, and not its outright ban in both misdemeanor and felony cases.
"The borough president has put out palm cards saying that she supports ending cash bail for low-level misdemeanors, or on her website, ending cash bail for non-violent felonies and misdemeanors," Lancman said. Directly asked by NY1 reporter Bobby Cuza if she had changed her position, Katz said "no."
Lancman pushed again on the topic, and Katz said that "it may have been on the palm card," but insisted that she has been clear about "no cash bail" since the first debate.
Fact check: Katz has clearly shifted her stated position on cash bail. When Katz launched her campaign on Dec. 4, 2018, the Queens Daily Eagle, the New York Law Journal and the Queens Chronicle reported that she supported ending cash bail only for misdemeanors, but not for all felonies. That month, Katz tweeted that she would "End cash bail on all misdemeanors and non-violent felonies."During the NY1 debate, Lancman's campaign tweeted a photo of an undated Katz palm card saying she would "end cash bail for low-level misdemeanors." Cabán campaign spokeswoman Monica Klein also tweeted a video during the debate, allegedly taken in January, of Katz saying, "If it's misdemeanors, I'm not going to ask for bail." Additionally, Katz submitted a questionnaire to the left-leaning criminal justice reform group 5 Boro Defenders in January in which she wrote, "I will not seek cash bail for any misdemeanors, and I would advocate for broader state legislation to end to cash bail for misdemeanors."
Asked to clarify, Katz campaign spokesman Grant Fox pointed to examples of Katz saying she wanted to "end the practice of cash bail" from the beginning of the campaign. City & State initially changed this story to reflect that, but further research confirmed that, in the early months of the campaign, Katz was clear in her support about ending cash bail only for misdemeanors and non-violent felonies.
Katz was still clear about ending cash bail only for misdemeanors at a March 12 forum. But her position seemed to have shifted some time around April 1, when the state Legislature passed a bill legalizing exactly what she supported – the elimination of cash bail for most misdemeanors and non-violent felonies. Two days later, her campaign told Qns.com that Katz supported "eliminating cash bail altogether." She seems to have been consistent since then, saying that she as district attorney would not ask for cash bail in any case. More recent palm cards say she would "end cash bail completely," as does her campaign website.
Claim: The late Queens district attorney had a "punitive, carceral mentality."
Debate response: The late Queens District Attorney Richard Brown, who died in May, was not able to respond to Lancman's comments on NY1 that his "approach to addressing crime was shaped entirely by a punitive, carceral mentality," but Lancman defended that with a statement that could be checked: "Today, Queens sends more people charged with misdemeanors to Rikers Island than any other borough."
Fact check: That statement is true, according to data provided by the New York City Department of Correction. As the Daily News reported in May, the Queens district attorney's office sent more misdemeanor criminal defendants to jail in 2018 than the prosecutors in the other boroughs. Manhattan and Brooklyn both send more people in total to jail, because of a higher proportion of felony charges, but Queens is in the lead for misdemeanors.
Claim: Katz mischaracterized her criminal justice record.
Debate response: During the NY1 debate, Katz proudly said she has "a history of doing criminal justice reform." But Cabán took issue with that, saying, "Katz has co-sponsored legislation that praised the 1994 crime bill that contributed to mass incarceration," and "has voted and supported for increasing penalties for low-level offenses like graffiti."
Fact check: When she was a New York City councilwoman, Katz was one of 16 sponsors of a 2002 resolution calling on the federal government to continue providing funding for NYPD officer salaries. That grant program was created as a result of the 1994 federal crime bill, and while the resolution that Katz co-sponsored did say that the funding helped reduce crime in the city, it would be a stretch to say that it praised the crime bill as a whole.
As for graffiti, Katz was one of 22 sponsors on a 2003 law that increased penalties for people repeatedly convicted of graffiti-related misdemeanors. Two years later, she was the lead sponsor of a law to make people convicted of doing graffiti take part in graffiti-removal programs as part of their sentencing.
Katz's campaign countered with other examples of her record on criminal justice reform, like the 1996 law she sponsored as an assemblywoman to extend the statute of limitations for cases of sexual abuse against a child and a 1996 law increasing penalties for certain crimes against the welfare of a child. Her spokesman Grant Fox also pointed to Katz holding warrant forgiveness events and legal clinics for immigrants as borough president.
Claim: Lasak helped exonerate 20 men and Malik exonerated 26.
Debate response: A major part of the campaign of former Supreme Court Judge Gregory Lasak – and indeed his public profile for almost two decades – is that he helped exonerate about 20 men by leading the "wrong man unit" as an assistant district attorney in Queens.
"In the 90s, it came to my attention that there were claims of innocent men in prison," Lasak said during the WNYC debate. "I reinvestigated those cases, on my own, and was able to exonerate over 20 men of color who were wrongfully arrested, indicted or convicted."
At the same debate, Malik touted her work as special counsel to the late Brooklyn District Attorney Ken Thompson. "We established a conviction review unit where we looked at claims of wrongful conviction, and in the five years since we established the unit, we exonerated and freed 26 wrongfully convicted people."
Fact check: Lasak has been consistent in his claims of exonerating over 20 men since at least 2003, when he left the district attorney's office to become a judge. Though Lasak himself has previously called his review work the "wrong man unit," a Lasak campaign spokesman said that name was created by the press, and that it was never an official unit of the office. As for the number, Lasak uses a wider definition of exonerations than some others, including not just those who were wrongfully convicted, but also those who were wrongfully arrested and indicted but freed before trial. Some of those cases are sealed, Lasak's spokesman explained, so they could not provide details about all of them, but the National Registry of Exonerations lists 12 post-conviction exonerations in Queens during the years Lasak worked in the office. And New York Times columnist Jim Dwyer, who wrote a book about exonerations, agreed with the "more than 20" number on Twitter in April.
As for Malik, she was part of a team that created the Conviction Review Unit in the Brooklyn district attorney's office in 2014. She left in 2015, but she was correct in saying the unit has exonerated 26 people, according to press releases from the office – although most were after her departure, with the most recent exoneration coming in May.
Editor's note: This post has been updated to clarify Melinda Katz's evolving stance on ending cash bail.
Powered By
NEXT STORY: The Charter Revision Commission approves 17 ballot initiatives