New York City
A tale of two mayors: Hizzoner vs. Mayor Pete
One is taking the 2020 primary race by storm, the other is Bill de Blasio.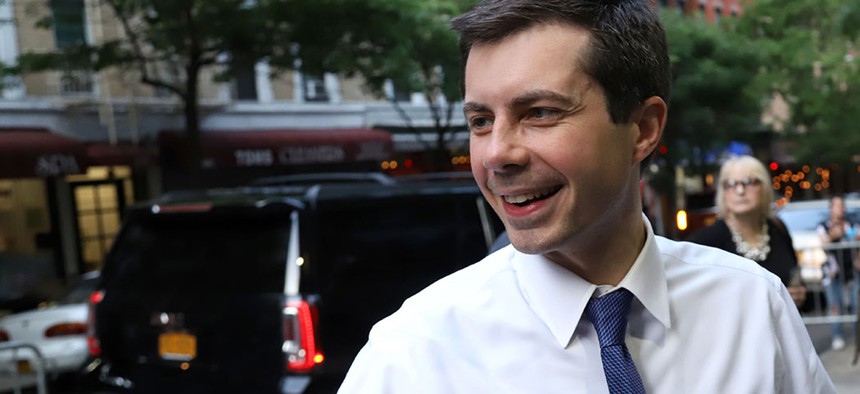 A sitting mayor has never become president of the United States, but that's all about to change according to New York City Mayor Bill de Blasio and South Bend, Indiana, Mayor Pete Buttigieg.
Though neither are currently leading in the polls, it appears de Blasio's big-city background is no match for Mayor Pete's Midwestern energy – at least when it comes to fundraising. Here's the lowdown on the mayoral melee.
Age
Buttigieg: 37
de Blasio: 58
Height
Buttigieg: 5'9"
de Blasio: 6'5"
Marriage
Buttigieg: Married Chasten Buttigieg after coming out as gay at age 33
de Blasio: Married Chirlane McCray who identified as a lesbian in a 1979 essay for Essence
City size
Buttigieg: population of about 101,000 people, as of 2018 
de Blasio: population of about 8.4 million people, as of 2018
Operating city budget
Buttigieg: $386 million
de Blasio: more than $92 billion
2020 Democratic presidential polling (RealClearPolitics average 7/6-7/21)
Buttigieg: 4.8%
de Blasio: 0.8%
Presidential campaign fundraising, second quarter
Buttigieg: $24.8 million from 294,000 donors
de Blasio: $1.1 million from 6,700 donors
Paying for security
Buttigieg: uses campaign funds
de Blasio: uses taxpayer dollars, at least $100,000 so far to fund travel for his NYPD security
Claims to fame
Buttigieg: improved Indiana streets, which resulted in over 1,000 vacant homes cleared and about $90 million put into the downtown area, attracted startups to improve the city's relationship with technology
de Blasio: created universal pre-K and universal school lunch, passed the first and only minimum wage for ride-hailing drivers, passed the Climate Mobilization Act to combat climate change
Bad looks
Buttigieg: His repeated promises to address rampant unemployment have disappointed, with unemployment rates almost twice as high for African Americans and Hispanics than white residents in South Bend.
de Blasio: He promised to address homelessness by increasing the number of shelters, but homelessness has ballooned since he took office.
Race relations and policing
Buttigieg: South Bend's long-standing issues between black residents and the police have reportedly not improved under Buttigieg. At a town hall last month, Buttigieg confessed that the city had not done enough in one breath, and in another said, "We have tried everything we can think of."
de Blasio: After the death of Eric Garner at the hands of the NYPD, the mayor openly discussed the personal impact he felt raising a biracial son, but when the time came for de Blasio to call for one of the officers responsible to be fired, he repeatedly declined and delayed the trial for years, arguably worsening race relations between the NYPD and the city's black residents.
A Lis in common
Buttigieg: Lis Smith served as the press coordinator on Buttigieg's campaign and helped put him on the map, getting him airtime with several national political reporters and almost anyone with a microphone.
de Blasio: Smith worked for de Blasio during his first run for mayor in 2013, advised Gov. Andrew Cuomo, worked as a consultant to the state Senate Independent Democratic Conference and dated disgraced former Gov. Eliot Spitzer.