New York State
Animals employed by New York
And no, they don't receive pensions.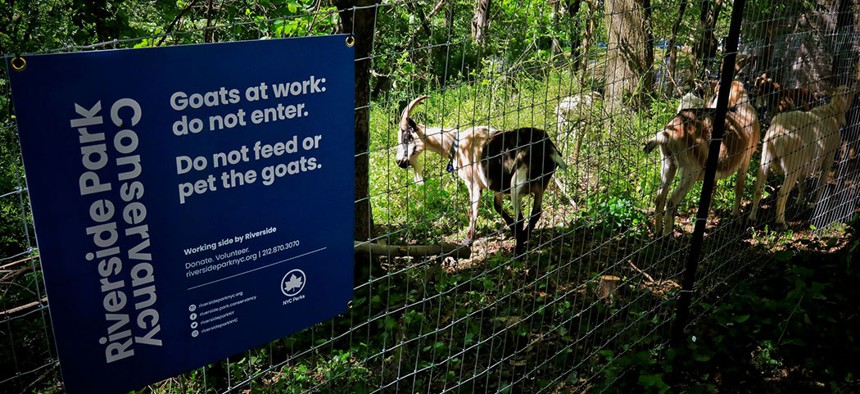 Animals can do many things: provide unconditional love, boost mental health and be put to work. And – just like their human counterparts – nowhere do animals work hard and play hard quite like they do in New York.
From removing invasive plant species growing in New York's parks to keeping city streets safe, animals are employed to improve the lives of numerous New Yorkers – whether they realize it or not. Here are a few of the Empire State's most impressive animal employees.
Weed-eating goats
Gotham means "goat town" in Old English, after all. In May, New York City's Riverside Park welcomed a team of 24 hungry goats – as a part of its "Goatham" restoration project – to eat poisonous and invasive plants, such as poison ivy and mugwort, from the park. Goats were similarly used to weed Prospect Park in 2016. "For them it's an all-you-can-eat buffet," Riverside Park Conservancy President and CEO Dan Garodnick told NY1. "For us, it is critical horticultural care that we need in a part of the park that has proved challenging."
The Canine Unit
Since the state police created its Canine Unit in 1975, dogs have remained important companions and employees on the force. The state's Canine Unit is comprised of 29 explosive detection teams, 57 narcotic detection teams (20 of which have dogs trained in cadaver detection) and four teams of bloodhounds used exclusively for tracking. Typically, Belgian Malinois, German shepherds, bloodhounds and Dutch shepherds are popular breeds on any police force, but in 2016 a pitbull became a police dog for the first time in New York.
New York City has its own crop of canine officers serving the NYPD, divided into five separate K-9 units with roughly 100 dogs in total, as of 2016. K-9 officers were also an integral part of search and recovery work in the weeks following the 9/11 terrorist attacks.
The Mounted Unit 
Scoring a spot on the NYPD's coveted Mounted Unit is surprisingly hard to do. In 2018, 40officers applied for positions on the Bronx's Troop D mounted unit (one of four mounted units in the city) to work alongside the NYPD's equestrian officers, but only nine made the cut. The Mounted Unit, which began in 1858, currently has 55 horses, and its efforts are focused mainly on crowd control, counterterrorism, traffic control, curtailing street crime and public relations. "When someone needs something, a lost child, a crime's committed, they come up to us because they can see us in the crowd," Jason Bernfeld, a Mounted Unit officer, told CBS New York. "They can't necessarily see that foot cop that's standing there. And it's a deterrent. Just like those good citizens see us, those people looking to commit a crime see us also, and they say, 'Oh, well, there's a cop there, and I can see him. I bet he can see me.'"
Therapy donkeys
At SUNY Plattsburgh, a small herd of therapy donkeys were hired in May for Mental Health Awareness Month to help its students cope with end-of-term anxiety brought on by final exams and term papers. The donkeys came from the New York nonprofit Thera-Pets, which uses farm animals to help people quell their anxiety and depression. The animals were brought to SUNY Plattsburgh's wellness fair as a treat for overwhelmed students. "We thought donkeys and a wellness fair would be a fun and creative way to discuss mental health and help our students de-stress," Ashley Durocher, associate director of student support services and student accessibility services at the university, told the school's paper.
Twenty the Dalmatian
The days when Dalmatians used to clear the streets for firefighters headed toward burning buildings have long since passed. But after 9/11, one New York City firehouse welcomed a Dalmatian onto its team. Ladder Company 20 – which lost seven firefighters when the twin towers collapsed – was gifted Twenty the Dalmatian from the Monroe County Sheriff's Office a few weeks after the attacks. Twenty became a beloved part of the team almost immediately. Twenty accompanied the firefighters of Ladder 20 on all of their runs and even made appearances at events held for fallen firefighters to bring some much-needed comfort and levity to mourners. Twenty, a symbol of healing and hope, died in 2016, at the ripe old age of 14, surrounded by the firefighters who cared most for her.
RIP Twenty, thank you for being a loyal friend. Read about her time w/ FDNY #Ladder20 at https://t.co/rvIuDyTpxj pic.twitter.com/F1jyE83nIF

— FDNY (@FDNY) January 5, 2016
Powered By
NEXT STORY: Could Cardi B sway the 2020 presidential election?