New York State
Jeffrey Epstein's New York connections
Hedge fund manager Jeffrey Epstein, who was charged in Manhattan with sex trafficking of minors on Monday, is a native New Yorker with a lavish home on the Upper East Side. Here's a rundown of how he is tied to the city and its elite.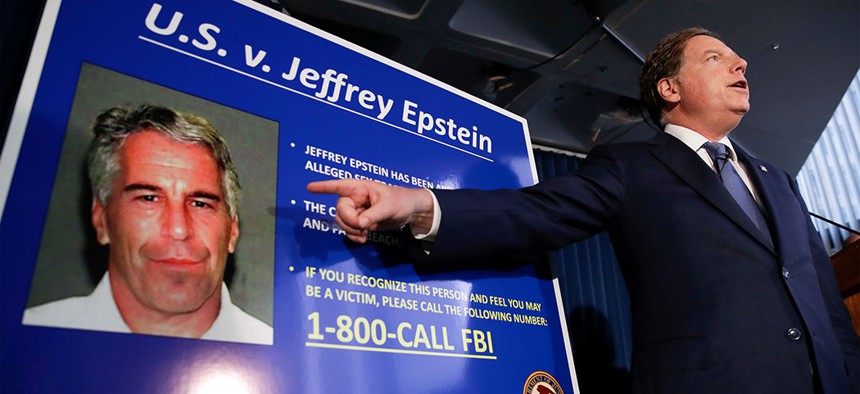 Federal prosecutors in New York City charged infamous mega-rich hedge fund manager Jeffrey Epstein for sex trafficking of minors and conspiracy to traffic minors on Monday. The same day, Epstein pleaded not guilty.
Epstein's is originally a New Yorker. He was raised in Coney Island, taught math at the elite Dalton School on the Upper East Side and worked his way up professionally on Wall Street. Despite running his hedge fund out of the Virgin Islands, he has maintained a residence in Manhattan since 1989. Reportedly 21,000-square-feet and standing seven stories tall, his Upper East Side mansion is one of the largest single-family homes in New York City.
The residence at 9 E. 71st St. is more than just prime real estate. It is now the scene of potentially a series of sexual abuse crimes. The Office of the U.S. Attorney for the Southern District of New York is attempting to seize the property in connection with the indictment. U.S. Attorney Geoffrey Berman said at a press conference Monday that countless photos of nude women were found at the residence. Many of the women are suspected of being underage. 
During Epstein's glory days, when he was being profiled in New York magazine and Vanity Fair, he was known for cultivating a wide web of famous and influential friends. Most of his connections were mysterious and based on rumors, but President Donald Trump and former President Bill Clinton were frequently named among his "collection" of important friends. 
Last year, the Miami Herald published a series focused on Epstein's plea deal for multiple similar charges in 2008 and how Trump's current labor secretary, Alexander Acosta, let Epstein slide, giving voice to some of Epstein's accusers in Florida. (Acosta was U.S. attorney for the Southern District of Florida at the time.) Berman said that the recent investigative reporting about Epstein was important to building a case against him.
Here is a rundown of Epstein's involvement with some of New York's well-known politicians and lawyers.
Donald Trump
In a 2003 article in New York magazine, Trump is quoted saying, "I've known Jeff for fifteen years. Terrific guy. He's a lot of fun to be with. It is even said that he likes beautiful women as much as I do, and many of them are on the younger side. No doubt about it – Jeffrey enjoys his social life." The president and White House have yet to respond to Epstein's arrest.
U.S. Attorney for the Southern District of New York Geoffrey Berman, a Trump appointee, is the lead prosecutor in this case. 
Bill Clinton
In 2002, Bill Clinton – who was living in Westchester County and the spouse of then-Sen. Hillary Clinton of New York – took a trip with Epstein to multiple African countries largely focused on the Clintons' philanthropic efforts. In the New York article, Clinton said through a spokesman, "Jeffrey is both a highly successful financier and a committed philanthropist with a keen sense of global markets and an in-depth knowledge of 21st-Century science. I especially appreciated his insights and generosity during the recent trip to Africa to work on democratization, empowering the poor, citizen service and combating HIV/AIDS."
Cyrus Vance Jr.
Manhattan District Attorney Vance has been in hot water before over high-profile sexual cases, and the arrest of Epstein this past weekend could call attention to another slip up. The New York Post found in April that Vance's office had argued for a lower classification than what was recommended by the State Board of Board of Examiners of Sex Offenders when Epstein registered as a sex offender in New York in 2008. "Our prosecutor made a mistake," Vance's spokesman told the Post. 
Alan Dershowitz
Brooklyn native and Harvard professor Alan Dershowitz is fielding questions about his connections to Epstein, who hired Dershowitz to be a part of his defense team in 2007, when he was facing similar charges in Florida. Dershowitz was part of the all-star team that dug up dirty secrets about a number of Epstein's accusers in Florida and worked with Acosta to negotiate a plea deal that had Epstein serving only 13 months in prison. Dershowitz said in December that Epstein had "called me a couple of times about legal issues, because I'm still technically his lawyer."
Eliot Spitzer
In the 1990s and early to mid-2000s, Epstein donated generously to political candidates. According to New York state Board of Election financial filings, in September 2006 Epstein made two separate contributions to the Spitzer-Paterson 2006 gubernatorial campaign, one for $33,800 and the other for $16,200. Spitzer would become mired in scandal in 2008 after it was revealed he was planning to meet with a prostitute in Washington, D.C.
Alfonse D'Amato
According to Federal Election Commission filings, in 1997 Epstein gave money to Al D'Amato, the last Republican to represent New York in the U.S. Senate. D'Amato became a lobbyist after losing in 1998 to then-Rep. Charles Schumer and recently participated in fundraising for Gov. Andrew Cuomo.