New York State
Swing voters still exist, and matter, in the state Senate
A review of legislative votes and interviews with lawmakers shows that the size of the Democrats' majority has allowed a few different strains of legislators to position themselves as swing voters throughout the session.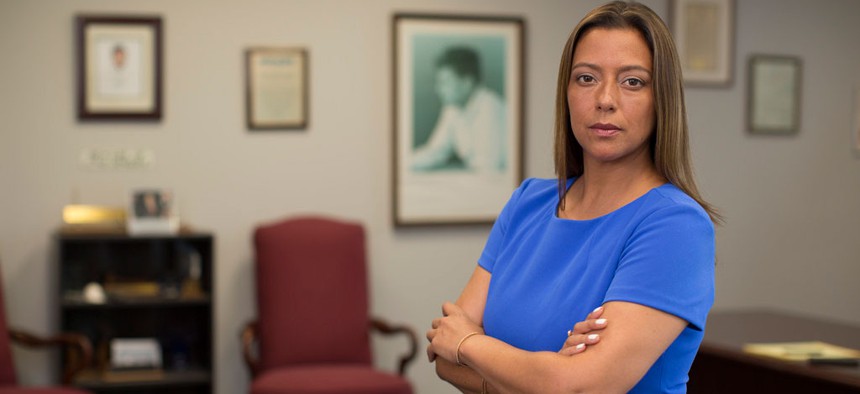 Ever since Democrats took control of the state Senate following the 2018 elections, there has been plenty of talk about where the fulcrum point lies in a Senate majority that includes 39 out of the 63 members of the chamber. The majority of the conference comes from New York City – but its control of the Senate depends on members from Long Island and upstate holding their seats against potential Republican challengers. So swing voters still have sway in the chamber.
These nuances have not prevented Democrats from passing a laundry list of progressive legislation this year with the support of the full conference. But a review of legislative votes and interviews with lawmakers shows that the size of the Democrats' majority has allowed a few different strains of legislators to position themselves as swing voters throughout the session. The most prominent group are the Democratic senators from the suburbs – and sometimes from the outer ring of the outer boroughs – who have voted against the conference when an issue has proved too unpopular for their constituents. Some Republican senators have crossed the aisle at times to show their moderate bona fides. Then there is state Sen. Simcha Felder – a registered Democrat who used to caucus with the GOP and who tried to regain the Democratic majority after the election, but was rebuffed – who has given Democrats an extra vote at two crucial junctures in recent months. 
Democrats began the year by passing bills that had been blocked in past years by a Republican control of the state Senate, including the Reproductive Health Act, which expanded abortion rights. The proposal had widespread support among Democrats, except for one member who opposed the bill for many of the same reasons that Republicans did. "Nobody was talking about the viability of the child and I interpreted the bill to mean that even a viable child could have been aborted," said Queens Democratic state Sen. Joseph Addabbo of Queens. "(Voting against the RHA) turned out to be something that was quite popular in my district." But with 38 Democrats backing the bill in the Senate, Majority Leader Andrea Stewart-Cousins did not have to worry that Addabbo siding with the GOP would affect the final vote. "She respected my views and allowed me to vote no," Addabbo said. 
A similar dynamic played out on other controversial issues that forced Democratic senators to choose between supporting their conference or voting based on their own personal or constituent concerns. State Sen. Monica Martinez of Long Island and state Sen. Jen Metzger, who represents parts of the Hudson Valley and the Catskills, joined Republicans in opposing a bill requiring the stricter storage of firearms in homes. Different four-senator clusters of suburban lawmakers voted against an omnibus rent reform bill and a bill abolishing the religious exemption for mandated vaccines. A bill allowing undocumented immigrants to get driver's licenses was opposed by every Democratic senator from Long Island and state Sen. James Skoufis of the Hudson Valley.
A review of two dozen controversial votes shows that Martinez voted against her conference the most frequently of any Democrat, having done so at least four times this year. But that distinction only tells part of the story of what makes a swing voter in the New York state Senate.
The final vote totals on many of these bills obscured some of the opposition from within the conference. That's because Stewart-Cousins workshopped controversial issues among members before holding a vote, giving lawmakers time to resolve differences. In budget season, suburban and outer-borough lawmakers wanted fare exemptions for their constituents in return for their support of congestion pricing. In the second half of the legislative session, Democrats passed several high-profile bills in the final weeks of the session after extensive discussion and negotiation. A controversial bill ended up making farmworkers eligible for overtime pay after 60 hours, rather than the 40 hours originally proposed. A similar approach was used for climate change, criminal justice reforms and rent reforms, according to Deputy Majority Leader Michael Gianaris. "We would sit around a table at great length, developing a proposal that was then brought back to the larger body for passage," he said. "It allows people to not feel like they're just getting dictated a result that they have to be up or down on." Out of two dozen high-profile bills this year addressing issues such as abortion rights, rent reforms, gun control, climate change and immigrants rights, a City & State analysis found that members of the majority conference bucked the party line only eight times.
But there were at least two times this session when Democrats had to turn to an unlikely source to get a divisive bill through the chamber. This first happened when Felder voted in early April in favor of a bill allowing Westchester County to raise its sales tax. The measure passed by a one-vote margin, allowing most suburban Democrats a chance to say they voted against raising taxes. Felder also provided Democrats with a critical 33rd vote on the bill allowing undocumented immigrants to get driver's licenses. Polls showed that a majority of registered voters opposed the proposals, and Republicans have been eager to use the issue to their advantage. By giving the Democrats a two-vote margin though, Felder's support meant that no one senator could be called the deciding vote on such a controversial issue. Gianaris told City & State that he was not privy to the reasons why Felder gave Democrats his votes on these two bills. Felder did not respond to a request for comment.
Dissenting votes in the Democratic caucus don't only come from moderates. In some cases, Democrats lost a few votes from their left flank as well. State Sen. Gustavo Rivera from the Bronx and state Sen. Julia Salazar of Brooklyn were the only two senators to oppose a permanent cap on property taxes – a top priority for suburban senators. Salazar was also the only Democrat to oppose the extension of the Empire State Commercial Production Tax Credit – a vote that allowed the self-described Marxist to demonstrate her opposition to tax breaks for corporations. 
On the other side, some Republicans voted for Democratic proposals. No GOP senator did this more often than state Sen. Phil Boyle of Suffolk County, who voted in favor of nine prominent bills passed by Democrats, including the Climate Leadership and Community Protection Act, GENDA and a "red flag" bill aimed at taking guns away from people suspected of posing a danger to others or themselves.
There was not a single controversial bill where Democratic and Republican senators crossed the aisle at the same time. "I would certainly say it's easier to part ways with your fellow conference members when you're in the minority, as opposed to when every vote counts for passage of a given piece of legislation," said Boyle, who won reelection last year by a 4-point margin. He and fellow Long Island Republican Sen. Kenneth LaValle were the only Republicans to support the climate bill. 
Not all Republicans who cast votes for Democratic bills came from suburban swing districts. Other Republicans who sided with Democrats on multiple bills include state Sen. Andrew Lanza of Staten Island, state Sen. Fred Akshar of the Southern Tier and state Sen. Betty Little of the North Country. 
With the state Senate firmly in Democratic hands, swing voters have had much less influence this year than in prior sessions when the chamber was more evenly divided between Republicans and Democrats. 
However, the ways in which lawmakers from both parties have chosen to cross the aisle shows that neither conference is monolithic, despite the many times that bills pass along partisan lines. Suburban Democrats – particularly on Long Island – have a more moderate agenda than their counterparts in New York City. Outer-borough senators have asserted themselves at times, and Felder – the only senator without a conference – has shown that he still has value to Democrats, despite their large majority. A comfortable majority has meant that Democrats have been able to pass most of the legislative priorities with ease in recent months, but sometimes swing voters still made a difference.
Powered By
NEXT STORY: Cabán's likely upset and de Blasio's big debate