New York State
Turncoat turns back: Simcha Felder joins Democratic state Senate majority
Letting state Sen. Simcha Felder into the Democratic state Senate conference has advantages for the Democrats as well as Felder, and his key votes issues – like driver's licenses for undocumented immigrants – helped pave the way.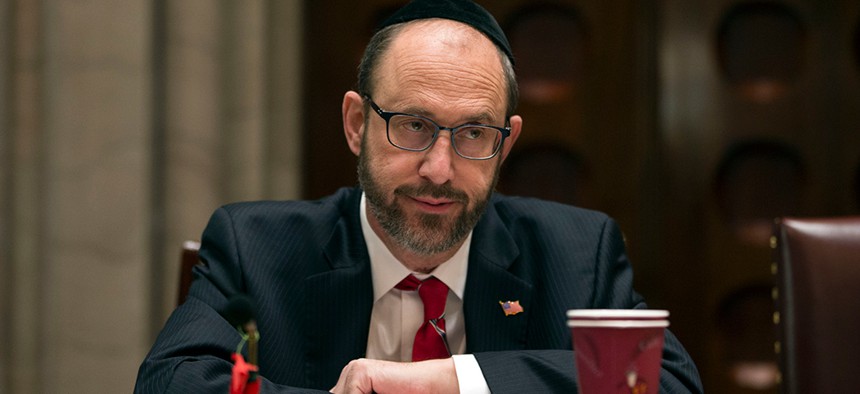 State Sen. Simcha Felder has voted against some of New York Democrats' most cherished legislative priorities in recent months, including the Reproductive Health Act, GENDA and a landmark climate change bill. However, his key votes on other issues, like driver's licenses for undocumented immigrants, have helped pave the way for him to become a Democrat in practice, as well as in theory, for the first time since he first won election to the Legislature in 2012 on the Democratic Party line.
Senate Democrats announced on July 1 that the Brooklyn lawmaker would be admitted into their ranks following the completion of a legislative session in which Felder has slowly worked his way into their good graces after they had rebuffed his attempt to join the conference following the 2018 elections. Felder's past alliance with the GOP – including giving them a one-seat majority in the chamber last year – meant that party leaders were in no hurry to bring him into the fold, especially since their large majority allowed them to easily pass their legislative priorities this year. But after he voted with Democrats on a number of key issues, Senate Majority Leader Andrea Stewart-Cousins said the time has come to add a 40th Democratic senator to the conference, State of Politics reported Monday.
"This year, Sen. Felder joined our Senate Democratic majority in support of many crucial issues, including the strongest tenant protections in history, the new Green Light law, voting reforms and legislation to prevent gun violence," Stewart-Cousins said in a statement. "Accordingly, we will move forward with 40 diverse and united members joined by a shared commitment to continue delivering progressive results for our state."
Democrats had several reasons for allowing Felder to join their conference despite his controversial history and the fact that their Senate majority is safe without him. The announcement came just hours before state GOP leaders gathered in Albany to discuss efforts to make the party more competitive statewide. By adding another member to their Senate conference, Democrats can highlight the diversity of a conference that includes a social conservative like Felder on one side and self-described Marxist state Sen. Julia Salazar on the other end of the political spectrum. The addition of another swing voter could also create some political space for suburban centrists vote against the party line on some issues. By allowing Felder to join the conference, Democrats also get one seat closer to a super-majority in the 63-member chamber, which could help Stewart-Cousins better flex her power against Gov. Andrew Cuomo, whose veto could be overridden by a two-thirds vote of both chambers.
Joining the Democrats also makes lots of sense for Felder. He can now serve on legislative committees and can better secure funding for his constituents as a member of the majority party. His past alliance with the Republicans led to a spirited primary challenge against Felder last year, but unseating him will be more difficult now, especially since he could turn to Democratic colleagues for fundraising help if he needed it. His district is also more likely to remain more or less intact if he sticks with the Democrats through the next round of redistricting after the 2020 census. He was able to pass some of his obscure legislative priorities despite his status as a partisan outcast – like this bill creating a state ID card for people with Crohn's disease or ulcerative colitis to gain access to employee-only restrooms – but being part of the majority party allows Felder to pass bills and be heard on bigger issues.
It remains unclear how Felder, who was previously elected to the New York City Council as a Democrat, will fit in a conference filled with friends and former foes alike. He enjoyed a collegial relationship with many Senate Democrats in the past year, despite his status as a lawmaker without a conference. "Simcha Felder is good for his word," state Sen. John Liu, who appointed Felder as a deputy comptroller during his tenure as New York City comptroller, said in a statement. "I am glad he's back on the right side and hope he stays put."
Among progressives, though, Felder's past could prove challenging to escape. The state Democratic Party passed a non-binding resolution last May calling for Felder to be expelled from the party. Attorney Blake Morris launched a primary challenge against Felder, who had never faced one before during his time in the Senate. While Felder would still win reelection, the fact that Morris was able to win more than one-third of the vote with little money or name recognition showed that Felder was far from invincible at a time when progressive Democrats were aiming to unseat moderate Democrats like Felder and former members of the Independent Democratic Conference – a breakaway group of Democrats that sided with the GOP in exchange for committee chairmanships and other legislative perks.
During his time with the GOP, Felder was one of the most powerful lawmakers in Albany. He used this leverage to secure passage of several niche priorities for his district, including more funding for school buses and a special exemption from state education requirements for Orthodox Jewish schools. He also helped kill bills that would ban plastic bags, increase the minimum wage to $15 and allow undocumented immigrants to access state financial aid.
When the IDC disbanded last year, Felder chose to stick with the GOP, maintaining their one-seat majority in the chamber. Once Democrats won control of the Senate last year, Felder signalled that he was willing to switch sides. Democrats said no thanks.
But, vote by vote, Felder showed in the subsequent months his support for the Democrats' legislative agenda, including votes in favor of a gun control package, rent reforms and a bill expanding labor rights for farmworkers. He also gave Democrats his vote on two controversial bill, proposals to raise the sales tax in Westchester and to allow driver's licenses for undocumented immigrants. Felder – who also ran last year on the Republican Party, Conservative Party, and Independence Party lines – has acquired a reputation as a transactional politician. For his first three terms, he calculated that deals with Republicans were the best way to advocate for his constituents. Now, the tables have turned, and Felder – deftly, as always – has turned with them.