New York City
Could MMV's congressional run hand Rubén Díaz Sr. the seat?
The oversaturated pool of progressives could benefit the conservative cowboy-hatted councilman.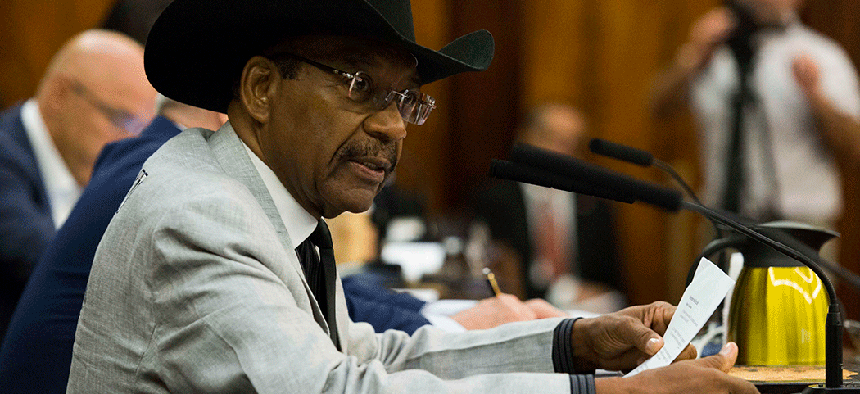 Former New York City Council Speaker Melissa Mark-Viverito announced Tuesday that she'll be joining the five other Democratic candidates vying for Rep. José E. Serrano's congressional seat once his term ends in 2020 – potentially delivering the election to a socially conservative reverend who protests same-sex marriage and wanted to spread the good word of Ted Cruz in the Bronx.
Announcing her candidacy, Mark-Viverito cast herself as in the same mold as New York's young insurgent progressives. "At a time when the norm was being pragmatic, I was being cutting-edge, ahead of the curve, and putting forward progressive policies that set us, as New York City, on a path for us to be a model for others," Mark-Viverito told The City. 
Following the lead of Rep. Alexandria Ocasio-Cortez and state Sen. Julia Salazar, the former councilwoman hopes that refusing donations from the real estate industry and corporate PACs will set her apart from her opponents. Mark-Viverito also says she'll support Medicare for All, fight for better public housing conditions and advocate raising the federal minimum wage to $15 an hour if elected to Congress in a statement published by The Bronx Free Press.
But she's entering an already crowded field: Bronx City Council members Ritchie Torres and Rubén Díaz Sr., Assemblyman Michael Blake (who came in fourth place, following Mark-Viverito, in the recent New York City public advocate race), Tomas Ramos, a program director at the Bronx River Community Center, and Jonathan Ortiz, a financial counselor at the nonprofit Phipps Neighborhoods, are also running for the seat.
The 15th Congressional District is overwhelmingly Democratic, with around 293,000 registered Democrats and 14,000 Republicans – but that doesn't necessarily mean that it'll be easier for her to win. 
It's possible the crowded pool could split the progressive vote, making socially conservative Democrat and cowboy hat aficionado Díaz's unlikely chance of winning the race just a little more likely.
The councilman has had his fair share of controversies over the years, like when he claimed he wouldn't report sexual harassment if he witnessed it because it would make him a "rat," or that time he said that the "homosexual community" was controling the City Council. But Díaz also has a history of effectively bringing funding back to his district, and has promised to lower prescription drug costs for senior citizens if elected to Congress, which could make him an appealing candidate to many in the district. 
"That particular district has an aging Latino population that is more socially conservative in some ways than the general New York City population," an anonymous Bronx political insider told City & State back in May. "I think it's clear there is some viability for Díaz in this race, especially if there's like 15 candidates and they all split up the progressive and moderate votes, and split up all the African American votes. He has a chance of sliding in with the higher percentage, almost like the Eric Ulrich effect in the public advocate's race," referring to Republican City Councilman Eric Ulrich's second-place finish in New York City's packed public advocate race.
Plus, Díaz has the home court advantage of living in and being from the Bronx. Mark-Viverito served a portion of Serrano's Bronx district as councilwoman but lives in East Harlem.
When asked by The City why she decided to enter the crowded race, Mark-Viverito said that the recent political uprising in Puerto Rico that led to the ousting of Gov. Ricardo Rosselló – who made derogatory comments about her in leaked group chats that ultimately led to his downfall – "crystallized the need to step up."
Powered By
NEXT STORY: Cabán concedes to Katz in Queens DA race