New York State
Everybody just has a great time at the State Fair
Elected leaders do their best to show how much fun they had.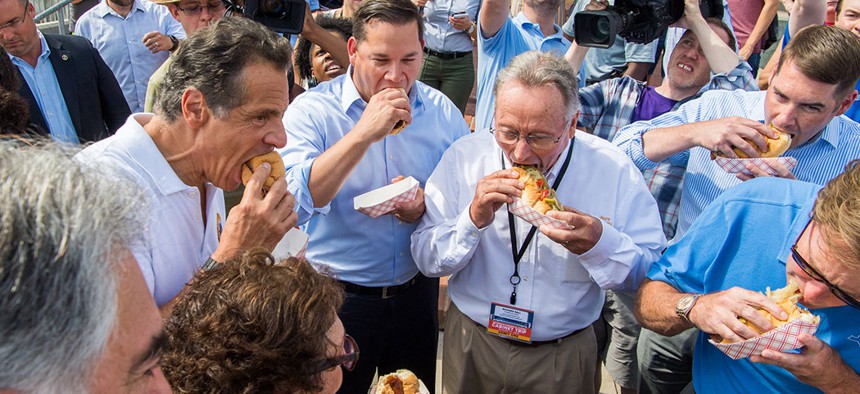 The 2019 New York State Fair will end Sept. 2, but don't worry if you're not going to make it. The fun will live on through the social media posts of the elected leaders who have been doing their darndest to show just how much they love schlepping to Syracuse in the August heat. 
Here are some highlights.
This is the "Summer of Andrew" – haven't you heard? 
Maybe the Legislative session didn't end exactly as the governor would have liked – but since then, the summer has been all Andrew. The governor brought quite an appetite to the fair after a busy summer of bill signings, fishing, ziplining and bridge-opening. He replenished his strength with some milk shots and sausages as he glad-handed his way across the fair.
Proud to kick off the 172nd Great New York State Fair today! Thanks @Amtrak for the decked out train ride.

Every year the Fair gets better and better! Come and celebrate all NY has to offer: great food, exhibitions, entertainment — even a butter sculpture. Open until Sept 2. pic.twitter.com/lQL9RIBUMy

— Andrew Cuomo (@NYGovCuomo) August 22, 2019
Amtrak is comfy – but don't depend on it.
Cuomo may have taken the decked-out promotional Amtrak train to the fair – but he left by car. Apparently, it's hard to cram in so much fun when the train gives you just just over an hour and a half to take in the sights.
If Capital Region residents are trying to plan a day trip to the state fair in Syracuse, the Amtrak train is not your best bet if you want to spend more an hour there. Earliest train arrives at 1:21 p.m. and latest train departs at 3 p.m. pic.twitter.com/HXPYdSL0N5

— David Lombardo (@poozer87) August 21, 2019
State Sen. John Liu got to show off his pilot's license
We get it, senator. You have the coolest ride in state politics. But aren't you afraid that once you offer one colleague a free ride, everyone else is going to be hitting you up come January?
On our way to Syracuse for the State Fair in a tiny plane with Captain Senator John Liu! pic.twitter.com/5MjMBwgiUS

— Julia Salazar (@JuliaCarmel__) August 28, 2019
Cuomo isn't the only one stuck on sausage
The governor has favored Gianelli sausage for nine years straight. Lt. Gov. Kathy Hochul made sure to add her own stamp of approval before teaming up with Stewart-Cousins for a celebration of the 100th anniversary of women's suffrage.
No visit to the @NYSFair would be complete without trying the famous #GianelliSausage

Great to catch up with Mayor @BenWalsh44 and Assemblymember @BillMagnarelli to enjoy an iconic part of the Fair experience. pic.twitter.com/V7YigmlkDh

— Kathy Hochul (@LtGovHochulNY) August 28, 2019
Democrats raise a (tiny) glass with their Dear Leader
Even at the state fair, Democrats couldn't pass up a chance to mention how much they love state Senate Majority Leader Andrea Stewart-Cousins – and 25-cent shots of milk.
I was lucky to be joined by a number of my Senate colleagues today: Leader @AndreaSCousins and Senators @LiuNewYork, @SenatorMetzger, @JuliaCarmel__, and @LizKrueger for lunch and a tour of the fair! pic.twitter.com/4GvoAMIeyp

— Senator Rachel May (@RachelMayNY) August 28, 2019
@AndreaSCousins, @SRachelMay, @SenatorMetzger, @SalazarSenate and @LiuNewYork cheered and toasted a 25 cent cup of milk! pic.twitter.com/fo6CLuUiJ4

— Morgan Mckay (@morganfmckay) August 28, 2019
Paying homage to King Dairy
New York is numero uno when it comes to the production of yogurt, cottage cheese and sour cream. While Wisconsin and California have the edge in churning out the butter, do their state fairs display such buttery goodness?
It's the butter sculpture! Agriculture is New York's top export with dairy being a huge focus! @AndreaSCousins pic.twitter.com/fWflN9Wx26

— Morgan Mckay (@morganfmckay) August 28, 2019
Cuomo needs to help Heastie punch up his video game
Assembly Speaker Carl Heastie gets credit for showing up, but the country-tinged video his office put out just couldn't measure up to all the baloney-related fun Cuomo was having.
The summer's not complete without a trip to the @NYSfair. I had a great time as always with my @NYSA_Majority colleagues. Check out some of the highlights. #NYStour pic.twitter.com/GyjyotlgNb

— Carl E. Heastie (@CarlHeastie) August 28, 2019
Nice video @RichAzzopardi — but I think I can do one better.

Thanks for being a good sport @JonCampbellGAN #baloney https://t.co/hGV0IDEPCZ pic.twitter.com/1efmyhJfx8

— Andrew Cuomo (@NYGovCuomo) August 23, 2019
Sometimes things get awkward
Just ask state Sen. Gustavo Rivera, who posted about his trip to Syracuse on Facebook, but didn't think to hit up state Sen. Bob Antonacci, who lashed out (OK, in jest) during an appearance on "The Capitol Pressroom." Luckily, Antonacci had another political friend to play with. 
My bad, brother...was only there for a few hours and had to get on the road to Buffalo.

— Gustavo Rivera (@NYSenatorRivera) August 29, 2019
Great to see my friend @NYSComptroller Tom Dinapoli at the Great @NYSFair . He never misses the Fair or Firefighter day and he always stops by to see Mom! She made sure he got a world famous homemade almond past cookie! pic.twitter.com/oTQA2Ar4G1

— Senator Bob Antonacci (@AntonacciCPA) August 27, 2019
Even when it rains, the fun continues
For some reason (maybe he's just a sucker for huge milkshakes?), New York City Public Advocate Jumaane Williams decided to make an appearance. His bid for statewide office fell short last year, but he's building up his political brand statewide – just in case. The sausage options might have been limited for the outspoken pescatarian, but the Brooklyn native put on a smile for his his upstate excursion – despite the weather.
Rain can't do anything to dampen the Great New York State Fair!

Let's go! #NYSFaIr pic.twitter.com/Bn3viNkt8H

— Jumaane Williams (@JumaaneWilliams) August 28, 2019
Getting serious, too
State Attorney General Letitia James reconnected with her often overlooked upstate roots - the Brooklynite once lived in Schenectady - and showed up for a Law Enforcement Day event. The state's top prosecutor took the opportunity to reflect on her first eight months in office.
Today is Law Enforcement Day at the @NYSFair & we gather to honor the lives of all those we have lost in the line of duty.

All of these New Yorkers had one thing in common: their commitment to justice. We are all better for their dedication and sacrifice. pic.twitter.com/3WCxbxcayb

— NY AG James (@NewYorkStateAG) August 26, 2019
Senators MIA?
If U.S. Sens. Charles Schumer and Kirsten Gillibrand made an appearance at the state fair, they didn't post about it in social media – the outrage! Gillibrand of course was busy with other states' state fairs. But Schumer? WTF, this is the guy who visits every county in the state each year – who gives speeches about canned wine, Greek yogurt and cheese! Maybe they're both going to make an appearance over Labor Day weekend. Gillibrand certainly has more time on her hands now.
Correction: An earlier version of this post incorrectly stated that state Attorney General Letitia James did not attend the fair. 
Powered By
NEXT STORY: Is eliminating gifted programs a good idea?