New York State
New York politicians love using personal emails
An increasing number of high-profile New York politicians have been caught using their personal email address for – and New York City Mayor Bill de Blasio is just the latest, but here's why it draws criticism.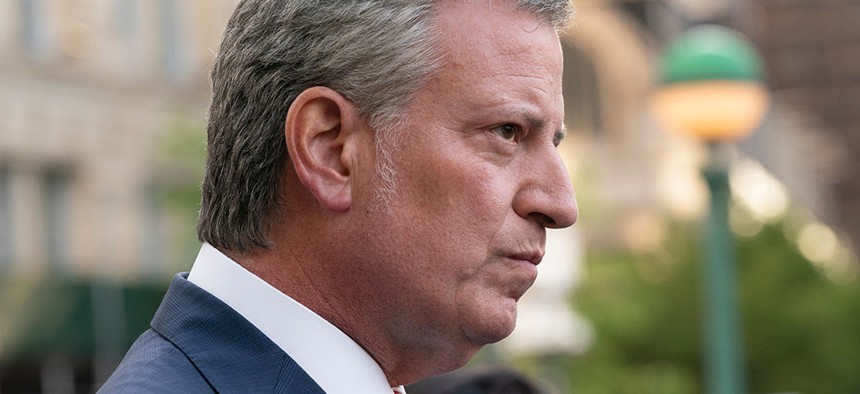 An increasing number of politicians have been caught using their personal email address for – and New York City Mayor Bill de Blasio is just the latest.
The City reports that Hizzoner used his personal email to conduct government work during his first 16 months as mayor, until May 8, 2015, when he began directing people to his government email.
This isn't the first time de Blasio has faced scrutiny over his and other City Hall employees' use of personal email for government-related work. In 2017, a Department of Investigation's report found that de Blasio used his personal email 1,850 times in 2014 and 2015, violating government record-keeping procedures. "City Hall employees did not consistently forward emails from their personal email accounts to their city email accounts, as they should have in accordance with their internal Record Retention and FOIL instructions," the report also concluded.
In 2018, City Hall was forced to release 4,000 pages of emails containing de Blasio's corresponce with outside consultants, after NY1 filed a lawsuit to procure the documents. City Hall attempted to argue that the emails shouldn't be subject to Freedom of Information requests because the consultants are not government employees. 
Later that same year, emails containing numerous exchanges between de Blasio and one of his major donors Jona Rechnitz – previously withheld by City Hall – were unearthed after they were subpoenaed for evidence in a federal NYPD corruption trial. Rechnitz had pleaded guilty to bribing high-ranking police officers and public officials in 2017. 
Good government advocates say elected officials such as the mayor should use their government email address for government work, because that is subject to transparency laws – which may be precisely why so many prefer using personal emails instead. "New York City government officials know they're supposed to use government emails for government business to ensure archiving laws and FOIL are complied with," John Kaehny, a member of the government watchdog group Reinvent Albany, told The City. "But, as far as we know, there is no law that requires this."
De Blasio has stated that all emails have been archived. All communication related to government work, whether from a personal or government email are subject to FOIL requests, according to the New York state Committee on Open Government. "Government business should never be conducted through private email accounts. Not only does it make it difficult to retrieve what is a government record, but it just invites the suspicion that a government employee is attempting to evade accountability by supervisors and the public," Christopher Dunn of the New York Civil Liberties Union, told ProPublica in 2014, regarding Gov. Andrew Cuomo's administration's use of personal emails at the time.
Here are a few prominent New York politicians who have come under fire for using personal email while in office:
Former New York City Mayor Michael Bloomberg
When he was in office, Bloomberg used to communicate with other City Hall officials with a personal email tied to his company Bloomberg L.P, according to a 2013 DNAinfo report, which received criticism from good government groups as a way of avoiding proper oversight.
Gov. Andrew Cuomo and his administration
In 2014, Gov. Andrew Cuomo's staffers – including one of Cuomo's top advisors at the time, Howard Glaser – were found using their personal emails, ProPublica reported, despite the pledge of transparency Cuomo made while running for governor in 2010.
It was also reported in 2012 that Cuomo himself operates on a Blackberry, using its PIN-to-PIN messaging system, which does not keep an archive of messages sent or received. 
Former Secretary of State Hillary Clinton
Who could forget the swath of fury directed at the former secretary of state when it was discovered she'd used her personal email on the job? It was discovered in 2015, that Hillary Clinton had used her personal email account – per former Secretary of State Colin Powell's advice – throughout her four years in office and hadn't even set up her government email during that time.
Clinton's use of private email and devices, such as her Blackberry, to conduct both personal and work-related correspondence, prompted an FBI investigation in the midst of her 2016 presidential campaign, which ultimately proved fruitless. "I thought using one device would be simpler, and obviously, it hasn't worked out that way," Clinton said, during a 2016 press conference at the United Nations.
The email scandal became a key talking point for President Donald Trump during his 2016 presidential campaign, who referred to Clinton's private email usage as "criminal," inspiring chants of "lock her up" during his campaign rallies.
Ivanka Trump & White House senior advisor Jared Kushner
Ironically, Trump's daughter Ivanka and his son-in-law and senior advisor Jared Kushner have faced serious scrutiny from the House Oversight and Reform Committee for using personal email and messaging services to do government-related work.
In March, chairman of the House Oversight and Reform Committee Rep. Elijah E. Cummings sent White House Counsel Pat Cipollone a letter saying that Trump and Kushner had been using private emails and the encrypted messaging service Whatsapp to communicate with White House officials and foreign contacts, including Crown Prince Mohammed bin Salman of Saudi Arabia. Cummings also said that Trump and Kushner's private correspondences were not being archived, potentially violating federal records laws. 
Trump and Kushner have denied all comparisons to Clinton's email scandal, saying there is no "equivalency" between their use of private email and Clinton's. "Everything's been preserved, everything's been archived, there just is no equivalency between the two things," Trump told "Good Morning America" in 2018.
Trump and Kushner were subpoenaed to release all work-related emails and texts sent and received by White House officials by the House Oversight Committee in July. "The committee has obtained direct evidence that multiple high-level White House officials have been violating the Presidential Records Act by using personal email accounts, text messaging services, and even encrypted applications for official business — and not preserving those records in compliance with federal law," Cummings told the Independent.
Powered By
NEXT STORY: Bill de Blasio's friendly relations with the ultra-Orthodox