New York State
New York Post calls for an assault weapon ban (again)
Will Trump listen to a conservative call to action?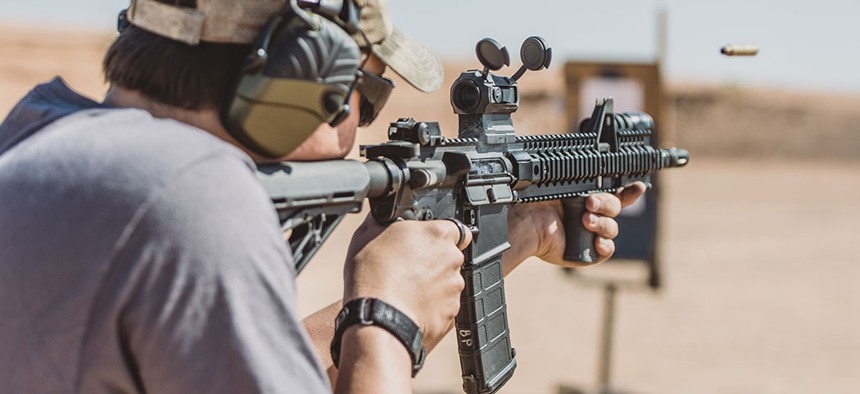 After a weekend of back-to-back mass shootings, the famously conservative New York Post shocked readers Monday morning with an unprecedented front page editorial calling for the ban of all assault weapons.
Looks like Trump has lost the New York Post. pic.twitter.com/JXQjxLz5gu

— Jim Edwards (@Jim_Edwards) August 5, 2019
The editorial, which urges President Donald Trump to take action in the wake of the two mass shootings that took place within 24 hours of each other over the weekend in Dayton, Ohio and El Paso, Texas, asks for a ban of "weapons of war." The two shootings resulted in 30 deaths and over 50 injuries, collectively. They followed a shooting in Gilroy, California, only a few days prior, that resulted in the deaths of four more people.
"It does not have to be this way," writes the Post's Editorial Board. "It should not have to be this way. Mr. President, do something – help America live without fear."
In its op-ed, the Post asks not only for a ban on the sale of assault weapons – like the one used by the El Paso shooter – but to improve background checks for those looking to purchase a gun, finding better "approaches to mental health" and passing red-flag laws on a state level across the country, in addition to passing a federal red-flag policy. The Post also suggested Trump follow U.S. Sen. Elizabeth Warren's advice "in last week's Democratic debate and 'double down on the research and find out what really works.'"
The general reading of the Post's editorial and attention-grabbing cover is that, maybe, just maybe, the conservative attitude on guns is evolving:
If the New York Post is saying this, you know the winds are changing.... https://t.co/r9Me3on7qt via @nypost

— David Leffell (@David_Leffell) August 5, 2019
When even the New York Post is advocating for an #AssaultWeaponsBan, you know it's not the radical idea the gun lobby will paint it as.

Get it done, y'all. pic.twitter.com/roMjvqNv93

— Brian Kramer(@brianrkramer) August 5, 2019
I never thought I'd say this, but we need to listen to The New York Post today. https://t.co/AMu4RVKhZJ

— Josh Gad (@joshgad) August 5, 2019
This is BIG...
Conservative New York Post/ Murdoch.

Background checks
5 day waiting period
No gun show loophole
No more military/ assault weapons
Limits on amount of guns & ammo
Training & license
Define "well regulated" militia

Does Fox News have the balls to do the same? pic.twitter.com/HUKeuqdIF9

— Billy Baldwin (@BillyBaldwin) August 5, 2019
But this is not the first time that the Rupert Murdoch-owned publication has called for the president to take action on gun control. Eighteen months ago, the Post published another front page editorial after the shooting at Marjory Stoneman Douglas High School in Parkland, Florida that resulted in the deaths of 17 students. 
Tomorrow's front page of the New York Post, a Murdoch-owned Trump favorite, is powerful. So was the one 18 months earlier. After which nothing changed. pic.twitter.com/3yyPUyILZd

— Matt Viser (@mviser) August 5, 2019
In its 2018 op-ed, the Post asked Trump to reinstate the federal assault weapons ban, raise the age to procure firearms, eradicate the sale of bump stocks and abolish the Concealed Carry Reciprocity Act.
And after the Sandy Hook Elementary School shooting in Newtown, Connecticut in 2012 during Barack Obama's presidency, which resulted in the deaths of 20 children and six adults, Murdoch himself called for action, followed by a Post cover calling for change.
Nice words from POTUS on shooting tragedy, but how about some bold leadership action?

— Rupert Murdoch (@rupertmurdoch) December 16, 2012
Despite its right-wing leanings, the Post has established itself as a big proponent of gun control throughout the years, though its fellow Murdoch-owned media outlets, such as the Trump-favorite television station Fox News, have not followed suit. 
On Monday morning, Trump stated that he was in support of "strong background checks" … in addition to "immigration reform."
....this legislation with desperately needed immigration reform. We must have something good, if not GREAT, come out of these two tragic events!

— Donald J. Trump (@realDonaldTrump) August 5, 2019
The president also addressed this weekend's shootings during a press conference on Monday, with a fairly boilerplate response condemning the violence. He also misspoke and referred to Toledo instead of Dayton, when discussing the Ohio shootings.
"May God bless the memory of those who perished in Toledo, may God protect them. May God protect all of those from Texas to Ohio. May God bless the victims and their families," Trump said during the press conference.
Naturally, criticism immediately followed the president's most recent fumble, insinuating that his speech was insincere and lacked empathy.
Trump couldn't even get the location of a mass shooting correct in an address to the nation. He said "may God bless the memory of those who perished in Toledo." It happened in Dayton. I'm from Cleveland and am used to people thinking I'm from Cincinnati. But for goodness' sakes.

— Jamil Smith (@JamilSmith) August 5, 2019
It is strange watching this speech being analyzed as a serious text when the president got the name of the city wrong at the end. Presumably someone on his staff wrote Toledo instead of Dayton, and no one caught it, not even the president.

— Brian Stelter (@brianstelter) August 5, 2019
It doesn't matter whether Trump says "Toledo" or "Dayton" because the notion he cares about the safety and security of either is a farce

He wants Ohio's electoral votes, and his consideration of the safety of Ohioans ends there

— Seth Abramson (@SethAbramson) August 5, 2019
Toledo. Fck me.

— Tim Ryan (@TimRyan) August 5, 2019
Some critics are even placing blame for the violence at the president's feet, after the El Paso shooter's manifesto appeared to mirror the anti-immigration language used by Trump himself. 
"President Trump has a lot to do with what happened in El Paso yesterday," presidential candidate and former El Paso Rep. Beto O'Rourke told "Face the Nation"on Sunday. "Anybody who begins their campaign for the presidency by calling Mexican immigrants rapists and criminals, anyone who as president describes asylum seekers at the U.S.-Mexico border as an infestation or an invasion or animals, anyone who describes those who do not match the majority of this country as somehow inherently dangerous or defective, sows the kind of fear, the kind of reaction that we saw in El Paso yesterday."