New York City
Nike scores licensing agreement to use coveted NYC logos
The deal may be a slam dunk, but local vendors have often been sued for using city icons.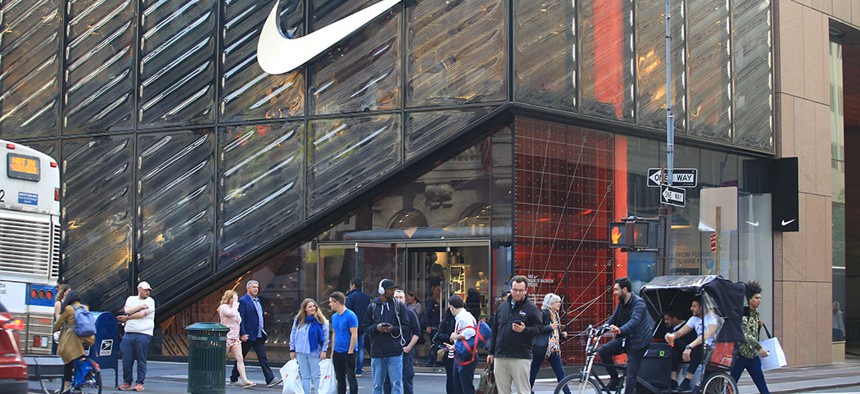 It appears New York City has scored a slam dunk with its new Nike business deal.
The city's Franchise and Concession Review Committee granted the retailer a two-year licensing agreement allowing the company to use the city's logos on its merchandise at its discretion, The City reports. The deal provides the city's tourism bureau, NYC & Company, with 5% of profits obtained from Nike's city logo-branded merchandise, promising at least $20,000 in revenue over the next two years.Nike may now choose from an array of the city's logos, from the New York Police Department's badge to the Fire Department of New York's insignia, and more.
Though the massive athletic retailer may have struck gold, many local vendors have suffered over the years due to tough tactics used by the city to crack down on trademark infringements. 
Sue and Sal Piccolo, owners of the first responder uniform store that also sells merchandise emblazoned with city-trademarked logos, the Cop Shop, have been tied up in a legal battle with the city for years for violating trademark registrations, Vox reported in May. Albert Elovitz was sued by the city in 2004 over trademark infringement for using the NYPD's logo on merchandise he was selling. Eliot Sash, a background actor on the law procedural "Law & Order," was similarly called out in 2016 by city lawyers for selling NYPD-branded merchandise on eBay. And in 2009, the city cracked down especially hard on retired first responders (like Sal Piccolo) to prevent them from using the NYPD and Fire Department of New York logos on websites and clothing for nonprofit organizations.
Similarly, Cynthia Nixon received some heat from the Metropolitan Transportation Authority during her gubernatorial run in 2018 for using trademarked MTA insignia on some of her campaign merchandise. Like the NYPD and other city organizations, the MTA is vigilant about preventing retailers from using trademarked logos without a licensing agreement. 
We New Yorkers tend to wear our hearts on our sleeves. Get your #CuomosMTA t-shirts here: https://t.co/yJvFLeZR99 #FixOurSubway pic.twitter.com/SNoKMDbTNH

— Cynthia Nixon (@CynthiaNixon) May 16, 2018
Sadly, there's not much recourse for local vendors selling counterfeit merchandise, as most are unable to afford a fight with the city. "The reason the city has been successful in these cases is because nobody can afford to challenge them," Gerard Dunne, the Piccolos' attorney, told Vox. "Everybody folds when the city comes after them for these kinds of things. It's the city of New York. What are you gonna do?"
Correction: A previous version of this article suggested that Eliot Sash was sued for selling NYPD-branded merchandise, when he was only accused of selling counterfeit merchandise.