New York City
Ninth cop suicide generates fury toward ThriveNYC
News broke that the organization cancelled an event for cops the same day an officer took his own life.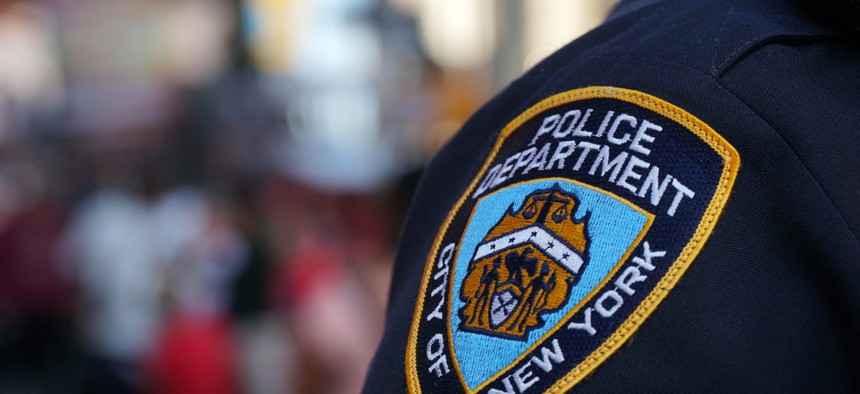 A ninth New York Police Department officer died by suicide on Wednesday, prompting politicians throughout New York City to offer their condolences, call for action – and chastize first lady Chirlane McCray's mental health initiative ThriveNYC.
Most officials tweeted out sympathetic messages:
Tonight our city mourns a tragedy. We won't let anyone struggle alone.

I want every one of New York's Finest to know we are here for you. We value you. Help is available. Please reach out. https://t.co/FoSQe3ExAb

— Mayor Bill de Blasio (@NYCMayor) August 15, 2019
Just this afternoon at the @NYCCouncil stated meeting we held a moment of silence for two more officers who took their own lives recently, and now we hear of another that happened today. This is awful news for our city. https://t.co/t8KKN39sUV

— NYC Council Speaker Corey Johnson (@NYCSpeakerCoJo) August 15, 2019
This is a crisis.

It's devastating.

It's hard to talk about.

It's hard to acknowledge.

But it's an emergency, and we need to come together to respond with compassion, understanding, and resources.https://t.co/adJSvFAV8M

— Jumaane Williams (@JumaaneWilliams) August 15, 2019
Another terrible, tragic loss for our city and the NYPD. Thinking of the officer's family, friends and colleagues.

We must do all we can to combat this mental health crisis.https://t.co/YkrfXU619V

— (((Rory Lancman))) (@RoryLancman) August 15, 2019
But Republican New York City Councilman Joe Borelli criticized ThriveNYC for backing out of a mental health event for cops scheduled the following week, after learning the Blue Lives Matter NYC organization was a sponsor. 
So this literally happened, coincidentally on the day another #NYPD cop killed himself, & despite our partnership with @BlueLivesNYC actually signing up cops from all over the city who wanted this training. Total bullshit from the #deblasio administration. https://t.co/9lXbx1FxRC

— Joe Borelli (@JoeBorelliNYC) August 15, 2019
"This was going to be to train police officers how to recognize signs of depression," Borelli told the New York Post, adding that the event was rescheduled "because of the PC environment that de Blasio has caused."
"This program, it could have done a lot of good things," Joseph Imperatrice, Blue Lives Matter NYC's head sergeant, also told the Post. "This is the problem: You reach your hand to try to do good things and, in this case, save lives, and because of political agenda they (ThriveNYC) want to pull it back."
The cancellation of the event, which was learned the day news broke of an eighth cop dying by suicide, is horrible optics for McCray, but she can hardly be blamed for the uptick in suicides, which is connected to a larger overall problem within the force. 
"We look at this like there is a contagion,'' NYPD Chief of Department Terence Monahan said on WNYC on Tuesday, before the ninth suicide. "We had averaged four to five suicides over the last few years. Currently this year, we have eight suicides. That is a very large number." 
Monahan encouraged officers experiencing mental health issues to seek out therapy and inform people on the force. The NYPD similarly urged its officers to speak up if they are struggling, providing a list of resources available to them online. 
We are saddened to announce that the NYPD has suffered another tragedy today with the loss of one of our officers to suicide.

To anyone who may be struggling, know that there is support available.

Behind each of these resources are people that care about your well-being. pic.twitter.com/1rYN9mmdUJ

— NYPD NEWS (@NYPDnews) August 15, 2019
Since 2014, about five NYPD officers have died by suicide each year, The New York Times reports. First responders, such as police officers and firemen, are more likely to die by suicide than in the line of duty, according to a 2018 study. Their exposure to trauma also tends to make them more prone to post-traumatic stress disorder, depression, anxiety and alcohol abuse, considered the leading causes of suicide. 
But as tragic as the recent increase in officer suicides are, they are indicative of a larger overall problem facing the nation. Suicide is up 33% from 1999 and is now the 10th leading cause of death in the country, according to a Centers for Disease Control and Prevention study, looking at 2017 data. Men died by suicide 3.54% more frequently in 2017 than women – the rate of suicide being highest among middle-aged white men. And firearms were used in 50% of suicides overall.
Regardless, the NYPD is still trying to figure out how to tackle its seemingly growing suicide rate, which some say is a result of the tough attitude officers are expected to adopt on the job.
"Officers are very hesitant to ask for help," John Violanti, an epidemiologist at the University at Buffalo told The New York Times after four officers died of suicide within three weeks in June. "The culture sort of mandates that you don't have problems, that you're a RoboCop and you're not affected by emotion. And we all know that's not possible if you're human."
Powered By
NEXT STORY: How do New York's gun laws measure up?