New York City
Pantaleo fired from NYPD five years after Garner's death
De Blasio: 'Today we have finally seen justice done.'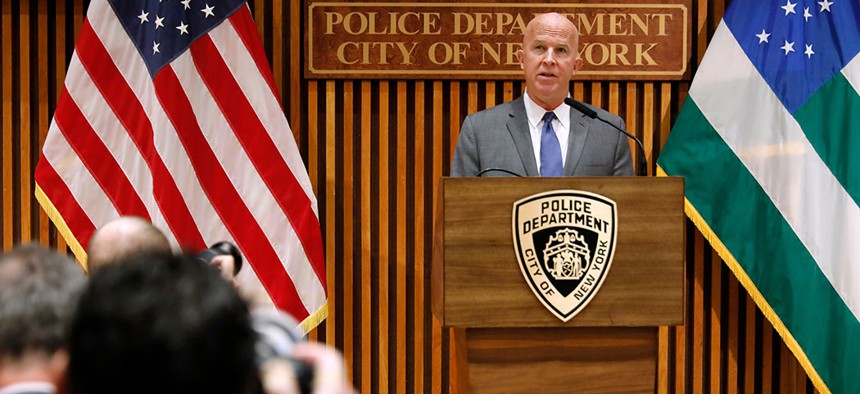 Five years, one month and two days after Eric Garner died on Staten Island, NYPD Commissioner James O'Neill fired Daniel Pantaleo from the force.
"It is clear that Daniel Pantaleo can no longer effectively serve as a New York City police officer," O'Neill said at a press conference at NYPD headquarters on Monday afternoon.
The decision follows an NYPD judge's recommendation that Pantaleo be fired for putting Garner in a chokehold – a maneuver explicitly prohibited by the department – while arresting him on July 17, 2014. O'Neill had the final say in the case, and opted for the strongest punishment allowed in an internal trial: termination from the force. Pantaleo is allowed to appeal the ruling, but if it stands, O'Neill said Pantaleo wouldn't be eligible for pension. 
O'Neill spoke for 32 minutes at the press conference, mostly using muted legalese to describe the long-awaited verdict while repeatedly emphasizing this was a "fair and impartial trial." 
In the five years since Garner's death, the case has been a fault line between criminal justice reform advocates who demanded the officer be punished, and supporters of Pantaleo, who insisted he was being scapegoated for doing his best in a dangerous situation. 
O'Neill anticipated that rank-and-file officers – and their outspoken labor union, the Police Benevolent Association – would be furious at the decision to fire Pantaleo.
"I've been a cop a long time," O'Neill said, "and if I was still a cop, I'd probably be mad at me."
PBA President Patrick Lynch followed through in a press conference following O'Neill's ruling. 
"This was not a crime. This was a chaotic situation," Lynch said. "You have to ask for fairness for all. And we have not received that fairness."
Garner's family was restrained in response to the decision. The Rev. Al Sharpton has worked closely with the Garner family since the death, and hosted a press conference following O'Neill's ruling Monday. "Though this may be good for the city that the city enforce its policies, this is not some moment of pleasure or joy for a family that has lost so much," Sharpton said. "Today is a better day than it's been, but it's a day that's five years too late."
A Staten Island grand jury failed to bring a criminal case against Pantaleo in 2014. Since then, O'Neill and city officials have blamed the federal government for delaying a possible case against Pantaleo on civil rights grounds. President Donald Trump's Justice Department confirmed this year that it wouldn't bring a case before the statute of limitations ran out, leaving this internal NYPD disciplinary trial the only venue where Pantaleo was actually tried. 
New York City Mayor Bill de Blasio has been under scrutiny for not acting sooner to resolve the case, with critics on both sides protesting him on the presidential campaign trail. Speaking on Monday afternoon, de Blasio declared the case closed, calling O'Neill's ruling "an end of the chapter that has brought our people so much pain and so much fear over these last five years. … Today we have finally seen justice done."