New York State
Progressive? Better not like shopping!
Want to prove your progressive allegiance? Kiss your Amazon Prime account goodbye.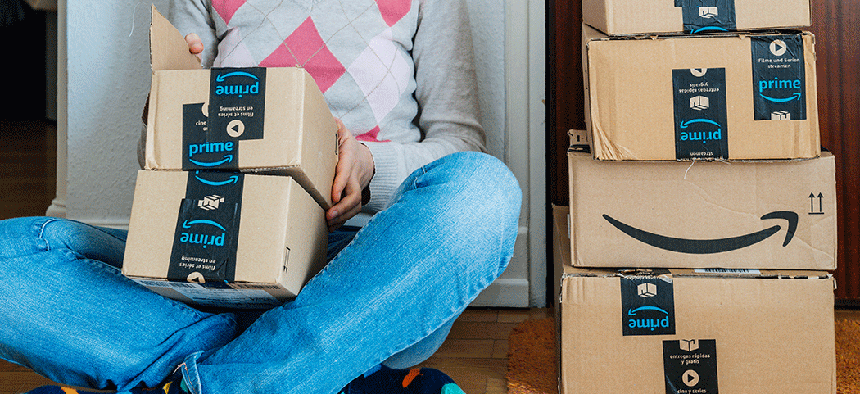 Want to prove your progressive allegiance? Kiss your Amazon Prime account goodbye.
Cancel culture is as prevalent as ever, especially for progressive Democrats. Nearly every day there's a new product or place that liberals are told they need to boycott in order to signal that progressive values, such as human equality, social justice and democracy, are being upheld – rather than just, you know, upholding them.
Since Monday, at least three different entities have been targeted by boycotts after they were linked with people and politics opposed to progressive values. People have been encouraged to cancel their memberships to Equinox and SoulCycle gyms after it was reported that their owner, Stephen Ross, is planning to host a fundraiser for President Donald Trump. And there was also a push to halt subscriptions to The New York Times after the paper's front page headline wasn't sufficiently skeptical about Trump's speech following the Dayton and El Paso shootings. 
These kinds of boycotts have become so prevalent that websites such as Grab Your Wallet – essentially a spreadsheet made available to the public to explain what companies should be avoided and why – have created meticulously organized lists of companies to side-step, so as not to unintentionally purchase goods from organizations that don't align with progressive ideals.
There have been so many ongoing boycotts and companies "cancelled" throughout the years that there's nary an organization a progressive can comfortably shop in without being told that they are betraying their ideals. Here are a few of the companies and places that progressives have boycotted throughout the years:
Chick-fil-A
When the Southern fast food favorite finally made its way to the Big Apple in 2016, New York City Mayor Bill de Blasio encouraged New Yorkers to avoid the chain due to its president Dan Rathy's views on same-sex marriage. "What the ownership of Chick-fil-A has said is wrong. … I'm certainly not going to patronize them and I wouldn't urge any other New Yorker to patronize them. But they do have a legal right" to set up shop, de Blasio said during an unrelated press conference.
Uber
When Trump signed his executive order barring all refugees from entering the U.S. in 2017, a union representing New York City taxis released a statement stating that taxis would not be picking up passengers from JFK in protest. Uber then stepped over the imaginary picket line, picking up passengers at the airport and announcing on Twitter that its "surge pricing" – when the ride-hail app's services are typically increased – had ended for the evening, to make using the service more enticing to passengers. This move was viewed as overtly opportunistic to many, prompting the hashtag #DeleteUber on Twitter – an effort to stand in solidarity with the protesting taxi drivers and the refugees unable to enter the U.S. 
Nathan's Famous
Sadly for progressives, the New York-based hot dog chain was declared off limits in 2018 after the company's executive chairman, Howard Lorber – one of Trump'd closest friends – planned to hold a fundraiser for the president.
New York Post
In April, the New York Post put an image of the Twin Towers burning during the 9/11 attacks with the words "Here's Your Something" across on its front page, following Minnesota Rep. Ilhan Omar's remarks about the attacks that were largely taken out of context by the publication. New York City's Yemeni bodega-owning community – who own about 4,000 to 5,000 bodegas in the city – took a stand against the publication, pledging to refuse to keep the paper in stock until it apologized. 
Amazon
In July, activists called on Amazon shoppers to abstain from purchasing anything from the massive online retailer on Amazon Prime Day – when the site offers deals and discounts on its numerous products, generating massive profits – to bring attention to the poor treatment of its warehouse workers. U.S. Immigration Customs and Enforcement's use of Amazon's facial recognition technology to track down undocumented immigrants also factored into activists' call to boycott the tech company.
The New York Times
The hashtag #CancelNYT began trending online after Twitter caught a preview of one of the Gray Lady's headlines Monday evening that read: "Trump Urges Unity Vs. Racism." Inaccurate? No, but progressives argued that the president's speech was disingenuous, and that the paper should have said so in 48-point font. The paper quickly altered its headline ahead of its second printing, in an attempt to quell the internet's anger. 
Equinox and SoulCycle
Progressive state Sens. Julia Salazar and Alessandra Biagi, along with numerous civilians, advised people to cancel their Equinox and SoulCycle memberships after news broke that the organizations' owner Stephen Ross will be hosting a fundraiser for President Donald Trump this weekend. Ross also built Hudson Yards, but boycotters figured it would be harder to get the 1% to give up their swanky new riverside apartments.