New York City
Stephen Ross reminds the world he's a real estate mogul
Equinox and SoulCycle are losing members over their owner's planned fundraiser for Trump.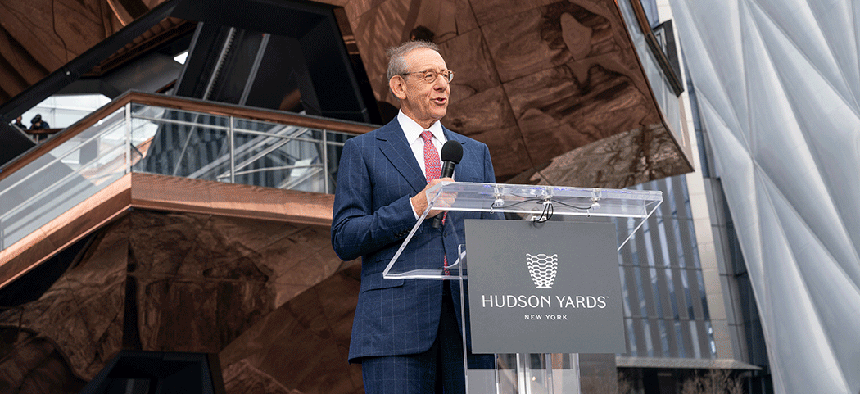 Members of #TheResistance are about to get a lot fatter.
After news broke that New York City real estate tycoon and owner of popular gym chains Equinox and SoulCycle, Stephen Ross, will be hosting a fundraiser for President Donald Trump this weekend, Equinox and SoulCycle members have been cancelling their memberships to the fitness centers and calling on others to do the same.
Now is a good time to end your Equinox membership and join a gym that costs a small fraction of what you pay now:
Planet Fitness, aka the Chuck-E-Cheese gym, aka the gym I go to

— Julia Salazar (@JuliaCarmel__) August 8, 2019
Once a source of joy and wellness...now, @Equinox no longer.

What a total shame.

When possible, every ethical @Equinox member I know will be fully informed. It's the least I can do. This is so embarrassing for this company & their team of kickass employees. https://t.co/xAuZsbbWWK

— Alessandra Biaggi (@Biaggi4NY) August 8, 2019
Hey @Equinox - what's your policy for canceling memberships once a member finds out your owner is enabling racism and mass murder?

— billy eichner (@billyeichner) August 7, 2019
Hi, @Equinox. I am a member at #ColumbusCircle.

I am horrified to hear that your owner, Stephen Ross, is hosting a fundraiser for Trump.

Trump is a racist, xenophobe and misogynist who spreads hate.

Ross needs to cancel the fundraiser.

Or, do I need to #BoycottEquinox?

— Paul Snatchko (@PaulSnatchko) August 7, 2019
The event, a luncheon hosted by the billionaire, will take place at his Southampton home on Friday, The Washington Post reports, with tickets to the event priced as high as $250,000. Money raised at the fundraiser will be donated to the president's 2020 fundraising committee, Trump Victory, and the Republican National Committee.
Ross is the majority owner of Related Companies, the developer responsible for creating Hudson Yards, the largest real estate development in U.S. history – which earned him the No. 1 slot on City & State's Real Estate Power 50 list in March – and owns a number of gym chains, including Equinox, SoulCycle, PURE Yoga and Blink Fitness. He also owns the Miami Dolphins.
Both Equinox and SoulCycle have released statements regarding Ross' involvement in the companies, in an attempt to soothe their irate customers. Both gyms stated that they do not support the Ross' fundraiser and he is merely a "passive investor," uninvolved in either company's day-to-day operations.
August 7, 2019
A note from our CEO pic.twitter.com/UwxBWR76B0

— SoulCycle (@soulcycle) August 7, 2019
And Ross himself released a statement to address the controversy, explaining that he "has always been an active participant in the democratic process."
Statement from Stephen Ross: pic.twitter.com/nvn3pmAPVE

— Adam Beasley (@AdamHBeasley) August 7, 2019
This isn't the first time critics have come after Ross. Since its grand opening, Hudson Yards has become a symbol of the exclusive side of New York City only available to the ultra-wealthy. Even the photo policy at the development's maligned "Vessel" sculpture seemed engineered to take advantage of the 99%. The development has been vilified for its use of billions in government subsidies to build – including $1.2 billion raised through the EB-5 investor visa program, which is designed to help foreigners get visas in exchange for investments intended to refurbish rural or distressed urban areas. The area where Hudson Yards was developed did not meet the requirements for being a "distressed urban area," but Related worked around these requirements with the aid of New York authorities by linking it to public housing projects all the way up in Harlem, according to City Lab.
Gov. Andrew Cuomo and New York City Mayor Bill de Blasio notably avoided Hudson Yards' grand opening in mid-March. When asked about the development on "Morning Joe" in March, de Blasio explained that the subsidies used to aid the development of Hudson Yards were approved by a "previous administration" and insisted that his administration is not responsible for creating "policies that make the rich richer while working people work harder than ever and get the – less, less and less back."