New York State
Cuomo's aisle-crossing hires
Gov. Andrew Cuomo just hired Beth Garvey, a former top aide and counsel to the state Senate Republicans. Garvey is the latest in a string of former Republican staffers who have worked in the Cuomo administration.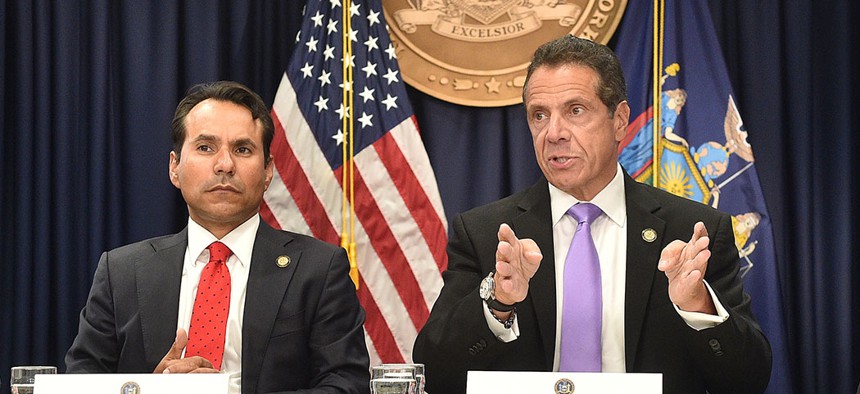 On Tuesday, Gov. Andrew Cuomo announced a series of new hires in his office. Among them was Beth Garvey, a former top aide and counsel to the state Senate Republicans. Cuomo brought her on as special counsel. Despite the governor's leftward shift over the course of his time in office, including his declaration "I am the left" earlier this summer, Garvey is just the latest in a string of former Republican staffers who have worked in the Cuomo administration. 
Cuomo's penchant for hiring Republicans might reinforce suspicions about him among some progressive activists, but the governor's office argues that he can pursue a progressive agenda with Republicans on his staff. Rich Azzopardi, senior adviser told City & State that the governor hires "the best and brightest" to get his agenda done. "If anyone is arguing that our agenda has gotten less progressive over the years," Azzopardi wrote in an email, "I'd be more than happy to refer them to any number of fine mental health professionals." 
Bill O'Reilly, a veteran New York Republican political consultant, also told City & State that Cuomo's willingness to hire staff with a "diversity of opinion" is laudable in an era of staunch partisanship. "It's increasingly rare for elected officials to recruit from the other team," O'Reilly said in an email. "That's a feather in his cap, even if it rubs some people the wrong way."
Since there have been so many high-level Republican hires in the Cuomo administration, City & State compiled them below:
Maria Comella
Cuomo hired Comella as his chief of staff in 2017, although she left the administration a year later to take a private sector job. Prior joining the Cuomo administration, Comella worked for many Republican elected officials, including former New Jersey Gov. Chris Christie, both in government and on the presidential campaign trail in 2016. Before that, she worked on campaigns for former New York City Mayor Rudolph Giuliani and then-Gov. George Pataki. Despite her Republican history, Comella had a change of heart in 2016 when she said she would vote for Hillary Clinton over Donald Trump.
Robert Gibbon
The administration hired Gibbon in 2017 as assistant counsel for transportation after he worked for the state Senate Republicans. Gibbon's hiring later came under scrutiny by the FBI for hiring political appointees to work in the executive chamber but being paid by an agency budget. 
Scott Sandman
Sandman was brought on as the communications director for the state Office for People with Developmental Disabilities in 2016. It was not Sandman's first time in a New York gubernatorial administration – he spent over a decade working for Pataki and before that worked as a Republican state Senate staffer.
Kelly Cummings
Cummings currently works for Cuomo as his deputy chief of staff and senior adviser, for which she was hired in 2016. Cummings is one of the highest ranking former Republicans still working for Cuomo. Her most recent job before joining the governor's ranks had been director of communications for the state Senate Republicans, after having previously been the GOP conference's director of policy development.
Robert Mujica
Mujica, the governor's budget czar, is the most well-known former GOP staffer working for Cuomo. Before his hiring in 2015, Mujica spent 20 years as secretary to the state Senate Finance Committee, advising lawmakers on the budget and other fiscal policy issues. For the majority of that time, the upper chamber was under Republican control, although he still held the role under Democratic control in 2009 and 2010. Right before he joined the Cuomo administration, Mujica also served as the deputy chief of staff to the state Senate Republican conference.
Susan Del Percio
Cuomo hired the Republican strategist in 2014 as a special adviser, although she left the administration after just a year to return to the private sector.
Powered By
NEXT STORY: Celebrating the Brooklyn Power 100