New York State
De Blasio drops out and flavored e-cigarettes banned
Rounding up the week's political news.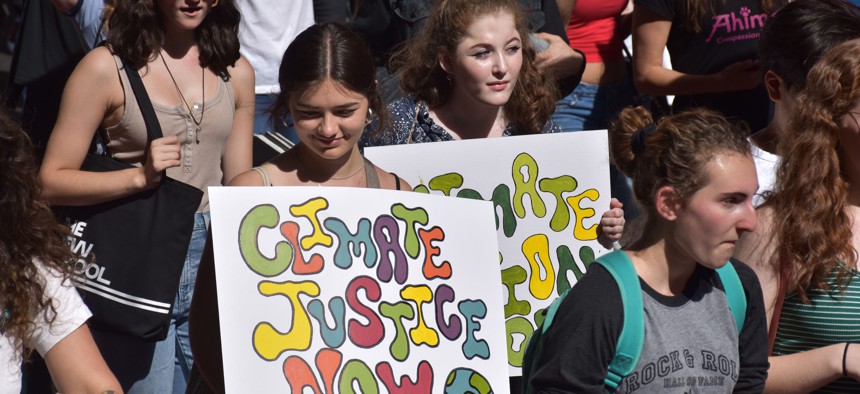 Elizabeth Warren held a rally at Washington Square Park on Tuesday that, according to her campaign, attracted 20,000. That's 19,999 more people that New York City's own mayor would have attracted. In a recent Siena College poll, Mayor Bill de Blasio polled at almost 0% on his home turf – only one New Yorker, who happened to be a city resident, told pollsters they wanted de Blasio to be president.
The Washington Post quipped that since that person was an older white man, perhaps that New Yorker was actually de Blasio himself. Maybe that's why he dropped out.
De Blasio drops out
Although New York City Mayor Bill de Blasio had initially suggested he might have hung on until October to see if he qualified for the fourth Democratic debate, he ultimately decided to call it quits a little sooner. He announced on "Morning Joe" and through an op-ed with NBC News that he is officially ending his bid for president. Despite being mayor of the biggest city in the country, de Blasio struggled to hit even 1% in the polls, while his absence back home was met with derision.
Flavored e-cigs banned
Following through on his promise, Gov. Andrew Cuomo has officially banned flavored e-cigarettes in the state after mysterious illnesses and several deaths linked to vaping around the country. Now, those who vape can only choose from menthol and non-flavored varieties. After Cuomo issued an executive action to outlaw the product, the Public Health and Health Planning Council approved the move later in the week, giving shops a two-week grace period to get the vaping fluid off their shelves. The ban will last 90 days, at the end of which the council will vote again on whether to extend it. The New York State Vapor Association, a trade association representing vape shops in the state, protested the ban after it was initially announced by Cuomo last Sunday.
Plategate concludes
After attacks from both the left and the right on his plan to implement mandatory license plate updates with a $25 fee, Cuomo officially backed down and declared the plan dead. The announcement came soon after a Siena College poll found a whopping 75% of New Yorkers found the fee unfair. An administration spokesman claimed Cuomo actually reversed the policy weeks ago, pointing to a statement from the Department of Motor Vehicles that indicated the administration was open to lowering the fee and setting up a system to inspect licenses more than 10 years old to determine whether they need to be replaced. The original plan would have required drivers with old plates to purchase a new one, regardless of condition. 
MTA announces massive capital plan
The Metropolitan Transportation Authority has announced its largest five-year capital plan ever, which will cost $51.5 billion, about $20 billion more than the previous one. $40 billion of that funding is going to New York City Transit to improve subway and bus service, compared with $16 billion last time around. The capital plan draws heavily on New York City Transit President Andy Byford's Fast Forward plan, which aims to revitalize and upgrade the city's aging transit infrastructure to improve service and reliability. Byford said he was "ecstatically happy" about the new plan, which promises 70 new accessible subway stations, 1,900 new subway cars and the next phase of the Second Avenue subway.
Fusion voting causes more drama
The state Public Campaign Financing Commission held another public hearing, this time in Albany, and once again, fusion voting proved to be the main point of contention. Before the hearing, Politico New York reported that Albany County Democratic Committee Chairman Jack Flynn sent an email to ward leaders asking if they would like to testify against fusion voting. The request, according to Flynn's email, came from Jay Jacobs, the state Democratic Party chairman, Gov. Andrew Cuomo's appointee to the commission and a fusion voting skeptic. Fusion voting proponents repeatedly criticized Jacobs directly, who responded by saying he did not send requests for any specific testimony, but said others had reached out to him, and he encouraged them to speak.
Kids march for the climate
Millions of people around the world took to the street for the Global Climate Strike, many of them children. Tens of thousands of students in New York City cut class – with permission from the schools chancellor – to participate in the international call to action and to push lawmakers to take steps to mitigate climate change. Unfortunately, schoolteachers didn't get the same leniency and were barred from participating. The strike comes just days before the United Nation Climate Summit, which will also take place in New York.
Another attempt at Trump's tax returns
Manhattan District Attorney Cyrus Vance Jr. is taking a stab at obtaining President Donald Trump's tax returns. Vance has subpoenaed the president's accounting firm for eight years of Trump's personal and corporate returns. The subpoena was issued last month, not long after Vance opened an investigation into the role Trump and his business played in hush money payments made during the campaign. The president responded to the newly reported action with a lawsuit that claims he can't be criminally investigated while he is still in office.
De Blasio releases latest management report
Every year, de Blasio releases a trove of data on New York City's agencies in the Mayor's Management Report. The document is hundreds of pages long, but included a number of highlights that reporters focused on. They included statistics about a spike in violence at Rikers Island jail, the inability of ThriveNYC to hit its mental health goals and an increase in complaints made against police officers.
Powered By
NEXT STORY: Rudy Giuliani's previous meltdowns