Bill de Blasio
How de Blasio's absence left the City Council in charge
Running for president may make the legislative body harder to control.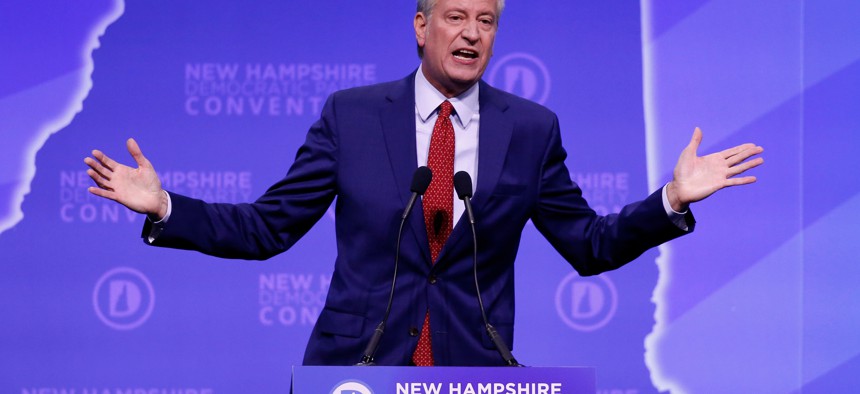 When New Yorkers filled Midtown Manhattan for the Puerto Rican Day Parade, New York City Mayor Bill de Blasio was in Iowa. When the power went out on the west side of Manhattan, shrouding his constituents in darkness, de Blasio was, once again, in Iowa. And when anything happened in City Hall, during the month of May, de Blasio wasn't there, except for a few, rare hours.
De Blasio officially launched his presidential campaign three months ago, and is still hunting for his breakout "special moment" before the next debate. (If he fails to qualify for that one, as he did with last week's, the mayor says he may drop out.) 
But while de Blasio has been on the trail slamming the Republican-led U.S. Senate, the New York City Council has spent the summer dealing with business as usual. 
"An absentee or part-time mayor only shifts the power dynamics in the Council's direction," said Bronx City Councilman Ritchie Torres. The City Charter gives a lot of power to the office of the mayor, but the mayor's national run has ceded that power to the Council. "It's an unusual state of affairs," Torres said. "We're living through a historical anomaly."
City Hall argues they're just as busy as ever, and the administration is requesting legislation from the council at the same rate it always has. But de Blasio and his team seem to be facing problems with their primary legislative focus this summer: paid vacation time. The bill would require private employers to provide two weeks annually paid vacation time for workers. Such a legal requirement is nearly unprecedented in the United States, but it is the norm, and often more generous, in every other industrialized nation. The mayor announced the push in January, saying he hoped the bill would be "voted on quickly." But that hasn't happened. In late May, after he announced his presidential campaign, he hosted a City Hall rally to urge action on the bill. 
Still, New York City Council Speaker Corey Johnson remained skeptical of the bill, and the City Council hasn't moved it, even though de Blasio has been touting it on the campaign trail. Multiple City Council members told City & State that the mayor's team aggressively lobbied them to show up for the next rally for paid personal time, on Sept. 9. But de Blasio himself wasn't there to show his support or cajole votes. He was in Puerto Rico, campaigning for president. 
The bill, Torres said, "has been languishing indefinitely. It's a sign of mayoral powerlessness."
Freddi Goldstein, de Blasio's governmental press secretary, admitted to City & State that the bill "seemingly hit a little bit of a speedbump," but was loath to connect the bill – or its slow movement – to the presidential campaign. "This is something that he's been working on all year," Goldstein said.
Council members say the mayor's frequent absences and divided attention have hurt his ability to get things done back home. Put another way by Staten Island City Councilman Joe Borelli: "I think he's becoming the butt of more jokes." The Republican lawmaker is one of the mayor's most frequent critics - his laptop features a graphic of de Blasio's face, crossed out - but he has been hearing more people join in his de Blasio-bashing since the beginning of the presidential campaign. 
The polls seem to reflect that. According to the latest Siena poll, 0% of New York City residents want de Blasio as the Democratic nominee, and just 33% have a favorable opinion of him. That's down significantly from his 46% New York City approval rating from a Siena poll in March, before he launched the presidential campaign.
"That makes the council more powerful," said one City Hall insider, who asked for anonymity to speak openly on a sensitive topic. If council members don't care as much about what the mayor says, "It makes it harder to get his priorities done. The perception is he's weak."
The polling is only one piece of the equation. There's also de Blasio's status as a term-limited lame duck and the leadership of Johnson, who has created a minor cult of personality in the council chambers and repeatedly emphasized his co-equal branch's independence from the mayor's office. Asked at a press conference on Thursday if he was excited to get de Blasio back in the city full-time soon, Johnson gave a long, pained answer about the clear challenge of running a city and running for president at the same time, while highlighting de Blasio's absences. "I've still interacted with the mayor. I still talk to the mayor," Johnson said, but the only examples he gave were the previous day's September 11th remembrance ceremonies where, presumably, no government business was conducted. In fact, outside of a couple of meetings before passing the city budget in June, there's scant evidence of Johnson and de Blasio speaking since the mayor entered the presidential race. In the month of May, the latest for which de Blasio's government schedule is available, he talked to Johnson only once – and that was on May 11, before de Blasio launched his campaign on May 16. 
De Blasio has people that talk for him, of course, including a robust legislative affairs team that works with the City Council to pass laws. The mayor has always preferred collaboration to confrontation, having never once vetoed any of the hundreds of bills that have come across his desk. But council members say they've felt a slowdown from the mayor's staff as well. 
"The mayor's office has always been very interested in that (legislative) agenda," said Queens City Councilman Jimmy Van Bramer. "But there's no question that with the mayor out of town and preoccupied with his race, that there's just less of a presence. There's less engagement." 
Goldstein said that at City Hall, "everything is running exactly the same as it has every other summer."
But de Blasio clearly sought out a national audience for the paid vacation bill from the beginning, announcing the legislation not in a local news outlet but with an exclusive story in The Washington Post.
Not all council members see that as a bad thing. Some in the body's left wing believe that de Blasio's ambition serves as motivation to do things he otherwise might not. De Blasio's presidential campaign "is great for the city, it's great for the country!" Manhattan City Councilman Ben Kallos said. "We've been getting so much progressive legislation done that's been stuck for years."
The way Kallos sees it, de Blasio is now supporting bills that he hadn't before in order to bolster his progressive credentials for the presidential campaign. In addition to paid personal time, which New York City Public Advocate Jumaane Williams had introduced as a city councilman back in 2014, there's a bill called Retirement Security for All, which would create retirement savings accounts for all private sector employees. Kallos is the lead sponsor of the bill, which he said had been stuck in legislative limbo for a year before, but is finally getting a public hearing this month. 
"None of this would be happening without the mayor's personal interest in this issue," he said.
In both cases, Goldstein disagreed that de Blasio's support had anything to do with the presidential campaign, noting that he's backed retirement savings accounts since 2016 – but legislative efforts were cut short by new federal regulations on retirement programs.
And while Kallos may be happy with de Blasio's campaign, but it wasn't enough to earn his presidential race endorsement. The Upper East Side Democrat backed Elizabeth Warren this week – something de Blasio himself might do in the coming months.