New York City
Why the four jails to replace Rikers Island are likely to get done
There are critics on all sides. But even the group planning to sue isn't optimistic.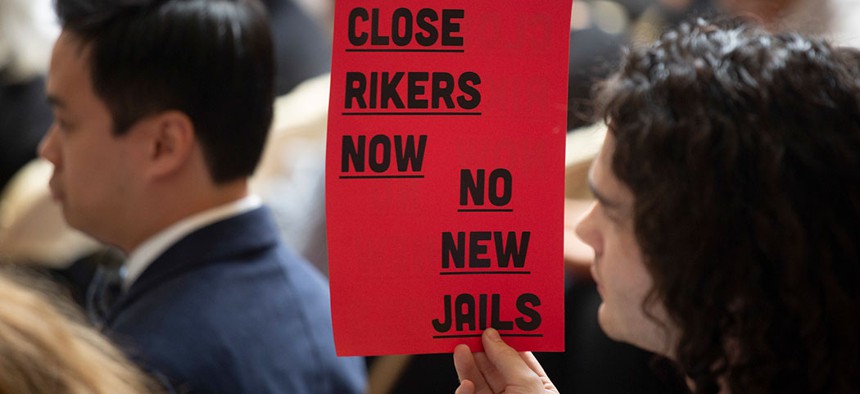 When it comes to the plan to build four new borough-based jails in New York City, angry activists oppose it from all sides. The politically powerful correction officers union hasn't liked it from the start. A pair of borough presidents – including leading 2021 mayoral contender Ruben Diaz Jr. of the Bronx – voted it down, as did all the local community boards. According to at least one poll, 63% of city voters don't support the plan.
Despite all of that, the plan to close Rikers Island and replace every single one of New York City's jails is moving forward, and is all but guaranteed to be approved by the City Council next month.
"When the mayor and speaker agree on something, it usually happens," said Ken Fisher, a lobbyist with Cozen O'Connor and a former New York City Council member. 
Brooklyn City Councilman Brad Lander agreed on the new jails' chances. "If you were (FiveThirtyEight statistician) Nate Silver," he told City & State, "I think the data set would tell you it's in the high 90s of likelihood." 
It's fair to say the current plan to close Rikers Island formally began with the previous City Council speaker, Melissa Mark-Viverito, convening a commission to study the issue in 2016. But ever since New York City Mayor Bill de Blasio endorsed the idea a year later, carrying it out has been his responsibility. City Hall has been shepherding the jails plan through the Uniform Land Use Review Procedure, or ULURP, since since March, and this week the plan entered what's sure to be its most visible and most political period: City Council approval.
Members of the de Blasio administration and stakeholders testified for well over six hours at City Hall on Thursday, arguing for or against the plan in front of a rotating cast of City Council members. Now the Council has six weeks to debate and propose changes to the complex plan, which promises to fundamentally alter the future of the city's correction system. A final vote, which would either sink the plan or send it on to the mayor, is expected at the meeting scheduled for Oct. 17 – and council members hear the clock ticking. 
"We need to craft a good plan. We need to get it right," said City Councilman Stephen Levin, whose district includes the proposed jail in Downtown Brooklyn. He has reservations about the Brooklyn facility – too tall, too wide, and the driveway needs to move – but overall, he's supportive. The three other members whose districts would house the jails – Karen Koslowitz with a proposed facility in Kew Gardens, Queens; Diana Ayala, with Mott Haven site in the Bronx; and Margaret Chin with a Chinatown jail in Manhattan – have also been on board with the jails plan for 18 months. And that's another key to passage. In most land use items before the council, members vote with the desires of whoever represents the project in question – a practice called "member deference." Whether that should apply in this case, a project with four sites and citywide implications, has been a matter of hot debate, so you can't blame Levin for being touchy about the topic. He vociferously denied insisting that other members vote in line with his wishes, despite a Wednesday report from the Brooklyn Daily Eagle that caught Levin citing member deference in a closed-door meeting with the Brooklyn delegation. All he meant, Levin explained to City & State, was that he and the three other members whose districts contained the proposed jails would be in the thick of negotiations with the de Blasio administration. "I was just trying to say, if you have issues, let us know," he said.
Expecting the entire 51-member body to vote in line with the four lawmakers is already a lost cause – a handful of electeds, citing various reasons, have already said they'll vote against it. But New York City Council Speaker Corey Johnson and the other supporters don't seem too worried about winning over the rest of them. Key stakeholders say they're not counting votes. And Johnson showed he wasn't worried by skipping out on Thursday's testimony. Various council members told City & State that they didn't feel any pressure from Johnson's office to support the plan – but that could change next week, when the full body is expected to have a closed-door meeting to discuss it.
The one possible hiccup? A lawsuit stalling the process. Opponents of the Bronx jail sued the city in June, and now Manhattan opponents are threatening a suit as well. "We will start our lawsuit when the lawyers tell us it's the right time," Chris Marte, founder of Neighbors United Below Canal, told City & State on Thursday. "We hope (the plan) can be delayed."
But with the ULURP moving forward, Marte is realistic about his weak chances and is already hoping to appeal to the next mayor, who will be elected in 2021 and take office in 2022. 
"Let's slow down," Marte said. "Let's have dialogue, let's have research."
But that's not acceptable to Brandon Holmes, campaign coordinator the criminal justice nonprofit JustLeadership's Close Rikers campaign, who has been one of the loudest voices supporting the plan.
"We are unwilling to delay this any longer," he said on Thursday. "Our slogan is 'Close Rikers, build communities.' We are going to be doing both at the same time."
Powered By
NEXT STORY: What Cuomo's earlier primary date proposal would mean