New York State
Chris Collins pleads guilty and the SALT cap stands
Rounding up the week's political news.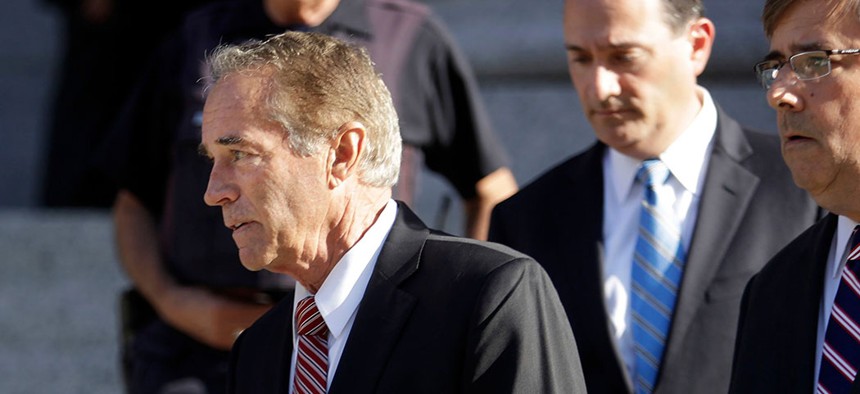 Whatever goodwill former New York City Mayor Rudy Giuliani may have had left in his hometown seems to have dissipated.
America's mayor is now "Crazy Rudy," according to mock subway ads that have been giving some straphangers a laugh. "Need a lawyer?" the ad asks. "Call Crazy Rudy." He has no shame, it reads, and will work drunk. It includes a working website and phone number, that when called, plays a prerecorded message in the style of Giuliani's cable appearances. Perhaps former Rep. Chris Collins could have used the legal expertise of Crazy Rudy.
Chris Collins pleads guilty and resigns 
"Why would I ever even enter a plea deal? I'm innocent." That's what former Rep. Chris Collins said two months before he pleaded guilty to charges related to insider trading on Tuesday. Collins had maintained that he committed no crime and gave indications that he would seek reelection, although never confirmed one way or another. A day before pleading guilty, he provided that confirmation by resigning from Congress, thus opening up his seat for a special election, something that state GOP leaders are backing. Gov. Andrew Cuomo suggested that he's leaning toward holding that election on April 28, to coincide with the presidential primary. The race for Collins' seat had already been heating up, since at least six Republicans had already announced or expressed interest in running. Now, if there is an April special election, it will be up to the state Republican Party to choose a nominee, rather than have the candidates duke it out in a primary.
Max Rose comes around on impeachment 
Rep. Max Rose has come out in support of an impeachment inquiry into President Donald Trump after being the lone New York City member of Congress not on board. Before news broke about Trump's call with the Ukranian president at the heart of the impeachment push, Rose, who represents a swing district, actively denounced impeachment. After the news about Ukraine, Rose still resisted backing an inquiry, saying that "all options must be on the table."
SALT cap stands
Despite the best efforts of Gov. Andrew Cuomo and New York state, the $10,000 cap on state and local tax, or SALT, deductions implemented as part of the 2017 federal tax law will remain in place. New York, along with three other blue states, sued the federal government, asserting that the cap was unconstitutional and unfairly targeted majority-Democratic states. They said the cap penalizes states with progressive tax policies and effectively makes state and local taxes more expensive, thus making it harder for states to impose tax increases. Although the judge in the case called the SALT cap a "novelty," conceding that it was an unprecedented move, he ultimately decided that the four states did not do enough to prove the measure exceeds Congress' tax powers or unconstitutionally impeded state sovereignty.
NYPD officer dies by friendly fire
New York City Police Department Officer Brian Mulkeen died by friendly fire on Sunday, the second friendly fire police death this year. Mulkeen had been wrestling on the ground with an armed suspect, who was also killed during the struggle, who fled from police. The suspect's gun was never fired, but Mulkeen's weapon went off several times, prompting five other officers to open fire at the suspect, inadvertently killing Mulkeen as well. This most recent friendly fire incident, along with one from seven months ago, has called into question NYPD training practices and, as the widow of the officer killed earlier this year put it, the need to address "trigger-happy" officers.
14th Street busway opens
It was a saga for the history books: ups, downs, a lawsuit, an injunction and a lawyer comparing transit advocates to Ku Klux Klan members. But at long last, the 14th Street busway pilot has officially begun after a judge gave the project its final greenlight. Thursday marked the first day that most private vehicles were banned on a six-block stretch of 14th Street in Manhattan, between 6 a.m. and 10 p.m. Its meant to allow the M14 bus – recipient of the Pokey Award for being the slowest bus route in New York City – to move faster than 4.3 miles per hour. If the pilot is successful, the bus route might become a whole mile per hour faster, which would make it almost on par with the average Manhattan bus speed of 6 mph. And on the first day the busway went into effect, despite the dire warnings about bottlenecking and increased side street traffic, things apparently turned out fine.