New York State
Nita Lowey's career of firsts
The retiring congresswoman made history.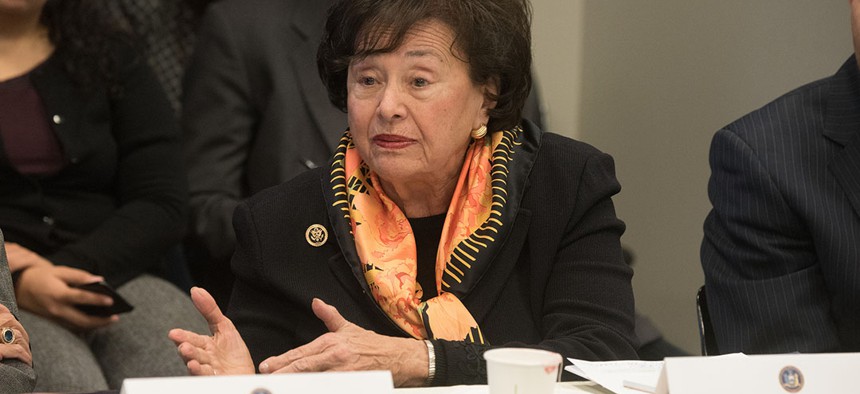 Rep. Nita Lowey, who represents parts of Rockland and Westchester counties and has for over 30 years, announced Thursday she would not seek reelection in 2020. She leaves behind the trailblazing legacy of a woman elected to Congress at a time when their ranks were few.
Lowey ran her first electoral campaign in 1988 after serving as assistant secretary of state for the state of New York. That year, she went up against Republican incumbent Joseph DioGuardi and won in an upset that went to a recount – the only woman in the country to unseat an incumbent in Congress that year. When she took office, she was one of only 31 women in either chamber. Today, there are 127.
Although she would face Republican challenges in the ensuing decades, including a rematch against DioGuardi in 1992, Lowey never faced a significant primary challenge. Had she decided to seek reelection, she would have faced her first in 2020 from Mondaire Jones, a former Obama staffer who planned to run against her from the left.
During her tenure, Lowey achieved two major firsts for women. In 2001, she became the first woman to lead the Democratic Congressional Campaign Committee – and the first New Yorker too. That appointment came after she dropped her own bid for Senate run in 2000 after then-Sen. Patrick Moynihan announced his retirement because then-first lady Hillary Clinton was intending to run. But in bowing out of that race, she was instead launched to national prominence in 2001 when she was selected to head the House Democratic political arm. 
She was unable to guide the party back to a majority in her chamber in the 2002 elections.
Lowey made history again in 2019, when she became the first woman to chair the powerful House Appropriations Committee, after previously serving as the ranking member while the chamber was under Republican control. The new position arguably makes her the second most powerful member of the New York congressional delegation after only Senate Minority Leader Charles Schumer. It also placed her in a central position to block President Donald Trump's attempts at funding a wall at the U.S.-Mexican border, which contributed to the longest government shutdown ever, lasting for over a month between 2018 and 2019.
Lowey works closely with the ranking Republican, Rep. Kay Granger, who herself made history as Texas' first woman House representative and the first Republican woman to serve as the party's ranking member on Appropriations. The pair represent the first time two women have led a committee since 1977, when women headed up the Select Committee on the House Beauty Shop. Despite deep ideological differences, Lowey and Granger share both a mutual respect and negotiating style that has made their leadership cohesive at a time of intense partisanship.
Another potential government shutdown looms at the end of year, as the federal government has been operating on a short-term spending bill passed in September set to expire at the end of November, setting the stage for an end-of-the-year budget fight that in which Lowey will once again be a central figure. Like in 2018/2019, the battle revolves around border wall funds.
In a statement announcing her retirement, Lowey mentioned several accomplishments, including getting funds to clean up the Long Island Sound – a promise she had campaigned on – investment in child care and early childhood education through programs like Head Start and legislation instituting a blood alcohol level of .08 as the standard for drunk driving.
Among the names floated to replace Lowey – although with no indication of interest from the woman herself – has been Chelsea Clinton, the daughter of the woman for whom Lowey once gave up her Senate ambitions. 
Powered By
NEXT STORY: City Councilman Fernando Cabrera is challenging AOC