New York City
Who's for and against banning menthol cigarettes in New York City
It's Al Sharpton vs. the NAACP, with Corey Johnson stuck in the middle.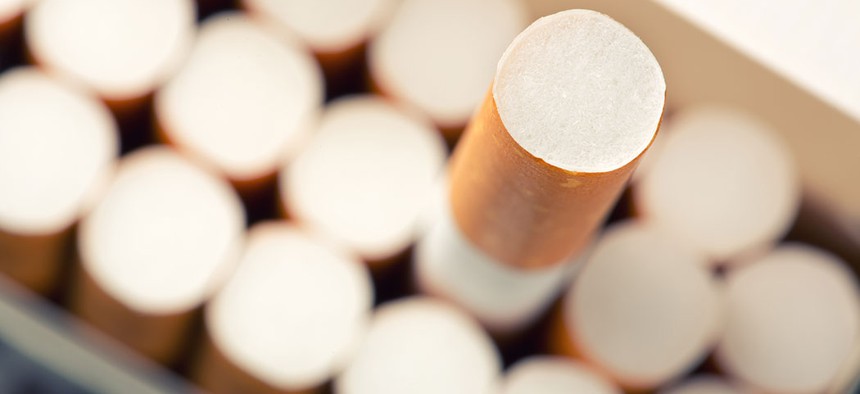 New York's recent temporary ban on flavored e-cigarettes and vaping liquid has ignited a new battle over a possible permanent ban of menthol cigarettes in New York City.
The New York City Council has two proposals on the table to ban the sale of menthol cigarettes and menthol e-cigarettes, respectively, which the council is expected to vote on in the near future. While many council members and anti-smoking advocacy groups are backing both proposals, some, such as Speaker Corey Johnson, are on the fence when it comes to the ban of menthol cigarettes. 
Johnson, who supports the proposal to ban menthol vapes and e-cigarettes, has yet to back the proposal to ban menthol cigarettes, as he feels the "situation is a little more tricky." On Monday, the NAACP penned the speaker a letter, admonishing him for his lack of support in banning menthol cigarettes, which the organization believes could have a drastic impact on communities of color in the city. 
"Every day the menthol loophole is left open, dozens more addicts are made in our city – and they're mostly black and brown," Hazel Dukes, president of the NAACP's New York chapter, wrote in her letter to the speaker.
And Dukes isn't wrong on that point. Menthol cigarettes are more likely to be used by people of color and children – mainly because they've been disproportionately targeted by cigarette companies, something that African American anti-smoking groups have been trying to combat for years now. 
Political figures such as the Rev. Al Sharpton, though, are concerned that banning the sale of menthol cigarettes could result in another "Eric Garner situation" – as Garner died after being held in a prohibited chokehold after police said he was illegally selling loose cigarettes. "There will be a black street market for these cigarettes," Sharpton told the New York Post. "The question is: how will the ban be enforced? The police powers and procedures have to be laid out in the bill."
We rounded up the positions of lawmakers and advocates, to help you keep track of who's for, against and on the fence when it comes to banning menthols:
For the ban:
New York City Councilman Fernando Cabrera
Cabrera, who sponsored and introduced the bill to ban the sale of menthol cigarettes in January, is one of the bill's fiercest supporters. "This is going to happen, and it's going to be one of the biggest things this council has ever done," Cabrera told the Post in mid-September.
New York City Councilman Mark Levine
Levine, who heads the council's Health Committee and introduced the proposal to ban flavored e-cigarettes in January, is a strong supporter of Cabrera's bill, as well as one of its co-sponsors. 
NAACP
The NAACP has been pushing for a ban on menthol cigarettes since Cabrera first introduced his bill in January and remains one of its strongest supporters. "For decades, Big Tobacco has aggressively marketed menthol cigarettes to communities of color, leading to disproportionate health outcomes compared to white smokers," Dukes wrote in her letter to Johnson. 
Chirlane McCray
New York City's first lady and NAACP's Brooklyn Vice President Lorraine Braithwaite-Harte wrote an op-ed for the Daily News in May advocating for a ban of menthol cigarettes, calling them "a death knell for black communities." "In the mid-1960s, fewer than 20% of African-American smokers used menthol cigarettes," wrote McCray and Braithwaite-Harte. "Today, that rate is well above 85% in New York City – almost four times higher than white smokers."
Against the ban:
Al Sharpton
Though Sharpton has stated that his reasons for opposing the ban on menthol cigarettes are related to concerns over how the ban would be enforced within communities of color, it's impossible to ignore his ties to Big Tobacco. Namely, his connection to the country's second-biggest tobacco company, R.J. Reynolds, which produces Newport cigarettes – the nation's best-selling menthol cigarette brand. Sharpton's National Action Network nonprofit has worked with and received large donations from R.J. Reynolds, and the tobacco company has even sponsored a few of NAN's events.
On the fence:
New York City Council Speaker Corey Johnson
Johnson, who supports Levine's bill to ban menthol and other flavored e-cigarettes, has expressed concern over restricting African Americans' agency to make their own decisions. "A lot of menthol cigarettes … have been used by African Americans in New York City," Johnson said during an interview, according to the Post. "And some people say if you ban menthols, you're basically just making it harder for African Americans who through their own choice decide they want to smoke those menthol cigarettes." However, the speaker said that while he doesn't "have a firm position yet" on the menthol cigarette ban proposal, he hopes to make the city "as smoke-free as possible."