New York State
Who's running for Rep. Nita Lowey's seat
Three Democrats are already in the race, which may draw Republican attention too.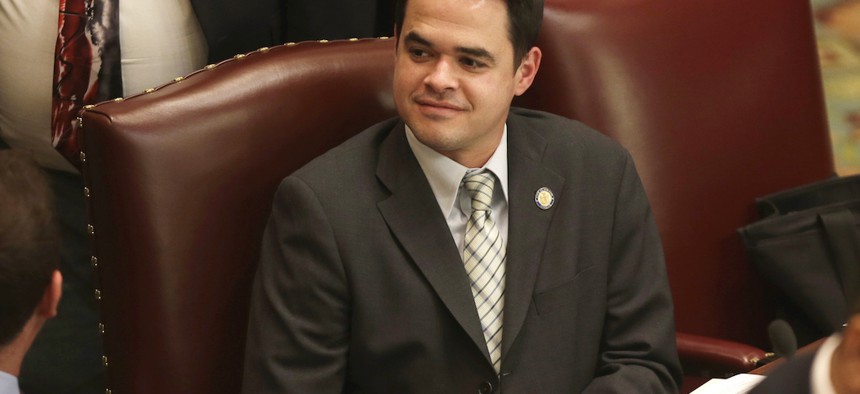 Rep. Nita Lowey's retirement announcement on Oct. 10 set off immediate speculation about who would replace her in New York's 17th Congressional District. The field has begun to take shape, with three candidates already announced for the seat and others who have filed with the Federal Elections Commission. 
State Sen. David Carlucci officially announced on Monday that he is running. Although Lowey's district is often referred to as Westchester-based, about 43% of constituents live in Rockland County across the Hudson River, which Carlucci represents. 
Carlucci joins two other Democrats in the primary – Assemblyman David Buchwald from White Plains, Westchester announced almost immediately after Lowey said she would retire, and Mondaire Jones, a progressive who had initially planned to primary Lowey and thus had already been campaigning. 
Although Carlucci may have a leg up in name recognition – at least in half of the district – his past membership in the Independent Democratic Conference is sure to follow him into the race. The breakaway conference of Democrats shared power with Republicans, including for a short time when Democrats held a numerical majority in the state Senate, enabling the GOP to remain in control of the chamber. The IDC disbanded in April of last year and the majority of Carlucci's former colleagues lost in primaries to anti-IDC challengers. Now, only Carlucci and state Sen. Diane Savino remain.
Before Carlucci even officially announced, progressive activist groups like No IDC NY and True Blue New York were indicating that they would work to ensure he would not get elected. In a statement, Jones called Carlucci a "Trump Democrat," a common refrain from the 2018 Democratic primaries. 
Carlucci does not seem very concerned with his party's liberal base, which he successfully fended off last year. He recently told The Wall Street Journal that while his detractors may focus on the past, he's focused on the future. He told City & State that he plans to campaign on his strong record in the state Senate, where he passed the second-most bills in the state Senate this past session, and focus on local issues like education. He has said in the past that his allegiance to the IDC was the best way to get legislation passed when it first formed in 2011 (the same year he first took office). When asked by City & State, Carlucci said that he would caucus with the Democrats if elected to Congress.
Buchwald, who has been in office since 2013, told City & State that he wants to restore honor and dignity to Washington in apparent reference to President Donald Trump. He told The Journal News that he's willing to put his record of "being a steadfast Democrat … against anyone" in what appeared to be a subtle jab at Carlucci. 
In deciding to run, Carlucci and Buchwald also open up their state legislative seats, since state and federal primary days have been consolidated in New York. Neither Carlucci nor Buchwald indicated that they have given thought to potential successors.
Jones, a lawyer and former staffer to then-President Barack Obama from South Nyack, Rockland County, so far is the only candidate to have raised money, since he was already on the campaign trail well before the seat became open. In the third fundraising quarter – the first in which he filed disclosures with the Federal Elections Commission – Jones raised over $218,000, giving him an early leg up over other announced and potential candidates. He plans to run a staunchly progressive campaign, with a focus on "Medicare for All."
Other Democrats have filed with the FEC to run, including New York City school teacher Lola Osorio and stay-at-home mom Jo-Anna Rodriguez-Wheeler, but have not raised any money or made any public announcements about their candidacy. 
Several Democrats had their names floated in the immediate aftermath of Lowey's announcement, including Chelsea Clinton, who declared on "The View" that she has no intention to run. Additionally, Assembly members Amy Paulin and Tom Abiniti have both previously said they were considering entering the fray, but neither have made a public decision one way or the other yet.
On the Republican side, former Westchester County Executive Rob Astorino has indicated that he is considering a run. In an email to City & State, Astorino spokesman Bill O'Reilly said he "agreed to take a look at it," but that he's also "happy with his life right now." Astorino has also been rumored to be eyeing a state Senate run against freshman state Sen. Peter Harckham in District 40. 
Republican New York City Police officer Jarred Buchanan from Yorktown had filed to run against Lowey, but announced via Facebook that he was ending his bid about a week after she said she would not run for reelection. White Plains Republican Josh Eisen has also filed to run.
Even though Lowey originally won the seat by defeating a Republican incumbent, Joseph DioGuardi, the district has changed substantially in the 30 years Lowey has been in office and it appears unlikely the seat will flip. Democrats outnumber Republicans 2-to-1 and the district went for Hillary Clinton in 2016 with 58.6%, compared to 38.4% for Donald Trump. The last time Lowey faced a Republican challenger in 2014, she beat him by a margin of about 12%. Combined with an unpopular Republican president on the ballot, it would take an unusual confluence of events for Republicans to win the seat in 2020. 
However, Lowey's seat has not been open in decades, giving ambitious Republicans in the district a tempting target. It also gives up-and-coming Democrats a rare shot at a congressional seat without the need to take on a powerful incumbent.