New York State
Primary fears at Somos
Challenges from the left and right loom for incumbent lawmakers.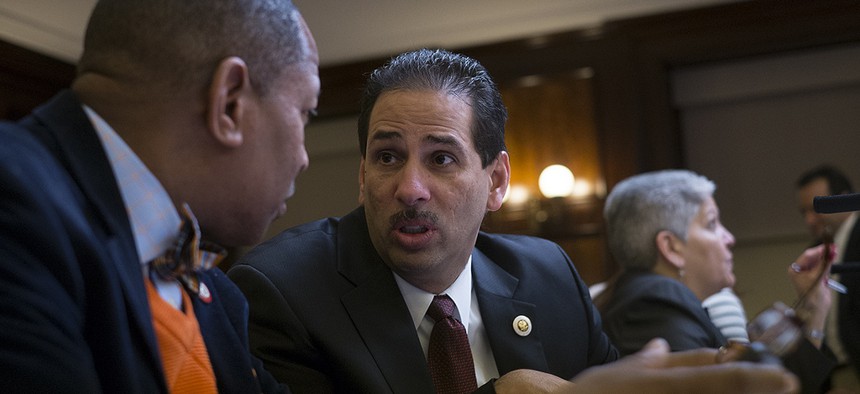 The 2019 Somos conference in San Juan, Puerto Rico, occurs at a relatively quiet time in the political calendar. Big Democratic gains in the 2018 elections inspired a festive mood for many attendees at last year's conference. By contrast, the 2019 election featured relatively few competitive races across the state. 
But while a contentious 2020 election cycle remains a year away, there is lots of talk at Somos about who will survive the potential political upheaval.
State lawmakers cannot escape fears of a primary challenge at the conference, normally tight-lipped politicos acknowledged over drinks at a Nov. 6 Somos cocktail reception as the supply of Medalla beer grew empty. Last year's election cycle featured a slate of leftist challenges to longtime centrist state lawmakers, but the upcoming cycle is already shaping up to be somewhat different. While the Democratic Socialists of America and other progressive groups are aiming to unseat old-school liberals and relatively moderate lawmakers in the five boroughs, there are also rumblings of challenges from the right to longtime lawmakers. In other words, no one is resting easily at the five-day conference, which is organized by the New York State Assembly and Senate Puerto Rican and Hispanic Task Force – or at least they shouldn't.
"Everybody in here is facing a primary challenge," one longtime New York City Democratic insider said at the conference. "They are all afraid of losing their f–ing jobs."
Some lawmakers already face tangible political threats, including longtime liberal lawmakers who face primary opponents from the left. This includes Assemblyman Félix Ortiz, a former chairman of the task force that hosts Somos, and fellow Assembly members Walter Mosley and Assemblyman Erik Dilan – all of whom face DSA-backed challenges for their Brooklyn seats. These lawmakers have all been loyal members of the Democratic conference who cast votes in favor of high-profile legislation like landmark rent reforms this past session. But their upstart opponents say they would steer state politics in a much more aggressively progressive direction. The fact that these three incumbents face primary opponents shows just how much the political dynamics in New York have changed in little more than a year.
The 2018 cycle featured numerous challenges to lawmakers who were former members of the Independent Democratic Conference, a breakaway group of Democratic state senators who supported GOP control of the chamber. While a unification deal had been struck between the IDC and the mainline Democratic Senate conference, the ouster of former IDC members in the subsequent primary election was hardly an unexpected result. Rep. Alexandria Ocasio Cortez and state Sen. Julia Salazar demonstrated the emerging strength of the DSA by unseating Rep. Joe Crowley of Queens and the Bronx and state Sen. Martin Dilan of Brooklyn, both longtime, relatively moderate lawmakers. The primary loss of Martin Dilan – father of Erik Dilan – is a case in point in what can happen to an insufficiently vigilant lawmaker. A loyal member of the Democratic conference, Martin Dilan's loss to Salazar was due in part to an extensive volunteer-driven ground game and attacks on his record the focused on his ties to the real estate industry. 
For other incumbents, the threats are still hypothetical. Assemblyman Al Taylor of Manhattan told City & State that he is expecting a primary challenge, though he was unsure which political direction an opponent would come from in his Upper Manhattan-based seat. The two-term legislator prevailed in the 2018 primary with 48% of the votes against two opponents before running unopposed in the general election. His ties to the local political establishment, however, could make him vulnerable to a challenge from the left, and the 2018 results show his vulnerability to an ethnic-based challenge should a single Latino opponent emerge. For now, Taylor says he is not overly concerned. "I have to go about doing my business," he said. "It's not something that keeps me up at night." 
On the other side of the ideological spectrum, some Democrats might also pay a price for some of the achievements of the past legislative session. Assemblyman Michael DenDekker faces a primary opponent who is attacking the recently-passed criminal justice reforms as too favorable to criminal defendants. Avowed progressive Assemblywoman Yuh-Line Niou also faces a primary challenge from a local businesswoman who is running on a platform that includes lowering taxes. Even a freshman lawmaker like Ocasio-Cortez has to deal with a primary challenge from City Councilman Fernando Cabrera, who holds conservative positions on LGBTQ rights and capitalism. All of these challenges remain longshots at this point, but they are making other Democratic incumbents wonder what might be in store for them. 
That is spoiling the fun for some incumbents at the Somos conference, and inspiring plenty of conversations among lobbyists, staff and other politicos. The stated purpose of the annual conference is to gather policymakers to discuss issues of importance to the Latino community through volunteer events and legislative workshops. Somos also gives political insiders a chance to mingle in the warm weather away from the pressures and scrutiny back home. 
Yet when the work for the day is done and the drinking begins, their worst political fears are hardly put away for the night. Former state Sen. Martin Dilan might have landed on his feet this past year by receiving an appointment to the Workers' Compensation Board, but this was not the future he was planning for a little over a year ago. As he walked through the crowd at Somos early in the morning on Nov. 7, he served as a living example of what can happen to an elected leader who only takes a primary challenge seriously once it is too late. As the longtime New York City Democratic insider said, many among the crowd "would rather have cancer" than lose their positions. 
In between, glad-handing supporters in the Gold Ballroom of the four-star El San Juan Hotel in San Juan, the potential dangers of 2020 were still on the mind of one state lawmaker from New York City. On many mornings, that lawmaker wakes up and checks the state Board of Elections website to see if anyone, right or left, is getting in the primary mix. This lawmaker would not be anybody's idea of a vulnerable incumbent, but remaining vigilant is the new normal.
Powered By
NEXT STORY: Staten Island is seeing a spike in thyroid cancer