New York State
Rep. Elise Stefanik's pro-Trump turn puts her reelection at risk
The anti-impeachment star's rising profile is driving support to her Democratic opponent.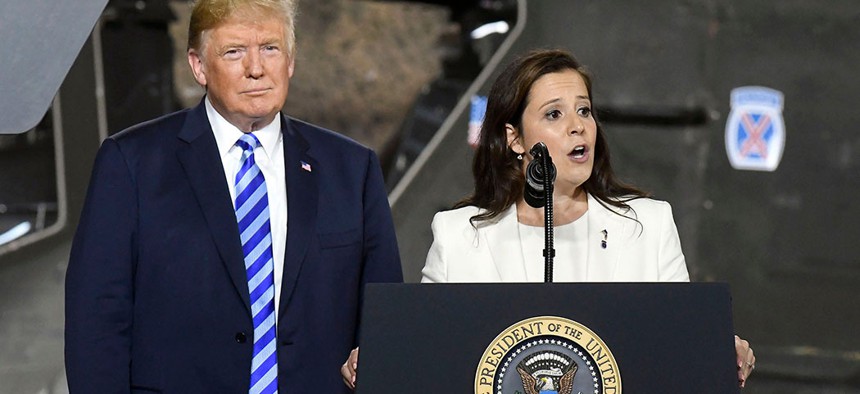 Rep. Elise Stefanik has suddenly become a national Republican star because of her performance in Friday's impeachment hearings. Previously known as a mainstream upstate Republican, Stefanik is being seen in a new light because of her aggressive questioning of Marie Yovanovitch and her performative clash with House Intelligence Committee Chairman Adam Schiff, aligning herself more strongly with the Trump faction of the party. 
But her increasingly partisan stance also has steered support to her opponent in next year's congressional race. Democrat Tedra Cobb earned a whopping $1 million in donations from across the country over the weekend, even getting celebrity shout outs from Chrissy Teigein and "Star Wars" actor Mark Hamill. This far surpassed the approximately $656,000 Cobb had raised this year by the end of September, raising questions about how much Stefanik's approach may be a liability for her reelection prospects. Already on the defensive because of Cobb's fundraising numbers, on Monday Stefanik released a letter of support from local Republican leaders. Experts on local politics say it's unlikely, but not impossible, that Stefanik could lose her seat in 2020 – especially if it shapes up to be another Democratic wave in response to President Donald Trump's unpopular administration. 
Representing a North Country district that President Donald Trump carried by 13.7 points, Stefanik has clear advantages as an incumbent Republican. In fact, until her predecessor Democratic predecessor Bill Owens took office in 2009, the seat had been held by Republicans since the 1870s. And before the latest fundraising spree for both candidates, Stefanik had double the total receipts Cobb did this year. She also fared better than any other Republican congressional incumbent in New York during the 2018 midterms.
Still, some of the district's characteristics lend hope for a strong Democratic challenger. Former President Barack Obama carried the district twice. And Stefanik's margin of victory went down by 9.2 percentage points last year compared with the 2016 election, when Cobb initially challenged her. Democrats have to do everything exactly right to win," said Brian Mann, Adirondack bureau chief at North Country Public Radio, about the district. 
The northeast counties bordering Vermont and Canada – Clinton, Essex and Franklin – have historically had a stronger Democratic lean compared with the rest of the district, which stretches to Lake Ontario to the southwest. That can be attributed in part to the presence of a state university, SUNY Plattsburgh, and proximity to the left-leaning state of Vermont, said Harvey Schantz, political science professor at Plattsburgh. Meanwhile, Fulton and Jefferson counties have been consistently Republican, with Jefferson being home to the Fort Drum military base where Trump signed defense legislation last year. 
But even so, the district has had a reputation as being fairly moderate. "The way in which I had described the folks in my district, it's primarily made up of Reagan Democrats and Rockefeller Republicans," Owens, the former congressman, said. In fact, many of the counties in the rural North Country were dubbed as among the most politically tolerant by The Atlantic earlier this year. 
Stefanik has built her reputation as a moderate, voting against the 2017 tax bill and backing compromise legislation on children illegally brought to the United States as minors. A former aide to President George W. Bush, she also became known as a fierce campaigner with a strong ability to raise campaign cash. Luke Perry, professor of government at Utica College, noted the stark difference between her and former Rep. Claudia Tenney, the right-wing and vociferously pro-Trump Republican who lost her seat in a neighboring district last year. Prior to the impeachment hearings, her most noteworthy national action was creating a political action committee to raise money and provide mentorship for women running for Congress as Republicans – the subject of this week's City & State cover story. "Stefanik was a better candidate and I think a little more targeted in terms of engaging and disengaging from the president," Perry said. For the recent City & State story, she said, "I support the president. … But I also have an independent record of areas of disagreement."
But in the past year, her campaign has taken on an increasingly Trump-like tone, Mann said, more frequently name-calling her opponent as "Taxin' Tedra" and making misleading or inaccurate claims about Cobb's record. About a week before Stefanik took the national spotlight, the Post-Star of Glen Falls, New York – which endorsed her reelection in 2016 – criticized her transformation into a "Trump acolyte" who was "becoming more partisan, more disingenuous and irrational."
"I think that the activities in Washington this last week may have nationalized this district, and people all over the country are looking at the district," said Schantz. "So in that sense the district is more uncertain in the way the next election will come out." 
Exactly how the tide will turn depends in part on how the impeachment hearings unfold for the president, and how Democrats energize around that in the coming months. This is particularly pertinent given that the race overlaps with the heated presidential race, which is likely to draw increased turnout. "In general terms, if you're running for reelection, you don't want the leader of your party being impeached or removed from office," Perry said. The district has become increasingly polarized, focusing on Trump as a main electoral issue. Last month, controversy surrounded one local far-right activist who claimed Stefanik's office contacted him to pack her public meeting with supporters, just four days after he pointed a gun at a Post-Star journalist.
Meanwhile, Cobb has some additional advantages since her 2018 campaign, which was marked by novice mistakes such as expressing contradictory positions on assault weapons bans in public and in private meetings. 
"What we've seen in Central New York, when a challenger, particularly a Democratic challenger like Dana Balter in the 24th District, they come with limited name recognition and they run one time, as both Cobb and Balter did in 2018," Perry said. "And through that process, even if they weren't successful, they have more name recognition, they have more fundraising ability and I think they're in a stronger position to mount their challenge the next time around."
Correction: Perry said, "... if you're running for reelection, you don't want the leader of your party being impeached ..." The quote was originally transcribed incorrectly.