New York City
Bloomberg's unpopularity soars and impeachment proceedings ramp up
Rounding up the week's political news.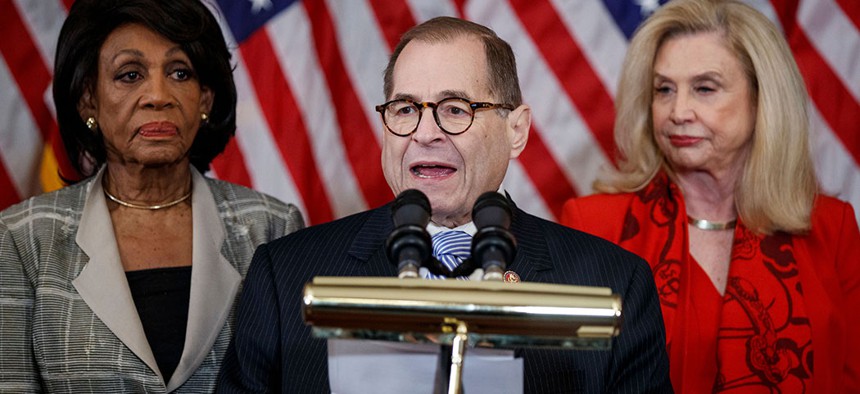 Michael Bloomberg's billions may be able to buy him hours upon hours of airtime with his record-shattering $30 million ad buy, but they can't buy him friends. A new Monmouth University poll found that Bloomberg is incredibly unpopular among registered voters, with 54% thinking unfavorably of him while only 26% feel the opposite. Those numbers are worse than five of his Democratic competitors – and the president. Maybe if he gave away his fortune to individual voters Andrew Yang-style, Bloomberg would be more en vogue.
Democrats announce articles of impeachment
House Judiciary Committee Chairman Jerrold Nadler announced two articles of impeachment against President Donald Trump, officially calling for his removal from office. Although many thought or hoped more articles would be introduced – touching on matters ranging from Robert Mueller's investigation to violations of the Constitution's emoluments clause – House Democrats kept their focus narrow. The two articles are for abuse of power and obstruction of Congress. The committee approved the two articles of impeachment on Friday, which sets up a vote by the full House.
Mass shooting in New Jersey
Six people were killed in a series of gunfights in Jersey City, New Jersey, that lasted for hours. The violent spree began at a cemetery, where a police officer approached a van in connection to a murder investigation. One of the two people in the vehicle killed the officer, then the pair fled, winding up at a kosher deli. After opening fire at the deli, the assailants entered, took hostages and began a shootout with the cops. In the end, three civilians were killed, as were the shooters. Officials initially believed the deli was chosen at random, but later declared the incident an act of domestic terrorism fueled by anti-Semitism and anti-police sentiment.
Robach latest GOP senator to retire
For the fourth time in about two weeks, a Republican state senator announced he would not seek reelection in 2020. This time, longtime state Sen. Joseph Robach said that he was retiring. He acknowledged that Democratic control of the chamber played a role in his decision, saying he was suffering from "divisive New York City politics." Along with the four retirements, at least two other Republicans may not be able to seek reelection because they are running for other seats, while another was recently elected as a judge. This leaves Republicans in a tough spot in 2020 as they defend their incumbents and fight to retain these newly open seats.
NYC homeless program halted
New York City has agreed to temporarily pause its placement of homeless people in Newark, New Jersey, as part of a program that relocates shelter residents to other cities. The move comes after Newark sued the city over the squalid living conditions of program participants, and after hours of closed-door negotiations between officials from the two cities. In addition to the program's suspension, the city announced a help line and crisis intervention services for program participants living in poor housing conditions outside New York City.
James loses Exxon Mobil case
State Attorney General Letitia James lost a potentially landmark climate change fraud case against Exxon Mobil Corp. James had attempted to prove that Exxon Mobil lied to its shareholders about the costs of climate change and alleged that the company kept separate private records that disregarded those costs. However, the judge found that New York failed to prove its case and ruled in favor of the company. The state's investigation began four years ago under then-state Attorney General Eric Schneiderman, with the charges announced last year by then-state Attorney General Barbara Underwood. The case was the first of its kind in the nation, and though New York's loss is a setback for climate activists, a number of other states have similar pending lawsuits.
Rochester's education problems
In the ongoing fiscal crisis in Rochester's schools, credit rating company Moody's downgraded the city's debt rating because of "poor budgeting" in the school district. The decision by Moody's comes just weeks after the U.S. Securities and Exchange Commission opened an investigation into the Rochester City School District. Hundreds of teachers in the city may also be let go due to the district's financial woes.