Donald Trump
Rep. Jerry Nadler introduces two articles of impeachment
The House Judiciary Committee has accused President Donald Trump of abusing his power and obstructing Congress.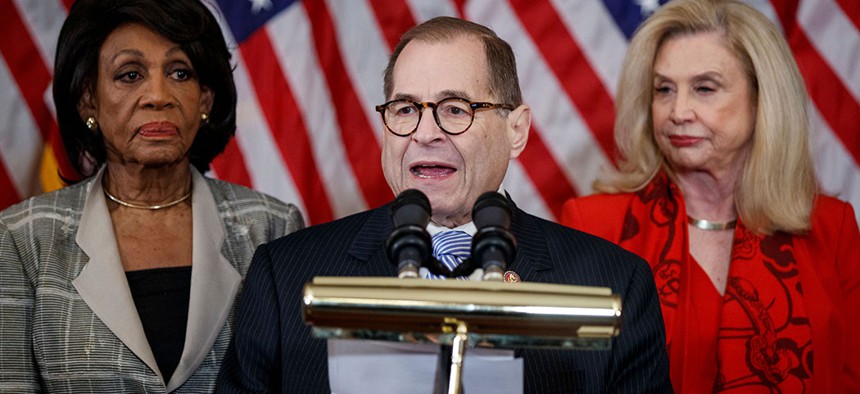 It's an epic battle between New Yorkers: On Tuesday morning, Chairman of the House Judiciary Committee Jerry Nadler introduced two articles of impeachment that accuse President Donald Trump of abusing his power and obstructing Congress.
Nadler announced that his committee is "charging the president of the United States, Donald J. Trump, with committing high crimes and misdemeanors," while accompanied by House Speaker Nancy Pelosi, House Financial Services Committee Chairwoman Maxine Waters and House Committee on Oversight and Reform Chairwoman Carolyn Maloney, at a press conference in the U.S. Capitol. 
The New York congressman said that Trump's effort to cajole Ukraine into investigating former Vice President Joe Biden and his son Hunter Biden, in an attempt to sway the 2020 election "compromised our national security and threatened the integrity of our elections." Nadler and Maloney represent neighboring Manhattan districts. Maloney's is home to Trump Tower and Nadler battled with the future president over a proposed development on the Upper West Side in the 1980s. 
"Throughout this inquiry, he has attempted to conceal the evidence from Congress and from the American people," Nadler said, explaining why Trump is being accused of obstructing Congress. "Our president holds the ultimate public trust. When he betrays that trust and puts himself before country, he endangers the Constitution, he endangers our democracy and he endangers our national security."
Nadler also announced that the House Judiciary Committee is planning to vote on the two articles of impeachment this week and will then send the vote to the entirety of the House. The committee also released a draft of the impeachment articles shortly after the morning's press conference, which further expound on its accusations against Trump – and will be revised ahead of the committee's vote.

After Nadler's less-than-stellar performance during Corey Lewandowski's hearing in September, it appears the investigator is back in action, cementing himself in history by introducing articles of impeachment.