What impeachment means for House members in swing districts
Party line votes could endanger New York incumbents, but it's a long time until November 2020.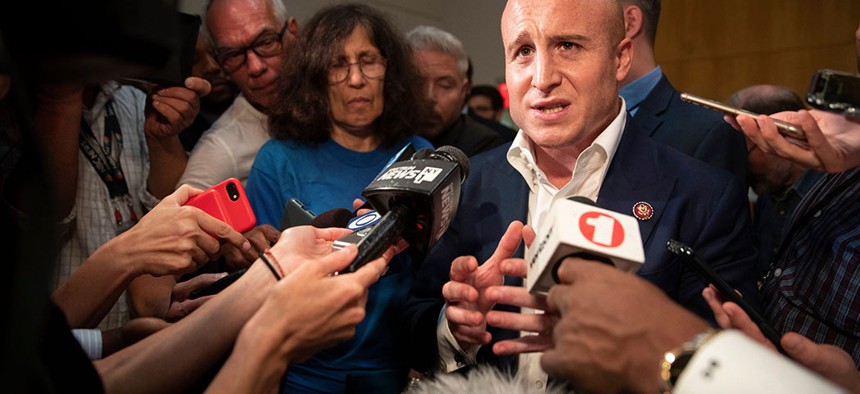 It's been a long buildup, but President Donald Trump's impeachment has finally arrived. And that means that all the moderate House members in swing districts that have tried to avoid the issue can run no longer. Across the country, the prospect of impeachment has spurred speculation about how the vote will impact vulnerable lawmakers, particularly Democrats. 
New York is no different, where lawmakers from both sides of the aisle have made potentially risky decisions. But while Republicans may see it as their opportunity to gain ground in key districts, experts suggest that how Congress members chose to vote may not be the defining factor in their reelection.
Much of the attention has been on holdout Democrats in battleground areas. In New York, that meant all eyes were on Reps. Anthony Brindisi, Antonio Delgado and Max Rose. Each first-term lawmaker won tough races in some of the swingiest districts in the country. And all three Democrats ultimately decided to vote yes on both articles of impeachment, sticking with their party. Each ran on local issues in 2018 while largely avoiding Trump, but impeachment will likely make that strategy a hard one to duplicate in 2020.
Richard Flanagan, a political science professor at the College of Staten Island, said he thinks that the impact of impeachment votes in Rose's 11th Congressional District race will be minimal. He said that the inquiry is not changing hearts and minds about Trump, who won the district handily in 2016. Flanagan asserted that the presidential nominee who leads the Democratic ticket will play a much more consequential role in the House race. "I think, as crazy as it sounds, impeachment will be a dim memory by November," Flanagan said. 
He added, though, that Rose's apparent reluctance to address impeachment, and his delay in announcing his final decision, will play well with registered Democrats in the district who voted for Trump. It also fits with Rose's campaign messaging and positions until this point, that he's not here simply to talk about Trump. Flanagan said Rose seems to have sufficiently framed the situation as one in which his hand was forced. But the move still opens him up to attacks, including by Assemblywoman Nicole Malliotakis, a leading Republican seeking Rose's seat, who blasted him for "weeks of hedging and then flip-flopping" and failing to have the "backbone to break with his left-wing colleagues and vote against impeachment."
Delgado and Brindisi find themselves in a similar situations. Utica College government professor Luke Perry said that Brindisi is in a particularly tricky predicament, representing a district that still has a GOP edge and that went for Trump in 2016 by a large margin. Republican voters outnumber Democrats 158,947 to 130,548, and Conservative Party enrollment only adds to gap. Unlike other districts that may be trending more Democratic recently, Perry said the partisan divide in the 22nd Congressional District has remained fairly consistent. Perry added that might explain why, while leading up the lawmaker's last-minute decision, Brindisi had been so reluctant to even support the idea of an impeachment inquiry, despite prodding by some of his constituents. Brindisi managed only the slimmest of victories against one of Trump's staunches supporters, Claudia Tenney, in a heavily red district. 
However, Perry made a similar point to Flanagan in that those in Brindisi's district most vehemently opposed to impeachment are those who didn't vote for him anyway in 2018 and wouldn't switch sides in 2020. He added that Brindisi acted strategically by waiting to decide which way to vote until the very last minute. "(It) reflects his messaging of how serious an undertaking he understands this to be," Perry said. "So at the very least, there's a consistency there."
The strength of Rose's and Brindisi's challengers cannot be discounted. Perry suggested that former Rep. Claudia Tenney is likely to face off against Brindisi again. Given the narrow margin in 2018, Tenney could be formidable. But Perry suggested her candidacy has weaknesses, given she only served for two years, lost to Brindisi before and faces a protracted primary herself that may slow her momentum before the general. 
Rose is likely to face Malliotakis, who also appears to be capable of putting up a good fight. But Flanagan said that Rose's significant fundraising lead gives him an advantage. And Flanagan doesn't expect national political action committees or the Republican Congressional Campaign Committee to invest in a race in a state with no significance in the presidential race. 
Delgado, meanwhile, does not yet have any serious challengers, perhaps putting him a safer position than Rose and Brindisi. Perry also suggested that District 19, while still a swing district, has been trending blue, despite voting for Trump in 2018. The shift reflects a slim but growing Democratic majority there despite its swing status. "The ground pretty much shifted under (former Rep.) John Faso's feet when he's elected in a Republican district, and then in a few years it became a Democratic district," Perry said. "I think those trends are helpful to someone who's a freshman Democrat trying to navigate a difficult political situation."
SUNY New Paltz professor Gerald Benjamin still described Delgado's decision to vote yes on impeachment as "courageous" for the political risk he is taking, given that his reelection is not guaranteed. He said despite Delgado fairly successfully focusing on consensus issues like agriculture and making efforts to visit every part of the district, his reelection is hardly guaranteed. "The consequences can't be fully measured until you know who likely opponents may be, and that's still very much an open question," Benjamin said. A decision by Dutchess County Executive Marc Molinaro to challenge Delgado could completely change the dynamics of the race. The role Trump would play in that matchup remains to be seen, as Molinaro sought to distance himself from the president in the past.
Republicans see a major opening to take on these three freshman Democrats. They say independent voters want impeachment over with so that lawmakers can return to pocketbook issues. Certainly, support for impeachment has declined as the actual vote drew nearer. Republicans may be right about their opportunity – it's impossible to say with any certainty how impeachment and their votes will affect elections a year from now. But there are also vulnerabilities for Republicans like Rep. John Katko, who is also in a swing district. Although he has spent more time in office than any of the three Democrats, he too had a tough contest in 2018. And while the Democratic swing districts all went for Trump in 2018, Katko's district went for Clinton. 
Perry argued that like the Democrats, Katko found himself in a tough spot, but opting to vote no was still his best option. Katko qualified his decision by saying that Trump's "behavior was wrong, but the evidence presented does not meet the high bar articulated for impeachment." That allows him to maintain his status as a non-Trump supporter who supports the rule of law, while not alienating the Republican base. He walks a fine line if he finds himself in a rematch with Dana Balter. "I think the impeachment issue is going to be a challenging one for Katko because it's going to further enthuse and mobilize Democrats, particularly in the Syracuse area," Perry said. But nothing that Katko did regarding impeachment was likely to have dissuaded left-wing activists from trying to unseat him, short of maybe switching parties.
Of course, November 2020 is still the distant future in the world of politics, and if Trump's 2016 victory has taught us anything, it's that political winds can shift quickly – and in unexpected ways.