5 things to know about Rodneyse Bichotte
Meet Brooklyn's new boss.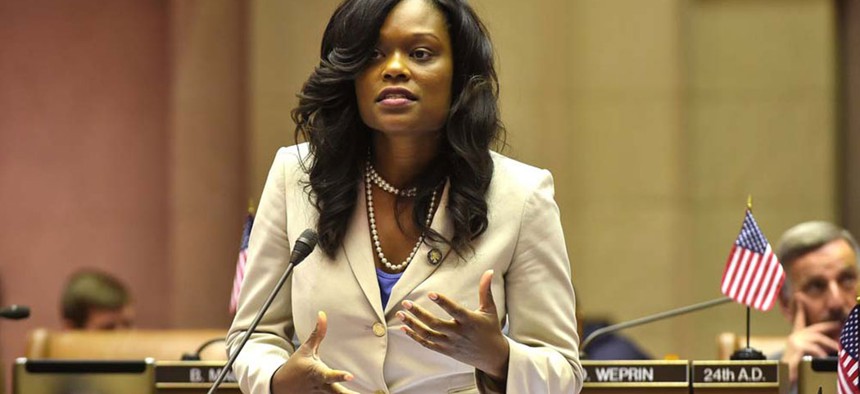 Assemblywoman Rodneyse Bichotte seems poised to become Brooklyn's next Democratic county leader – aka party boss – after the current boss, Frank Seddio, who has led the state's largest local Democratic organization since 2012, announced his abrupt retirement on Monday. The party's executive committee, made up of the borough's 42 district leaders, plans to vote to approve Bichotte on Monday.
Here are five things to know about the city's newest boss.
She's the establishment pick
Seddio endorsed Bichotte at the same time he announced his retirement, calling her "the one that I believe best serves the party." She's on the Brooklyn Dems' executive committee, and chairs the party's finance committee. Seddio told City & State that she never asked to be the next leader, but rather he asked her. Seddio's term wasn't up until September, so it looks like his early retirement was a way for him to handpick a successor who would be less likely to face a challenge, given the short timeline. 
Other Democratic district leaders like Assemblyman and City Councilwoman Charles and Inez Barron have criticized the process and Assemblyman Walter Mosley even considered mounting a challenge, but as of Wednesday, it looked like Bichotte would stand alone for election on Monday.
A history-making choice 
If elected, it's believed that Bichotte, a native Brooklynite of Haitian descent, would be the first black woman to lead a county committee in New York City, and the first woman to lead the Brooklyn Democrats. At 47, Bichotte's election would represent generational change from the 73-year-old Seddio. It would also represent a shift in political power in the borough, away from so-called white ethnics like the Italian-American Seddio and toward the growing Caribbean-American population. The West Indian Day Parade, which fills Eastern Parkway in Crown Heights every Labor Day, is likely Brooklyn's biggest political event. 
She has five college degrees
Growing up in Flatbush, Bichotte studied music at the prestigious Fiorello H. LaGuardia High School of Music & Art and Performing Arts in Manhattan, but she veered away from the arts for her higher education. According to Bichotte's official biography, she has bachelor's degrees in electrical engineering and mathematics in secondary education from Buffalo State, a bachelor's in electrical engineering from University at Buffalo, a master's in electrical engineering from Illinois Tech and an MBA from Northwestern's Kellogg School of Management.
Before entering politics, the assemblywoman worked as a math teacher in New York City public schools, an engineer in the telecommunications industry, and an investment banker at Bank of America and JP Morgan. Bichotte challenged the long-serving Assemblywoman Rhoda Jacobs in the 2012 Democratic primary and lost. Jacobs declined to seek re-election for the next term, and Bichotte won the open seat in 2014. She now chairs the Assembly Subcommittee on Oversight of Minority and Women-Owned Business Enterprises.
She's been wheeling and dealing
Bichotte hasn't been shy about her political ambitions, running candidates and gaining power in her Flatbush district since soon after she took office. Most recently, Bichotte was a chairwoman of Jumaane Williams' successful 2019 public advocate campaign, and helped lead City Councilwoman Farah Louis to victory in filling Williams' open seat. While she had to apologize for flippant remarks about the Jewish community in 2015, Bichotte has nurtured a deep political alliance with Orthodox Jewish leaders in Central Brooklyn in recent years, most recently with Louis' win. 
Bichotte is also a close ally of New York City Mayor Bill de Blasio, often writing op-eds in support of him, and was one of the (very) few leaders to endorse him for president last year. 
She wields a mean pair of nunchucks
Bichotte has a junior black belt in taekwondo – something she was proud to advertise while pushing to legalize professional mixed martial arts matches in the state in 2016. She studied for six years, she told the New York Post, so "people know not to mess with me."