Andy Byford
Andy Byford resigns and Cuomo releases his budget
Rounding up the week's political news.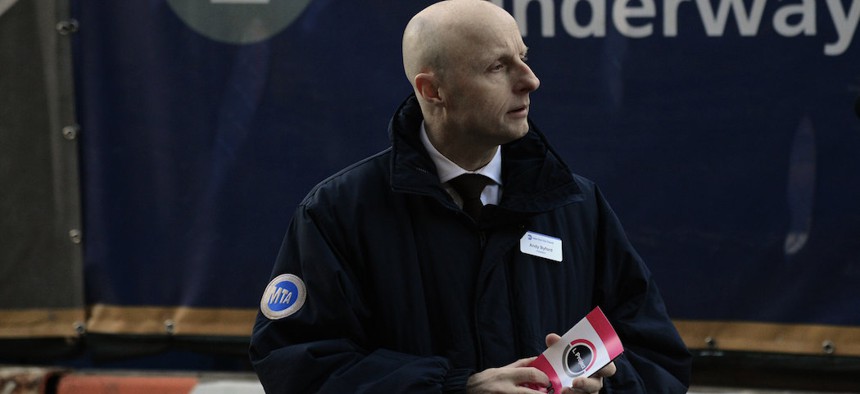 There are a lot of critters that cause delays on the subway: raccoons, dogs, goats and geese. And now bed bugs. Workers at a subway control tower saw a couple of the bothersome bugs. That resulted in an evacuation and fumigation team getting called in, which caused massive disruptions to service in Queens right as the evening rush was starting. Who would have thought something so small would have created such big problems? Considering the MTA once blamed a pencil for delays, perhaps we shouldn't be surprised. Keep reading for more noninsect related news.
Train Daddy is leaving us for real
After two years on the job, wildly popular New York City Transit President Andy Byford has once again tendered his resignation to the Metropolitan Transportation Authority, and this time it seems like he's leaving for good. Byford had reportedly told the MTA he would resign in October of last year, saying he was fed up with meddling by Gov. Andrew Cuomo and didn't want to oversee layoffs and service cuts. Ultimately, the MTA managed to convince the Brit to keep calm and carry on, but that only lasted so long. Byford is credited with turning around the city's subway system after Cuomo declared a state of emergency in 2017. He's considered one of the best in the world at what he does – reviving troubled transit systems – so his replacement will have big shoes to fill.
Cuomo makes his budget pitch
Facing a massive $6.1 billion budget gap fueled in part by Medicaid spending, Cuomo presented lawmakers with his fiscal year 2021 executive budget. He avoided splashy new spending initiatives or tax hikes, and decided to stick with what he knows: a new Medicaid Redesign Team that is supposed to find $2.5 billion in savings. The other $4 billion in savings will come from a variety of belt-tightening measures, including a $1.8 billion decrease in funding for localities and projecting more robust tax revenue. Cuomo made a series of other proposals as well, like renewing his push for recreational marijuana, legalizing e-bikes and e-scooters, and instituting mandatory paid sick leave statewide.
Eric Adams tells Ohioans to get out
The next potential mayor of New York City doesn't want Midwesterners snatching up all the housing in the five boroughs. "Go back to Iowa! You go back to Ohio!" he said during a Martin Luther King Jr. Day speech. The statements immediately got him roasted on social media as people took issue with the apparent sentiment that Adams doesn't welcome the transplants that make New York City what it is. Adams almost immediately said his statement was a "gaffe" and declared he has nothing against the Midwest – he was talking about the gentrifiers who act like they "discovered" New York. But even though singling out Iowans and Ohioans may have been a mistake, the rhetoric could be part of his broader campaign strategy for mayor.
Impeachment managers make their opening arguments
President Donald Trump's impeachment trial was in full swing last week as the U.S. Senate decided on trial rules and the Democratic impeachment managers began their arguments about why Trump should be removed from office. Rep. Jerrold Nadler made a splash before the opening arguments even started, as he and his colleagues debated with the president's defense team over the rules of the trial. Chief Justice John Roberts admonished both Nadler and the defense for their lack of decorum before the Senate in the wee hours of Wednesday morning. A couple of moderate Republican senators were also unhappy with Nadler's implication that they would be complicit in a cover-up if they did not permit new witnesses. Rep. Hakeem Jeffries had a viral moment as well when he quoted the Notorious B.I.G. on the Senate floor.
Sheldon Silver is still going to prison …
Former Assembly Speaker Sheldon Silver got a little bit of good news last week when judges overturned part of his 2018 corruption conviction. But it was largely outweighed by the bad news, which was that the judges still upheld most of the ruling. That means he's still going to prison, despite his best efforts. Silver has managed to remain a free man pending appeal since he was first convicted in 2015. Those charges were thrown out by a higher court in 2017, thanks to a 2016 U.S. Supreme Court ruling. Silver was retried and found guilty again in 2018, but he once again appealed the decision and still hasn't seen a day in the clink. But even with the minor win, he's exhausted his get out of jail free cards, and he's finally headed to the big house.
… and so is Chris Collins
Former Rep. Chris Collins is also headed to prison, and since he pleaded guilty, he won't be appealing his insider trading conviction. So unlike Silver, who put off his prison time for years pending appeal, Collins should be on his way soon. A judge decided to give the disgraced congressman a 26-month prison sentence and a $200,000 fine.