New York State
Are the Assembly and state Senate working together?
The early days of the 2020 legislative session has featured limited coordination between the chambers.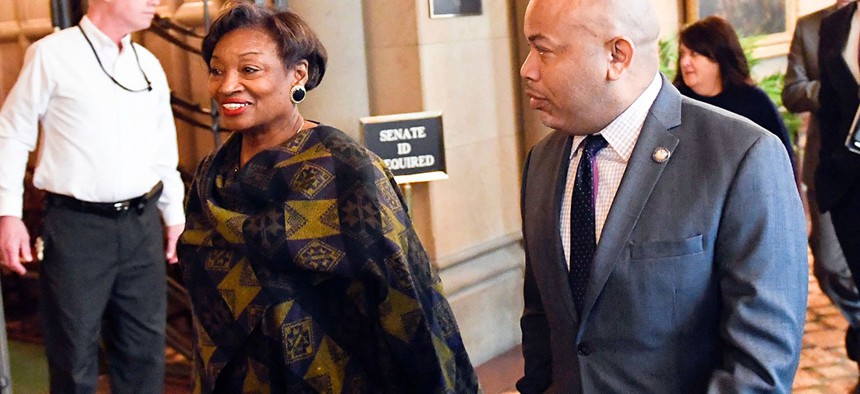 Like the fictional Wonder Twins whose powers only worked after they touched, Assembly Speaker Carl Heastie and state Senate Majority Leader Andrea Stewart-Cousins have shown that they are most powerful when they work together. When this one-two legislative punch first formed after Democrats won control of the state Senate in 2018, both chambers passed landmark bills on abortion rights and voting access in the first days of the 2019 legislative session. 
One year later, the two chambers aren't always on the same page. Each chamber has considered different bills in the first days of the session. The two leaders have emphasized different possible ways of closing a $6 billion budget deficit and a public backlash to new limits on cash bail. 
The discrepancy may stem from different political priorities for each leader at the beginning of an election year. Stewart-Cousins has to protect vulnerable suburban moderates whose fate in the general election will determine the future of Democratic control of that chamber. Heastie has to protect liberal incumbents in New York City who may face primary challenges from younger, farther-left insurgents. 
While there is no reason to believe that the interpersonal relationship between Heastie and Stewart-Cousins has suffered because of these political dynamics, they have yet to show that their unity extends to the most controversial issues – though they are expected to jointly announce a package of bills addressing limousine safety on Tuesday following Cuomo's call to address the issue in his Jan. 8 State of the State address.
Stewart-Cousins and Heastie face very different tasks this year compared to the need last year to show that Democrats could get big things done with their largest legislative majorities in a century, according to Democratic political consultant Bruce Gyory. "Each house pursues, by definition, an approach that tries to strengthen their political position," he said. "I don't think they're they're crossing swords by any means. I just think it's a little difference in orientation." 
In their first week back in Albany, Senate Democrats have focused on promoting a message that they are willing to consider changes to legislation they passed last year when they think it is warranted. On the first day, the upper chamber passed bills to address issues with early voting, following complaints at a public hearing last November, and to finish a stalled effort to establish automatic voter registration. At a press conference announcing the bill package, Stewart-Cousins said that it highlighted the idea that Senate Democrats were "not a 'set it and forget it' majority."
The majority leader has also said she is willing to consider changes to bail reform, a top legislative priority of Democrats last year. Though she has not fully committed to making changes, as Gov. Andrew Cuomo and Attorney General Attorney General Letitia James have done, any move by the Senate to make changes to the bail law would be welcomed by suburban Democratic moderates who are already publicly calling for revisions. 
Hate crimes have appeared as one area where Stewart Cousins might support expanding the types of offenses subject to cash bail. "Personally, I think that hate crimes sometimes strike at the core of entire communities, and so on, so I want to look at it to see if we are appropriately classifying this," she told reporters on Jan. 9. Heastie meanwhile has downplayed the possibility of making changes to criminal justice reforms by expanding the realm of bail-eligible offenses, or allowing judges to consider a criminal suspect's dangerousness when deciding whether to release them pretrial. "We want safe communities, but it is important to have a criminal justice system that treats everybody fairly," he told reporters on Jan. 9 in remarks that have reflected opposition from progressive groups to backsliding on the new reforms. 
A similar dynamic has emerged on dealing with the $6 billion deficit. While both legislative leaders have said they want to avoid making cuts to government programs, they must either cut spending or raise revenue. Stewart-Cousins has emphasized the need to avoid raising taxes, an idea that is unpopular with suburban moderates, while Heastie has signalled a willingness to consider tax hikes. 
While Democrats are expected to announce a deal on limo reforms on Jan. 14, it remains to be seen whether Heastie and Stewart-Cousins will try to synchronize the timing. The state Senate Health Committee is considering a package of bills on Jan. 14 that would address increasing vaping rates among teens and related issues. At this point, there are no plans for its counterpart in the Assembly to do the same. One Assembly source suggested this was done to maximize attention for the Senate's effort to limit vaping, an issue that presumably plays well with moderate suburban voters. In any case, a review of the bills that were slated to pass the state Senate on Jan. 13 showed none that were ready to be considered on the floor of the state Assembly. 
Spokesmen for both Heastie and Stewart-Cousins said it was too early in the session to make judgements on the coordination between the two chambers. "This is silly," the two spokesmen both said in separate statements. Activists pushing for lawmakers to take up issues as diverse as anti-vaping legislation and rolling back tightened rent regulations told City & State that at this point it is hard to judge just how different political dynamics in both houses might affect how the two chambers work together. Kevin O'Flaherty, director of advocacy of the Northeast Region for the Campaign for Tobacco-Free Kids said that one way or another he expects that new laws cracking down on vaping will pass both chambers, even if there are no guarantees it will happen at the same time. "In any of our meetings with members of the Assembly, we haven't gotten any kind of increased pushback or any kind of concern about moving these bills, any more so than we get in the Senate," he said. 
It is indeed early in the session and the issue of limos could mark a reassertion of legislative coordination between the two chambers. However, the political dynamics of the 2020 session suggest that even if that happens, the role of a third player in the legislative process must be taken into consideration. Perhaps the Wonder Twins cannot successfully act alone, despite the special powers they have when they work together. They will likely need some additional force to get deals done on the budget, bail and other issues. To do that, they will need help from Cuomo, the most powerful figure among the three people in a room who decide the most important issues in state government. So if Democrats are able to address the deficit, resolve the tricky politics of bail and pass legislation on issues like legalizing recreational marijuana in the upcoming months, it might be said that it is Wonder Triplets who are really showing what Democrats can do with their control of state government.
Powered By
NEXT STORY: Brooklyn state Senate race may be broader referendum