Brooklyn Democrats back Darma Diaz to replace Espinal on New York City Council
The special election will be an early test for the new Brooklyn boss, Assemblywoman Rodneyse Bichotte.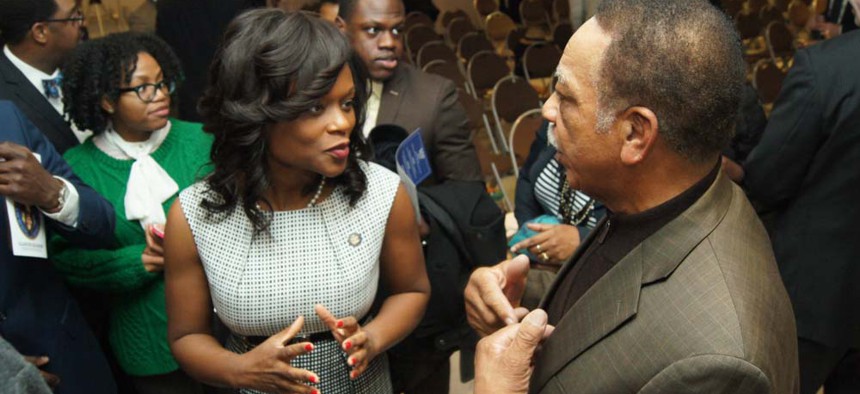 The ink isn't dry on former New York City Councilman Rafael Espinal's resignation letter, but the Brooklyn Democratic Party already has a candidate to replace him: Darma Diaz, the director of housing services for Overcoming Love Ministries, a social service nonprofit based in Queens.
It will be an early test for the new Brooklyn boss, Assemblywoman Rodneyse Bichotte, who was elected leader of the Kings County Democratic County Committee just last week. She told City & State that she would be supporting Diaz "both personally and as a county leader" and described Diaz as "very active in her community" and someone who has "proven skills." The county committee plans to formally endorse Diaz soon. A non-partisan special election open to all registered voters living in the district has been set for April 28th, the day of New York's presidential primary. The winner of that race will only serve through the end of 2020. A primary and general election will be expected later in the year, and the winner of that will serve out the remainder of Espinal's term, until the end of 2021. That's the same pattern that saw New York City Councilwoman Farah Louis win three elections in 2019. As in that case, the winner of the special election will have a leg up in the following races. 
Diaz is the female Democratic district leader for the 54th Assembly district, which almost perfectly overlaps the 37th Council district recently vacated by Espinal. That means the Democrats of eastern Bushwick, Cypress Hills, and parts of East New York have already voted for her to represent them, first in 2016 and again in 2018. That also means that Diaz sits on the Brooklyn Dems' 44-member executive committee, which just unanimously elected Bichotte leader. After the vote, Diaz lent Bichotte a glowing quote for her press release, calling her election "an opportunity for women in leadership to demonstrate their worth at the table."
Diaz, 51, was born in Brooklyn to parents from Puerto Rico, and lives in Cypress Hills. From 2002 to 2008, she worked in the Assembly, as an aide to then-Assemblyman Darryl Towns.
Over text, Diaz told City & State Tuesday that she's officially registered to run for the seat. "I am serious and ready to continue serving my community in a much larger capacity," she wrote.
Diaz is a close ally of Assemblyman Erik Dilan, whose re-election this year is being challenged by a number of progressive candidates who don't hold elected office, Boris Santos, Sandy Nurse and Edwin Delgado. The establishment-versus-insurgent energy in that race could be repeated in the race to replace Espinal as well if a left-wing challenger gets in the race. Though some political observers have speculated that Santos, Nurse or Delgado could drop out of the June Assembly primary and run for Council instead. 
Other candidates rumored to be considering running for the seat include: Samy Nemir-Olivares, a public information officer at Lambda Legal who is currently running for district leader in an adjacent district against the incumbent Tommy Torres; Helal Sheikh, who ran for public advocate in 2019 and previously challenged Espinal in 2013; and Kimberly Council, who also ran for the seat in 2013.
Correction: A previous version of this story incorrectly included NAACP senior grants manager Wilfredo Florentino among the potential candidates for Espinal's seat. He is actually planning to run for City Council District 42 in 2021.