New York City
Is New York leader of the pack?
Cuomo claims New York's a progressive powerhouse. It's just the mild one.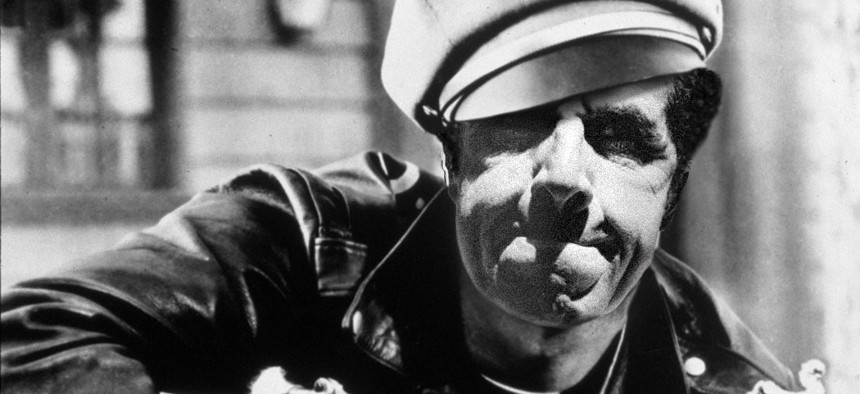 Weeks before this year's State of the State address, Gov. Andrew Cuomo was doubling down on his claim that New York is the best – from a progressive perspective at least. "Last year we laid out the most aggressive agenda in modern political history, and we got it done," he boasted in mid-December. "We're going to set the bar even higher, making progress happen for the people of this great state and sending a signal to a weary country to follow New York as we lead the way upwards."
Cuomo isn't alone in insisting the Empire State is living up to its motto, Excelsior! State Senate Majority Leader Andrea Stewart-Cousins regularly refers to New York as the nation's "progressive beacon" for "hope and justice." Assembly Speaker Carl Heastie has made similar claims. "New York State has always been a national leader in progressive policies that build up all our citizens," he said ahead of the 2019 legislative session. "I am proud that the Assembly has long been at the forefront."
Whether the topic at hand is touting the economic power of New York City or bragging about how upstate Americans are living their best lives, average New Yorkers like to think they're exceptional. The state has the nation's most populous city, the third-largest economy and the fourth-highest population. It's no surprise then that Cuomo likes to appeal to home state pride when pushing his legislative priorities. "That is the New York way," Cuomo said in 2015. "We've always been different. We've always been first. We've always been the most progressive."
In fact, New York hasn't always been first. Control of state government has shifted between Republicans and Democrats plenty of times over the years, with policymaking swinging in both conservative and liberal directions. In Cuomo's first two terms, Democrats passed some progressive measures, such as legalizing same-sex marriage, while also working with Republicans to limit taxes and state spending. Now in his third term, Cuomo and the Democratic majorities in both houses of the state Legislature can do what they want without worrying too much about GOP opposition – whether it's strengthening tenant protections, better protecting individuals accused of crimes or allowing undocumented immigrants to obtain driver's licenses. Even with the Democrats' newfound political dominance in Albany, however, the state doesn't own the mantle of national progressive leader.
Even Cuomo's favored claims are a bit more complicated than he lets on. He led a 2011 effort to make New York the first big state to legalize same-sex marriage through legislative means – but the sixth one to do it overall. A $15 minimum wage was passed by state lawmakers in 2016, but it remains to be seen which state will become the first to fully implement the idea. That year, New York also passed what has been called "the most generous paid family leave law in the country" – but it was approved more than a decade after California enacted its own plan. Other states have beaten New York to the legislative punch in banning assault rifles, extending waiting periods for gun purchases and passing a "red flag" law that allows judges to order weapons be seized from dangerous people. Yet to be fair, New York is recognized for having the strictest gun laws in the country. Cuomo even (kind of) got free college tuition for students from middle-class families – but there were strings attached.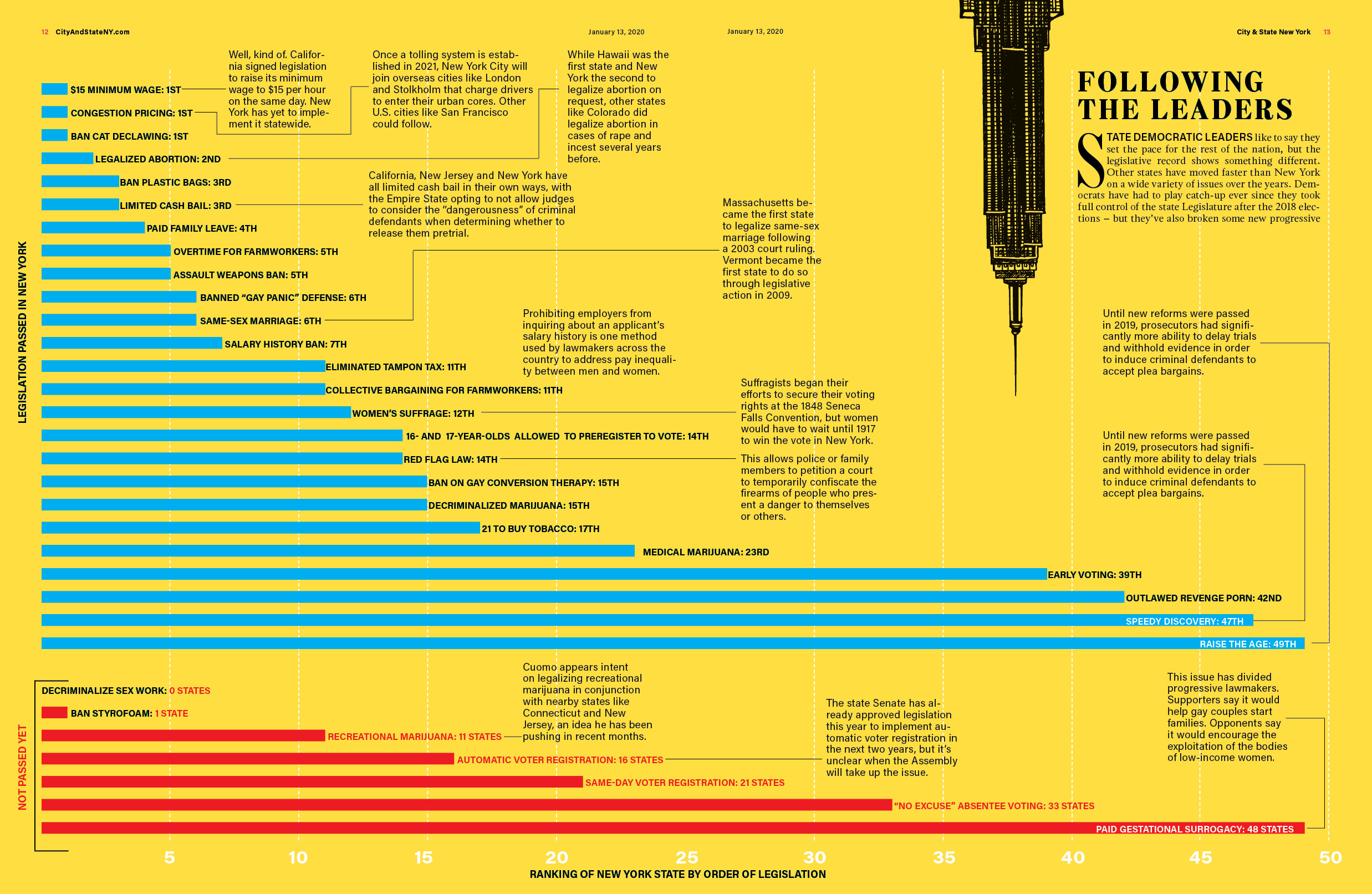 "It depends on the prism through which you view it," said Democratic consultant Bruce Gyory. "If you view New York through the prism of accomplishment, it is high up on the list (but) you can never do enough to satisfy the advocacy groups because they always want more."
Since Democrats gained control of the state Senate after the 2018 election, they have been trying to make up for lost time. For example, before this year, New York was just one of the few states that did not guarantee criminal defendants could see the evidence against them before a trial began, one of several systemic factors that tilted cases in favor of prosecutors. "New York was way at the bottom of the barrel," said Donna Lieberman, executive director of the New York Civil Liberties Union. "But we leapfrogged over just about everybody with that discovery reform package."
Democrats have similarly upped their progressive game in other ways. Women now have more reproductive rights enshrined in state law. Transgender people have stronger civil rights protections. The use of cash bail has been greatly reduced. Undocumented immigrants are getting driver's licenses and are eligible for state college financial aid programs. The state now has the most aggressive climate change goals of any state. Top progressive dog or not, the argument in New York's favor has gained some real teeth.
However, activists and lawmakers on the political left are not always happy with the results of Cuomo's brand of progressivism. The newly adopted plan for publicly financing political campaigns has not exactly inspired awe among the party faithful. Recreational marijuana is still illegal. New limits on solitary confinement fell short of what Colorado passed years ago. "New York passed several important and overdue reforms this year, but they left many people behind," said Victor Pate, a formerly incarcerated person who is now the statewide organizer of a campaign seeking new limits on solitary confinement. "Our state can only be a real national progressive leader if policymakers take further action."
Presidents Franklin Roosevelt, Lyndon Johnson and Barack Obama all let leftists down at times despite their accomplishments, which means analysis of Cuomo's progressive legacy must also be kept in perspective, according to Gyory. "When history looks back at the record," he said, "New York under this governor and this legislative leadership ranks very high on the progressive scale."
Historically, there's a case to be made for New York as well. Gov. DeWitt Clinton opened up the Midwest to commerce by leading efforts to construct the Erie Canal, a massive feat for the early 19th century. Liberal governors like Al Smith and Franklin Roosevelt helped make the state an incubator of social innovations like worker protections and social welfare programs after the original Progressive Era. But by the mid-20th century, the state was losing its grip on the title of America's top state. California, a perennial rival, was growing in population. Upstate New York's industries declined. Years of Republican control of the governorship and the state Senate blocked Democrats from moving the state further to the left in the early 21st century. Other states took the lead on legalizing recreational marijuana, expanding voting rights or boosting protections for undocumented immigrants. "New York is one of the leading states," said Joshua Freeman, a professor of history at the CUNY School of Labor and Urban Studies. "But I'm not so sure to the same extent it was 80 years ago."
Even when New York is the first to pass progressive legislation, there aren't always a lot of followers. "If you stood up on the floor of the Illinois General Assembly and said, 'This is a piece of legislation that New York has passed and we must do it too,' that wouldn't buy you beans," said Christopher Mooney, a political science professor at the University of Illinois at Chicago who researches how state legislators in different states make public policy. In other words, there are better ways to woo a Midwestern lawmaker. "We don't want to be Louisiana," Mooney said. "So when you sit up on the floor and say this: 'You know, we're 49th in the country on this' – that gets people's attention."
And only so many states are competing to be a national leader – at least when it comes to progressivism. The Sunshine State has made moves to lure a new "Florida Man" or two at the expense of New York's tax base. Texas has a big ego, no doubt. But neither of them is vying for the progressive mantle – at least not yet. While Gov. Gavin Newsom of California is "swinging at every pitch" progressives throw, states tend to compete with their neighbors, according to Florida State University professor Carol Weissert. "Florida doesn't pay much attention to New York's innovations," said Weissert, who researches state lawmakers in different states. "One big reason for that is that states tend to emulate states with regional or demographic similarities."
So if there really is a national competition to be the most progressive state, not that many states are actually playing. Only about a third of the 50 states have governments controlled by Democrats. New York is competing against the likes of California, Massachusetts, Connecticut, Oregon, Washington and Hawaii. Even if the Empire State has an uncertain claim as the progressive leader of them all, at least Cuomo can tell New Yorkers he's looking out for No. 1.
Powered By
NEXT STORY: Cuomo's 2020 agenda and bail reform brouhaha