New York State
New York political predictions for 2020
Six experts assess the Queens borough president race, the upcoming state legislative session and whether there will be any AOC-style upsets.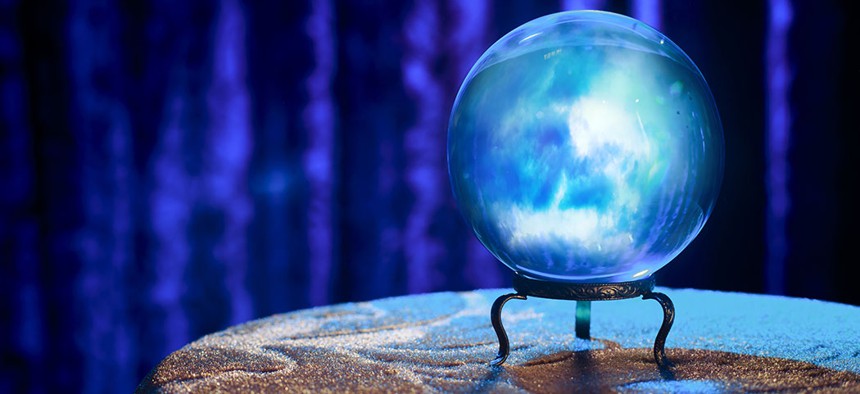 A single person has a tough time guessing the weight of a cow. But get a whole bunch of people to guess, and the average is usually spot on. It's called the wisdom of the crowd, but it seems to work better with cows than politics. When we asked experts to make political predictions a year ago, not one of them actually thought Amazon would pull out of the deal to build a new headquarters in Queens. Just one out of six expected New York City Mayor Bill de Blasio to run for president. (Maybe he should have listened to the other five.)
Other takes were spot on. Jumaane Williams was the obvious pick as the next New York City public advocate. And freelance journalist Ross Barkan stood out for correctly predicting a rare occurrence: No one important in New York politics would get indicted in 2019.
So after some fun political prognosticating for 2018 and 2019, we're once again giving six experts a chance to predict some of the biggest stories of 2020. Will New York legalize pot? Who will win the year's first special election? We'll leave it up to the wisdom of the crowd.
Who will be the next Queens borough president?
Christina Greer, associate professor of political science at Fordham University: (New York City Councilman) Donovan Richards. Something tells me Southeast Queens got a bit of a wake-up call after the Queens district attorney race.
Ross Barkan, freelance journalist and former state Senate candidate: I have no firm predictions because this is a pretty wide open race with no true front-runner. I'll say this: In a low turnout winter race, traditionally reliable voting blocs will play a crucial role. If Donovan Richards can find a way to consolidate votes in Southeast Queens, he has a very good shot. Without an exciting leftist like (former Queens district attorney candidate) Tiffany Cabán on the ballot, I expect turnout to be much lower in western Queens.
John McArdle, Republican communications consultant: It will be a fun one to watch. Will the failed Amazon deal have legs, and will the forces that propelled (Rep. Alexandria Ocasio-Cortez) and Cabán notch another victory? Lots of implications for the June primaries. Will go with Donovan Richards and the pro-Amazon folks on this one.
Bruce Gyory, Democratic political consultant: The trick to winning this nonpartisan special election will be who can generate the most excitement, while building the broadest level of support for their candidacy. My sense is that with everything that has gone on in Queens politics lately, the group that will be the most hungry to prevail, who also has the largest base of registered voters, will be the African American community. If one African American candidate can emerge, I would favor that candidate to win. So now that Hyndman has dropped out I think that makes Richards the clear front runner. If Donovan Richards runs a smart campaign he should win. 
Amelia Adams, Democratic consultant and president of Adams Advisors: Queens seems to like electing women to that post! But Donovan Richards won a special election and knows how to run a quick, compact campaign sprint, so I'm predicting someone from Southeast Queens to win.
Jessica Proud, Republican consultant with The November Team: New York City Councilman Eric Ulrich if he runs. (If not,) Donovan Richards.
Andre Banks, Democratic consultant and founder of A/B Partners: Donovan Richards
What big state legislation will Democrats pass and sign into law in the upcoming session?
Greer: Not marijuana legislation!
Barkan: One big miss for progressive Democrats in 2019 was HALT – a bill that would curtail solitary confinement. Next year, I think that gets done. Also, the good cause eviction bill was dropped from the negotiations over rent regulations. Gov. Andrew Cuomo clearly hates it and there are some more moderate senators and Assembly members who could resist it. But with a very big push from housing advocates again, it can get done.
McArdle: Democrats will play it safe after shaking the rafters in 2019. The budget will consume all the oxygen and controversial issues will fall off the table. Given the Medicaid deficit, the governor will resist any big spending or tax increases. I wouldn't bet on an on-time budget, as the session will end once a budget is adopted. Plenty of horse-trading in a post-election special session on big unresolved issues.
Gyory: Recreational marijuana and sports betting. In a time of rising chronic state budget deficits, popular (and) relatively politically painless to enact nontax recurring revenue streams will literally be worth their weight in gold.
Adams: Recreational marijuana legalization. I think most of the bumps in the road that were encountered in the trial run last session will be smoothed over this time.
Proud: Another tax increase on the "wealthy," good cause eviction and decriminalized sex work. I don't think marijuana makes it across the finish line in an election year.
Banks: Paid vacation or marijuana legalization. But honestly, whatever they want. As Senate Democrats inch closer and closer to the magic number of 43 and gain veto power over the governor, Senate Democrats could be judge and jury in the upcoming session. They have an opportunity to show that all of New York state, and not just New York City, is full of progressive champions.
Will we see any AOC-style upsets in 2020?
Greer: The number of candidates running for Rep. Yvette Clarke's seat will dictate whether it is an upset situation or not.
Barkan: They wouldn't quite be AOC-style – we're paying much more attention to insurgents now and it's harder to get shocked! – but I am keeping my eye on Jamaal Bowman, who is taking on Rep. Eliot Engel, and Mondaire Jones, who is in an open primary for Rep. Nita Lowey's seat. Jones has a very good chance of winning. Bowman has proven himself to be a strong fundraiser. If he can galvanize the white progressives who helped state Sen. Alessandra Biaggi knock out Jeff Klein and also win over the district's sizeable black population, he can pull off the upset. (He also needs to convince other insurgents to drop out.)
McArdle: Upsets will happen in June primaries as many incumbents face their first real challenge. Nothing on the scale of AOC, but there will be enough to give leadership plenty of headaches.
Gyory: While not discounting their ability to find just the right candidate in just the right race here or there, I think the pure progressives' across-the-board attacks on incumbents may become an overreach in next June's primaries. And unlike the AOC race, this time incumbents are at once running scared and increasingly ready for primary fights.
Adams: Not quite the AOC-style but New York will elect two more black men to Congress: Mondaire Jones in the Lower Hudson Valley and Jamaal Bowman in the Bronx and Westchester.
Proud: Possibly! Queens borough president is a potential, but nothing sticks out on my radar at this juncture.
Banks: Yes, absolutely. There'll be more and more candidates coming from constituencies who are organizing off the radar of the political establishment. And this is a good thing for everyone.
What will be the biggest political surprise of 2020?
Greer: The sheer number of people declaring they will run for mayor of New York City.
Barkan: Donald Trump is not removed from office, and some Democrats publicly reconsider the wisdom of an impeachment process that bore so little political fruit.
McArdle: How well Republicans will do. Expectations are for a continued bloodbath following the 2018 elections. The Trump factor will not be as toxic as 2018, and Republican losses will prove to be overstated.
Gyory: The results in next year's presidential primaries, both in New York and nationally. I think instead of an ascendant progressive movement, the winners will be those who dominate the majority of Democratic primary voters who lie within an iron triangle: minority voters at the base, white Catholic and Jewish voters on one side and highly educated, professional suburban women on the other side. In short, just securing "woke" voters will not capture the Democratic presidential nomination.
Adams: Manhattan District Attorney Cyrus Vance Jr. will run for reelection.
Proud: Republicans will win back congressional and legislative seats in a presidential year.
Banks: Donald Trump will run a ruthlessly unscrupulous and highly successful campaign; Democrats will act surprised and claim they never saw it coming. Again.
What political up-and-comer will you be watching in 2020?
Greer: Congressional candidate Isiah James in Brooklyn.
Barkan: I am totally biased here. Zohran Mamdani, who ran my campaign for state Senate, is now running for Assembly himself in Astoria, Queens. He's got (Democratic Socialists of America) support, the district has gone very left and he has the tools to defeat the incumbent, Aravella Simotas. If he wins, he'll easily be one of the most dynamic, progressive people in Albany. And I hear he's a good rapper.
McArdle: New state GOP Chairman Nick Langworthy. He has a full plate in front of him: legislative and congressional races, raising money and rebuilding the party. Expectations are low but plenty of opportunities to shine.
Gyory: I will be watching Assemblyman Michael Blake running to succeed Rep. José Serrano in the open 15th Congressional District in the Bronx. Conventional wisdom portrays this seat as a Puerto Rican seat. Demographically this seat has a clear Hispanic majority. But in terms of prime voters, the African American community votes over its weight in this district and has for years. If there are at least four or five serious and viable Hispanic candidates in this race at the end, including a Dominican American candidate, then the shrewd handicappers who study prime voters may just see Blake, as the lone serious African American candidate, as the early favorite to win this primary.
Adams: Assemblyman Charles Fall of Staten Island.
Proud: Assemblyman Michael LiPetri.
Banks: Jaime Harrison, candidate for U.S. Senate in South Carolina.
Powered By
NEXT STORY: The best New York political investigations of 2019