New York City
NYCHA's list of unresolved issues grows
Broken elevators, lead paint, pests and more have yet to be handled.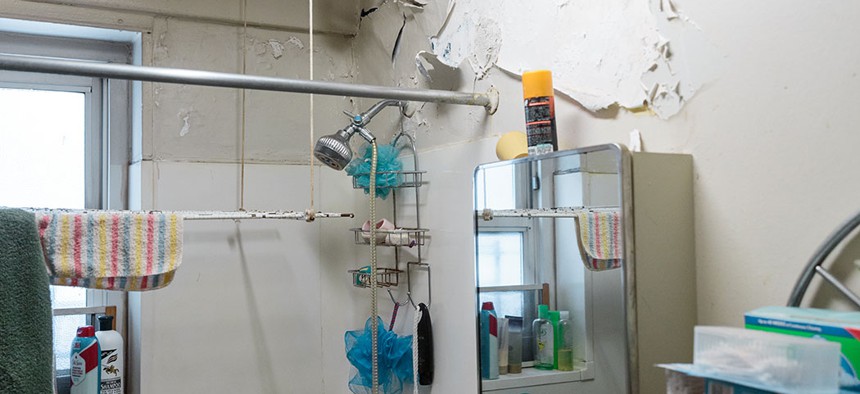 There's a reason why the New York City Housing Authority was given the title of New York's worst landlord in 2018 and 2019 – it is objectively the worst.
On Jan. 12, it was reported that NYCHA residents filed 200,000 complaints for bedbug and roach infestations in 2018 and 2019. That's just the latest embarrassing revelation about problems plaguing New York City's public housing; there's lead paint, raw sewage, rodents and more.
A Sept. 3, 2019, report from NY1 revealed that many of the elevators in the authority's public housing developments have been on the fritz, preventing residents with disabilities from leaving their homes for days – or, in some cases, for months.
In 2018, NYCHA was hit with a federal lawsuit to fix its enormous backlog of deferred maintenance. The lawsuit, however, was dropped after New York City Mayor Bill de Blasio agreed to have the housing authority watched over by a federal monitor – after years of federal disinvestment – and to implement more immediate fixes to NYCHA's ongoing issues. It's estimated that roughly $32 billion is needed to fix NYCHA's backlog, but the housing authority said in 2018 it only had about a third of the money it needs.
"Without dramatic change, by 2027, 90% of NYCHA's housing units will have declined to the point at which they are at risk of no longer being cost-effective to repair," Carol Kellermann, president of the Citizens Budget Commission, told The New York Times in 2018.
Since it can be difficult to keep track of all the authority's quality-of-life problems afflicting tenants, here's a rundown of all the major ones from recent years.
Elevator outages
From 2012 to 2018, elevator outages in NYCHA buildings increased by 16%, accounting for roughly 121 outages per day, NY1 reports. The elevators, on average, remained defunct for 12 hours at a time before being repaired. In 2018, however, elevator outages soared and went far longer – up to 22 hours – without being repaired. 
Oh, and there are only 193 mechanics available to make repairs on NYCHA's 3,200 elevators.
Lead paint
It was discovered in 2018 that NYCHA had been lying about the presence of lead in its developments. After the housing authority was sued by federal prosecutors, de Blasio agreed to designate $88 million to remediate lead paint in NYCHA's apartments. Now, NYCHA will be using X-ray detection devices to detect the presence of lead paint in apartments in an attempt to tackle this problem. NYCHA has yet to test in buildings that have a higher concentration of children under the age of 6, the Queens Daily Eagle reported.
Pests
In July, residents complained of rat infestations so severe that residents said they felt like "hostages" in their own apartments.
In January 2019, NYCHA entered into an agreement with the U.S. Department of Housing and Urban Development to drastically reduce the number of pests such as rats, mice and cockroaches in its developments by 2024. Pest control experts, however, suspect that NYCHA will not be able to deliver on its promise to reduce its pest populations, according to the Daily News.
One year later, it was reported that NYCHA residents filed 200,000 bedbug and roach complaints in 2018 and 2019. Though, a spokeswoman for NYCHA said that the number of closed work orders for roaches and bedbugs went down considerably from 2018 to 2019. Thanks to the authority hiring 20 new exterminators over the past year, bedbug-related closed work orders declined from 12,220 to 10,343 and 87,400 to 84,516 for roaches.
Contaminated drinking water tanks
In July 2018, City & State reported on the dismal state of NYCHA's many contaminated and damaged rooftop drinking water tanks that provide residents with dark, silt-filled water. While inspectors were reporting numerous issues with the water tanks, the housing authority choose to ignore them.
Heating issues
Due to frequently broken boilers, residents went without heat and hot water over 3,500 times, affecting 259 of NYCHA's 326 developments this past winter, from the beginning of October 2018 till the end of May 2019, the New York Post reported.
Under its agreement with City Hall and HUD, NYCHA has until 2024 to reduce the number of heat outages affecting apartments by 15%.
Mold
Metro Industrial Areas Foundation, a housing advocacy group, sued NYCHA in 2013, claiming that it was violating the Americans with Disabilities Act for not removing mold from apartments housing people suffering from asthma. NYCHA settled the lawsuit in 2014, promising to remediate simple and complex mold infestations within seven and 15 days, respectively, but it never followed through. 
In 2018, the issue of mold resurfaced, after an 87-year-old tenant's apartment was found covered in toxic black mold. NYCHA's initial settlement from 2014 was then revised by U.S. District Court Judge William Pauley III, who mandated that the housing authority must deal with its recurring mold and revise its mold reduction procedures and protocol.
Trash 
NYCHA has been known to let its residents' trash pile up. In 2018, Bronx Borough President Ruben Diaz Jr. shared a video of the overflowing dumpsters outside of the Sotomayor Houses in the Bronx, condemning the heinous conditions.
Hey @NYCHA @NYCMayor, how about we try to start the new year off right for the tenants of the Sotomayor Houses?

These are disgusting, unacceptable conditions that foster rats and vermin infestations. This needs to be cleaned ASAP. #nycha #bronx #nyc pic.twitter.com/LdhhaC2l1S

— Ruben Diaz Jr. (@rubendiazjr) December 30, 2018
Eventually, the trash was cleaned up by Department of Sanitation and NYCHA workers.
Raw sewage leaks and floods
Backed-up plumbing combined with poor drainage systems has resulted in frequent raw sewage floods and leaks, which NYCHA tenants have been calling attention to for years. 
Powered By
NEXT STORY: Is New York leader of the pack?