New York State
State Sen. Chris Jacobs is the GOP's pick to replace Collins
There's still a special election, but the odds are in Jacobs' favor.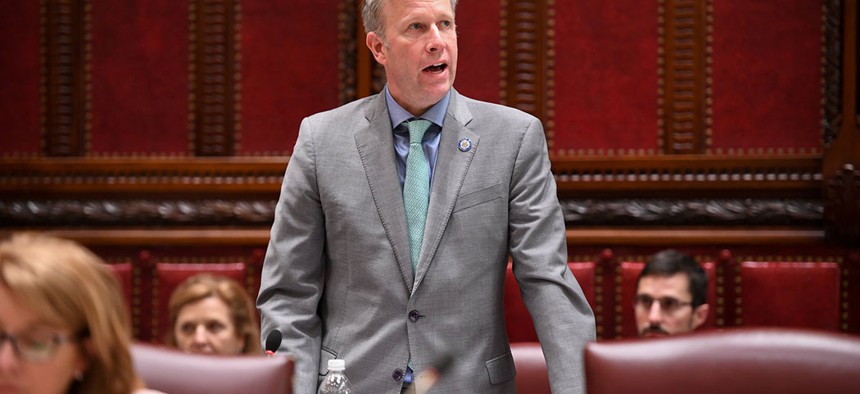 While former Rep. Chris Collins prepares for his two-year long stint in jail for insider trading, state GOP leaders have been deliberating over who should take over his seat in Western New York for the remainder of his term. 
And after a lengthy seven-hour debate on Saturday, Republican party chairs from eight different county organizations elected to nominate state Sen. Chris Jacobs for the seat, the Buffalo News reports. Many Republican leaders also showed strong support for state Sen. Robert G. Orrt during their meeting, but Jacobs ultimately won in a vote. 
Jacobs made his case for the group's backing by stressing his ability to consistently win as a Republican in Democratic Erie County. The senator currently represents parts of Buffalo and much of its western suburbs. He previously worked as a member of Buffalo's board of education and as a county clerk. 
"I'm honored by this opportunity and I want to thank the county chairs and my fellow candidates," Jacobs told the Niagara Gazette, following the announcement of his nomination. "Western New York needs a strong advocate in Congress who will stand with President Trump and get results for the American people."
A special election expected to take place on April 28 will determine who will take over Collins' seat throughout the rest of 2020. Jacobs has the advantage of running as a Republican in the state's most Republican congressional district. Jacobs would then have to defend his seat immediately in the regularly scheduled June primary and in the November election. 
Jacobs will probably face Democrat Nate McMurray, who tried to unseat Collins in 2018 and who is expected to run for his seat again in the upcoming special election, as well as in this year's primary. During the 2018 race, which followed Collins' indictment for insider trading, McMurray lost by less than 1%. It is assumed that Democratic leaders will nominate McMurray for the District 27 seat in the near future. 
Ortt, Erie County Comptroller Stefan I. Mychajliw Jr. and White House aide Jeff Freeland, who were also vying for Collins' seat in the special election, are reportedly now considering their options. But former Darien Town Justice Beth A. Parlato who was also running for the vacant seat said she'll continue to campaign for the slot in next year's primary.
Powered By
NEXT STORY: The Best & Worst New York City Lawmakers