New York City
Thousands march in solidarity against anti-Semitism
At the rally, Gov. Andrew Cuomo and Sen. Chuck Schumer both announced intentions to provide more funding to protect religious institutions.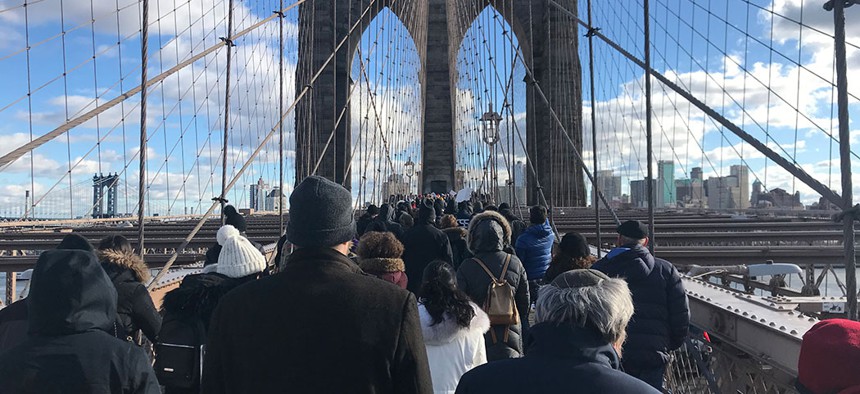 On Sunday, roughly 25,000 people marched from Foley Square in Lower Manhattan over the Brooklyn Bridge to Cadman Plaza in Brooklyn, where a rally was held to stand in solidarity against anti-Semitism amid the recent spate of anti-Semitic attacks in New York. 
Demonstrators of all faiths participated in the march, which included groups from Catholic churches, the Pentecostal Church of Jesus Christ in Brooklyn and the Sisterhood of Salaam Shalom, an organization made up of Muslim and Jewish women. Some marchers chanted "no hate, no fear," some sang Hebrew songs and some sported Israeli flags. All appeared resolute in their desire to stomp out hate, violence and discrimination toward the state's Jewish community. 
Throughout the fourth week of December, during the Jewish celebration of Hanukkah, eight anti-Semitic attacks occured in New York City, that ranged from hurled insults to physical violence. On Dec. 28, the seventh night of Hanukkah, five people were stabbed at a Hasidic rabbi's home in Rockland County. According to the New York Police Department's Hate Crimes Task Force, hate crimes are up 14% this year.
Numerous New York lawmakers turned up at the rally in Brooklyn, including U.S. Sen. Chuck Schumer, Rep. Alexandria Ocasio-Cortez, Gov. Andrew M. Cuomo, Attorney General Letitia Games, New York City Mayor Bill de Blasio, New York City Council Speaker Corey Johnson, Public Advocate Jumaane Williams, City Council members Brad Lander and Mark D. Levine, Cardinal Timothy Dolan, among many others.
We're facing an anti-Semitism crisis, and not just in this city. It's happening across our country and planet. We can't ignore it or hide from it — we have to confront it. We have to stand in solidarity with our Jewish community and reject hate with one clear voice. #NoHateNoFear pic.twitter.com/zqwsSb6PCO

— Mayor Bill de Blasio (@NYCMayor) January 5, 2020
New York City knows that unity and diversity are strength, that all communities must stand together against all hatred, that we will reject anti-Semitism, xenophobia, and violence of any kind.

We showed that today on our march, and every day in our neighborhoods. #NoHateNoFear pic.twitter.com/Jve9qhifDb

— Office of the Public Advocate (@nycpa) January 5, 2020
You know @AOC stands against xenophobia, against racism, against Islamophobia.

So it's no surprise she was out on the Brooklyn Bridge against anti-Semitism today. Proud to stand with her against hatred & bigotry of every kind. Our liberation is bound up together.#NoHateNoFear pic.twitter.com/0xjiKoQIsR

— Brad Lander (@bradlander) January 5, 2020
At the rally, Cuomo announced that the state would be allocating $45 million to protect religious institutions in New York and that there would continue to be a heightened state police presence in areas with large Jewish populations. Cuomo also said that the state has created a hotline for people to report discrimination. Schumer also announced federal proposals that would provide funding to protect religious institutions and allow police to better combat hate crimes.
New York Assemblyman Simcha Eichenstein, however, claimed that the state had already budgeted $45 million to protect religious institutions and that additional funding is required. 
Fool me once...@NYGovCuomo announced this same funding over and over as if it's new.

This is the same $45 million that we passed in the budget last year.

We need additional security funding for schools and houses of worship. https://t.co/73WHrLMOah

— Simcha Eichenstein (@SEichenstein) January 5, 2020
Few members of the city's Hasidic community, who were targeted in the recent attacks, were in attendance at the demonstration, according to The New York Times. Some leaders from the Hasidic community criticized a few of the Jewish organizations, such as J Street and Young Advocates for Fair Education, who helped organize and sponsor the event for not supporting the Hasidim in other aspects of their political agenda. The march and rally were organized and sponsored by the United Jewish Appeal-Federation of New York, the Jewish Community Relations Council of New York, the Anti-Defamation League of New York and New Jersey, in addition to several other Jewish organizations. 
"We know our community is a complicated one," Eric Goldstein, chief executive officer of the United Jewish Appeal-Federation of New York, told the Times. "We need to recognize that despite differences we have, we're here to show our solidarity with all Jews, including very much the visibly traditional Orthodox community."