New York City
Bloomberg's poor debate performance and a lawsuit over taxi medallions
Rounding up the week's political news.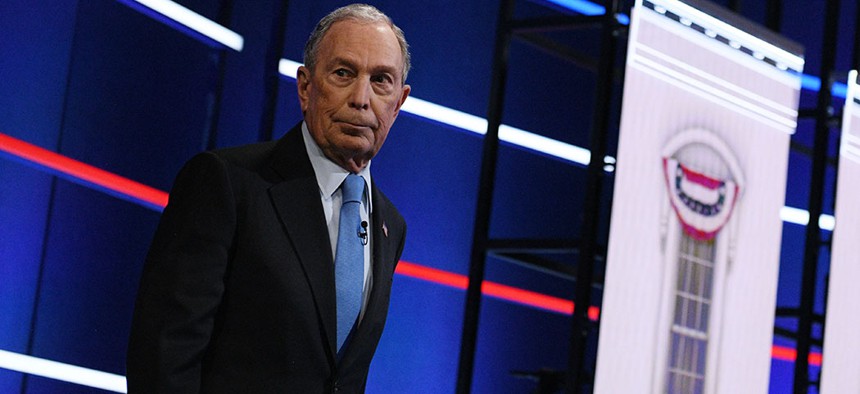 Oh Andy boy, the pipes, the pipes are calling. Friday marked Andy Byford's last day as New York City Transit president while bagpipes played his farewell, as if the city were mourning the death of a hero and not the resignation of a transit chief. Hundreds of transit employees and straphangers showed up at MTA headquarters to give Byford a final send-off.
They carried heart-covered signs espousing praise and thanks, and chanted his name when he gave his goodbye speech. "Train Daddy has left the building," Byford declared to the crowd before making his way out the doors where he was greeted by more applause. And though he will no longer officially be the city's Train Daddy, he always will be in our hearts. Take a moment to wipe away your tears, then keep reading for the rest of the week's news.
Bloomberg's big stumble
After weeks of flooding the airwaves with ads and spending over $400 million on everything from catered lunch for his campaign staff to memes, Michael Bloomberg finally made his debate debut in Nevada. It was his first real, live, public appeal to voters, as he hasn't spent much time yet actually campaigning in person. And it did not go well for the former New York City mayor. He was attacked by every candidate on the stage for his record on stop and frisk and his status as one of the world's richest men, and he seemed utterly unprepared for the barrage. U.S. Sen. Elizabeth Warren in particular took aim at Bloomberg in one memorable exchange about nondisclosure agreements signed by women at his company who had accused him of sexual harassment. Bloomberg would not say how many women had signed agreements and tried to downplay their significance by saying that, at worst, some women "didn't like a joke I told." The comment was met with boos. Bloomberg's performance was pretty much universally panned by political observers, with Gov. Andrew Cuomo quipping the ex-mayor would need to "break out another hundred million" dollars in advertising in order to make up for the poor debate showing.
ICE slams Green Light law
The acting director of U.S. Immigration and Customs Enforcement visited New York on Thursday, but the state is no closer to resolving its standoff with the federal government over a law enabling immigrants living in the country illegally to receive driver's licenses. Matthew Albence ripped into the New York's Green Light law, calling it the most dangerous measure for law enforcement "short of taking away our guns" for hindering their investigative abilities. At issue is federal immigration agencies' access to state Department of Motor Vehicles data, which is restricted under the new law. In what has been described by Cuomo as a retaliatory action, the U.S. Department of Homeland Security suspended Trusted Traveler Programs for New Yorkers, which permit expedited travel across borders and at airports, until the law is changed. Cuomo failed to make headway in a recent meeting with President Donald Trump, and has now offered access to all DMV data with the exception of social security numbers. But Albence's New York visit indicates that tensions are unlikely to ease.
Trump pardons Bernard Kerik 
Trump pardoned several high-profile convicts last week, including one from his hometown. Former New York City Police Department Commissioner Bernard Kerik received a coveted presidential pardon for his convictions of tax fraud and lying to the White House. Kerik was a close ally of former New York City Mayor and current Trump lawyer Rudy Giuliani. He was Giuliani's bodyboard when he first ran for mayor, a position that eventually led to Giuliani appointing him as the city's top cop. Kerik had already completed his sentence, but the move by Trump wipes his record clean. He said he cried when he heard the news because despite serving his sentence, his status as a convicted felon continued to haunt him.
Tish targets NYC over taxi medallions
In the latest development in New York City's ongoing taxi industry woes, state Attorney General Letitia James has accused the Big Apple of fraud for artificially inflating the price of medallions, leading to a crisis that has been correlated with multiple suicides. She's planning to sue the city for $810 million in order to pay the thousands of cab drivers drowning in debt if it doesn't voluntarily offer the money within 30 days. After an investigation, James' office concluded that the city Taxi & Limousine Commission continued to sell taxi medallions at incredibly high prices for profit, marketing them as solid investments despite knowing that those prices had been artificially inflated by industry leaders, creating a bubble that was destined to burst. The mayor has not yet given any indication whether he plans to adhere to James' demand before legal action is taken.
Powered By
NEXT STORY: Bloomberg's campaign spending, by the numbers