New York City
Ruben Diaz Jr.'s out of NYC mayoral race, but Chris Jacobs is in the race for Congress
Rounding up the week's political news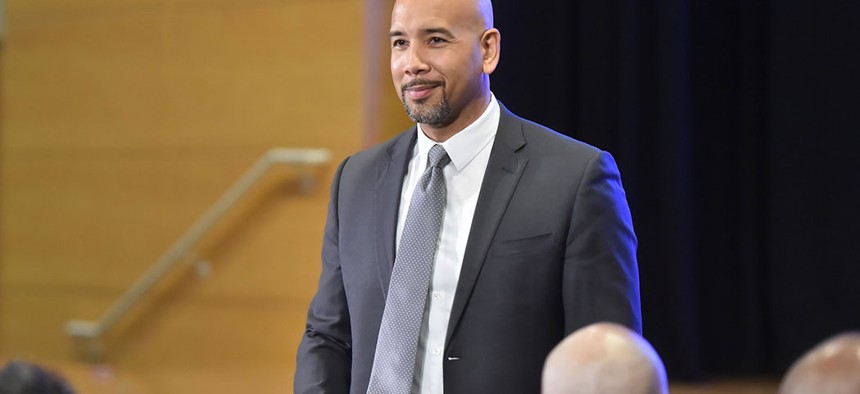 Forget "Werewolves of London," we've got coyotes of New York City. Every now and then there's a coyote sighting in Central Park, and one pictured this week briefly captivated the city. They're not especially uncommon at the park, but a sighting always causes a hubbub. The NYPD advised parkgoers to appreciate the coyote – dubbed "Wile E." – from a distance and to protect their pets. Police also noted that the coyote had no Acme products, which is likely a relief for the New York Road Runners. Keep reading for the rest of this week's big news. Meep meep!
Ruben Diaz Jr. bows out
The race for New York City mayor is still well over a year away, but that doesn't mean it's not too soon for some big shake-ups. Bronx Borough President Ruben Diaz Jr., who until now had been one of the four expected front-runners, announced that he is dropping out of the race. Recent fundraising numbers had shown that Diaz was falling way behind City Council Speaker Corey Johnson, city Comptroller Scott Stringer and Brooklyn Borough President Eric Adams, who would have been his main competitors. But Diaz said he had been considering dropping out for some time and was already winding down his fundraising efforts. He had a unique impediment compared with the other candidates: his socially conservative father, City Councilman Rubén Díaz Sr. The elder Díaz has consistently made news for homophobic or other inflammatory remarks and has been censured by the City Council.
Western New York GOP places its hopes in Chris Jacobs
The Republican county leaders of New York's 27th Congressional District have named state Sen. Chris Jacobs as the GOP candidate in the special election to replace former Rep. Chris Collins. He also received the backing of the Independence Party, although the Conservative Party decided not to endorse in this election. Jacobs will face Democrat Nate McMurray on Election Day, which is expected to take place in April. But this doesn't mean that everything will be smooth sailing for Jacobs. Whether or not he defeats McMurray in the special election, he's still likely to face a contentious primary in June. Several other Republicans had been vying for Collins' seat – including fellow state Sen. Robert Ortt – who have either stated that they'll run against Jacobs, or have left the door open to a primary challenge.
Panel recommends New York City property tax overhaul
After some delays, a commission convened in 2018 by New York City Mayor Bill de Blasio and City Council Speaker Corey Johnson has released its preliminary report on how to update the city's property tax system. Under the current system, which is based on outdated assessed property values, low- and middle-income homeowners pay often disproportionately more in property taxes than those who own expensive brownstones. De Blasio had originally said the report would be out by the end of last year and has been promising to reform the system since his first term. The report offers 10 main recommendations to shift the tax burden toward wealthier homeowners, including updating city assessments to reflect full market value. The changes, which would need to be approved by the state Legislature and Gov. Andrew Cuomo, are expected to affect 90% of the city's homeowners and would keep overall property tax revenue flat.
Lawmakers livid over Cuomo's Medicaid plan
State legislators grilled state health officials over Cuomo's proposal to reduce Medicaid spending. New York faces a $6.1 billion budget deficit, of which $4 billion comes from Medicaid costs, so Cuomo has proposed a new Medicaid Redesign Team to find $2.5 billion in savings. He assembled a similar commission to find savings during his first term to help address the $10 billion deficit he faced his first year in office. Lawmakers lambasted the proposal, saying at a budget hearing that they did not like entrusting the task to an outside panel and bemoaned its timeline; the commission won't deliver its report until shortly before the budget is due.
Taxi task force proposes recommendations
The Taxi Medallion Task Force, formed after an investigation by The New York Times revealed predatory lending practices and inaction by the city left thousands of cab drivers drowning in debt, has released its proposals to aid struggling medallion owners. One big recommendation is for the city go to "mission-driven" investors and others in the private sector to create a fund to bail out taxi drivers, rather than using taxpayer money to do so. It also had proposals to make yellow cabs more competitive with companies like Lyft and Uber by creating a yellow cab ride-hailing app and permitting them to use surge pricing during peak hours.
Prosecutorial misconduct commission declared unconstitutional
A judge ruled against the Cuomo administration, declaring that a commission on prosecutorial misconduct the governor established last year is unconstitutional. The 11-person panel would have investigated potential unethical behavior by prosecutors in the state and imposed appropriate punishment. It also would have been the first commission of its kind in the nation. But the District Attorneys Association of the State of New York strongly opposed the creation of the commission and sued to block it.
Powered By
NEXT STORY: Developers won't like Scott Stringer's new housing plan