Andrew Cuomo
The latest sign Trump has it in for New York
Why is a federal coastal flooding study really being cut?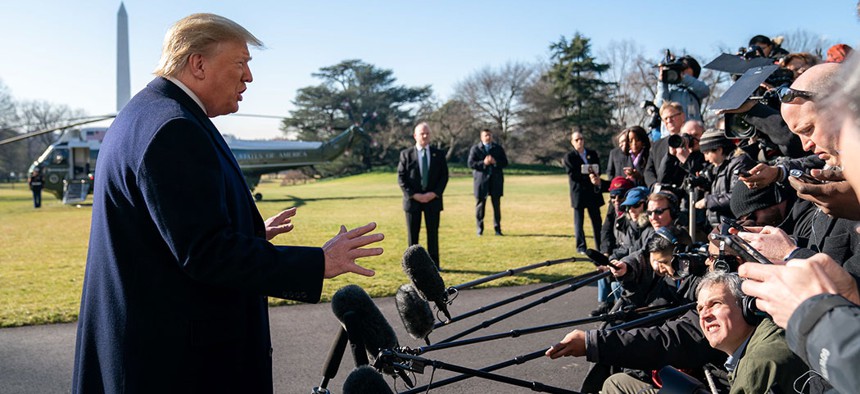 The Army Corps of Engineers study investigating potential coastal flooding protections around New York City, despite being incomplete, came to an abrupt halt on Tuesday.
The Corps' New York office said that the project is "indefinitely postponed" due to an interruption in federal funding. One senior administration official told The New York Times that the study came to an end because it was costly and lacked a clear focus.
The study's unexpected disruption, much like the Department of Homeland Security's recent decision to block New Yorkers from applying to Trusted Traveller programs, could be interpreted as a retaliative act on the part of President Donald Trump, who has developed an increasinglycombative attitude toward his home state. 
On Jan. 18, Trump fired off a tweet mocking the state's plans to build a "sea wall" – proposed by the Corps' study – to protect it from future storms, calling the plans, "costly, foolish & environmentally unfriendly." Now, a little over a month since Trump criticized the state's plans, the study has been postponed.
A massive 200 Billion Dollar Sea Wall, built around New York to protect it from rare storms, is a costly, foolish & environmentally unfriendly idea that, when needed, probably won't work anyway. It will also look terrible. Sorry, you'll just have to get your mops & buckets ready!

— Donald J. Trump (@realDonaldTrump) January 18, 2020
However, the president does not have the power to end a Corps project on his own. Funding for Corps projects are determined by Congress and the Corps, Department of Defense and the White House Office of Management and Budget collectively determine the project's work plan. 
In early February, the DHS decided to barr the state's residents from applying to the Trusted Traveller programs that allow travelers to use expedited security lanes at airports. The department explained that the state's passage of the Green Light Bill – which allows undocumented immigrants to get driver's licenses – was why New Yorkers were no longer eligible for the program. The DHS justified its decision by saying that it needs to have access to the state's Department of Motor Vehicles records to ensure applicants meet the programs' eligibility requirements but the new legislation prevents federal authorities from accessing them. Critics of this measure, however, pointed out that proof of legal status such as a passport or a green card is required to apply for these programs, so it's unlikely that an undocumented immigrant would apply.
The move was immediately seen as a retaliative act by Gov. Andrew Cuomo, considering the Trump administration had openly opposed the bill before it went into effect and has frequently chastised sanctuary cities like New York. Regardless, Cuomo said that the DHS would be granted access to the DMV records of applicants provided it lifted the ban. The governor even met with the president to discuss the issue, though nothing immediately came of their get-together.
Ahead of his meeting with Cuomo, Trump implied that New Yorkers would gain access to the Trusted Traveller programs again if the state dropped its lawsuits against him. "New York must stop all of its unnecessary lawsuits & harassment, start cleaning itself up, and lowering taxes. Build relationships, but don't bring Fredo!" Trump said, referring to the governor's brother, who hosts a CNN show, by a derogatory nickname that the Cuomos consider an anti-Italian slur. 
I'm seeing Governor Cuomo today at The White House. He must understand that National Security far exceeds politics. New York must stop all of its unnecessary lawsuits & harrassment, start cleaning itself up, and lowering taxes. Build relationships, but don't bring Fredo!

— Donald J. Trump (@realDonaldTrump) February 13, 2020
In 2018, it was reported that Trump encouraged Republicans to withdraw funding for the city's Gateway Tunnel project, which would create a new railway beneath the Hudson River connecting the city to Newark, New Jersey. The president's efforts to thwart funding for the project demonstrated his proclivity for tampering with federal finances based on his own political grievances. But even the president's fiercest supporters took issue with his plans to hold up the project's finances.
"If the news reports are accurate that he wants to kill it or hold it because he's mad at Chuck Schumer, that makes no sense," Republican Rep. Peter King told the Times in 2018. "This is essential to the national economy as well as the regional economy."
As the state plans to move forward with the implementation of its historic congestion pricing plan in the city next year, there are growing concerns that Trump could effectively prevent it from happening. The plan requires approval from the Federal Highway Administration before it can go into effect next year. Given the Trump administration's penchant for punitively barring the state from programs and funding, it's possible the plan could be held up. "The federal approval, frankly, we just assumed it was going to be almost pro forma," Cuomo said during a news conference last week. "They're now using that opportunity to stop congestion pricing."

And on Wednesday, a federal appeals court ruled that the Department of Justice can withhold federal funding from sanctuary cities that do not provide information regarding undocumented immigrants or jail access to them. The new ruling could spell even more trouble for the state, which has aggressively pushed back against the Trump administration's immigration policies, in the future.
Powered By
NEXT STORY: Bloomberg plays defense again in second debate