Why David Dinkins and Crystal Peoples-Stokes endorsed Bloomberg
They have more beliefs, or interests, in common than it may appear.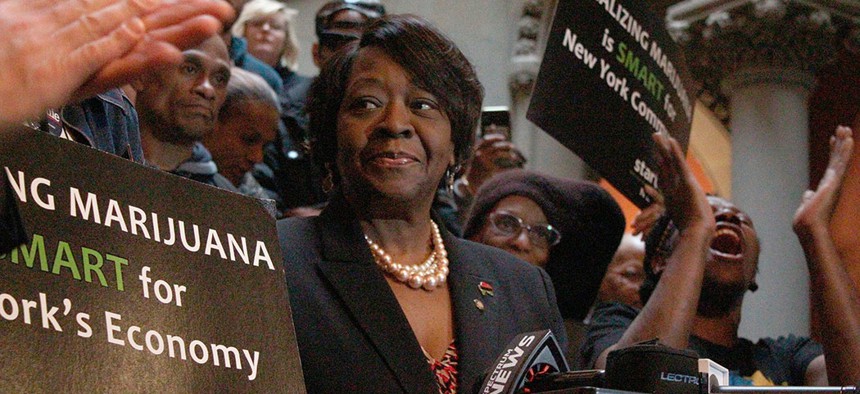 Former New York City Mayor Michael Bloomberg is racking up presidential endorsements from prominent black politicians, but they mostly have come from outside his home state. That changed a bit this week, when he was backed by former New York City Mayor David Dinkins and state Assembly Majority Leader Crystal Peoples-Stokes. 
On their surface, the announcements seem to be at odds with Dinkins' legacy as his city's first black mayor and People-Stokes legislative goals including marijuana legalization. "The last three years have made me not surprised at anything in politics," Baruch College political science Doug Muzzio said. "But I was surprised." 
But political observers, including Muzzio, say that the moves actually make sense when one looks at Dinkins' and Peoples-Stokes' full record. 
Dinkins' endorsement could be seen as something of a surprise given Bloomberg's history of ramping up aggressive policing measures that disproportionately targeted black New Yorkers, such as stop-and-frisk and low-level marijuana arrests. Dinkins also mentored current-Mayor Bill de Blasio, a staunch progressive who endorsed U.S. Sen. Bernie Sanders for president and has long been vocally critical of Bloomberg.
At the same time, Muzzio said Dinkins' Bloomberg endorsement fit with the billionaire's widespread support among African Americans, including black mayors such as Rochester Mayor Lovely Warren, San Francisco's London Breed and Philadelphia's Michael Nutter. Many black voters are looking for someone they believe has the best shot at defeating President Donald Trump and often back more moderate candidates. Mayors in general may also like the idea of someone for the first time ever ascending directly to the White House from City Hall, and Bloomberg is widely respected among current and former American mayors for his generally competent and successful management of the nation's largest city. 
Muzzio also pointed out that Dinkins never explicitly criticized Bloomberg for his administration's use of stop-and-frisk. In a 2015 interview with City & State, Dinkins even suggested that he would have utilized stop-and-frisk during his tenure, if "done appropriately." 
Dinkins came into office in 1990, when crime in New York City was soaring and murder rates were near an all-time high. Although his successor Rudolph Giuliani is often associated with a dramatic decrease in crime, the drop began under Dinkins with programs like "Safe Streets, Safe City," which deployed thousands of additional police officers. He governed during a very different time in New York history than de Blasio, who worked both on Dinkins' campaign and as an aide in his administration.
"It was complicated," political consultant Basil Smikle – who once worked for Bloomberg – said of more aggressive policing. "Older African Americans remember how bad the streets were in the '80s. So there was a need to police more aggressively, but we've also seen the downside from that over time." Smikle suggested that Dinkins recognizes an "earnestness" in Bloomberg trying to run a complex city that Dinkins can relate to. 
Both Muzzio and Smikle also said that Bloomberg opened his doors to Dinkins after he took office and showed a degree of respect and deference that Dinkins never saw from his immediate successor Giuliani, who effectively locked him out. "I think that initial gesture went a long way in smoothing relations not just with Dinkins himself, but black leaders across the city," Smikle said. He added that Bloomberg was more engaged with black civic leaders than Giuliani, whom he described as "antagonistic" towards them. In the years since, Dinkins has described Bloomberg as "a pretty good mayor" and "a good guy," and has largely avoided any major critiques of Bloomberg's tenure. 
In a statement announcing his endorsement, Dinkins called Bloomberg "a good friend and … a great mayor." Dinkins also noted that Bloomberg sought out his advice while in office.
De Blasio does not share his former boss' opinion of Bloomberg. When asked by The Wall Street Journal's Katie Honan about the endorsement on Thursday, he simply said "I disagree."
Peoples-Stokes endorsement, however, can't be quite as easily explained through a courteous relationship and a shared respect that comes from running New York City during turbulent times. Hailing from the far-off land of Buffalo, Peoples-Stokes is one of the state's strongest supporters of full marijuana legalization, while Bloomberg supports only decriminalization. In addition to stop-and-frisk policies broadly that one would think would turn off much black support, Bloomberg also presided over a record number of low-level pot arrests. 
One also might expect a leader of a Democratic caucus in the state Legislature to resent the millions in donations Bloomberg gave to state Senate Republicans to help them keep their bare majority. 
Buffalo State College economics professor and political pundit Bruce Fisher suggested that Peoples-Stokes' endorsement is likely based on "practical politics." He said that her decision fits a pattern in regards to the Bloomberg campaign's broader national strategy. "Part of their message is Bloomberg is serious about helping candidates up and down the ballot this year," Fisher said. "The only thing I can think is that in her role as the Assembly majority leader, if somebody is coming in and saying, 'I'm going to run a presidential campaign and I'm gonna be helpful to all of the people that you're putting forward,' that is like music to everybody's years."
While Peoples-Stokes and Bloomberg may differ on some policies, she may be hedging her bets by choosing to back the candidate she thinks is most likely to win who also has the money to support down-ballot races, even if the Democratic majority in the Assembly is in no danger. "She may not need the money for her reelection, she may not need the money for Assembly candidates, but she sure as heck would benefit politically from being associated with a winner who can help everybody else," Fisher said.
Peoples-Stokes pushed back on the idea that she was swayed by promises of campaign cash. "I don't even know who his political people are that handle that angle of it," Peoples-Stokes told City & State. She said that she felt Bloomberg has the best chance of beating President Donald Trump and appealing to moderates whom she believes make up most of America. "I do know that this gentleman has vast wealth… but his vast wealth has nothing to do with my decision to endorse him."
Update: This story has been updated with a comment from Assembly Majority Leader Crystal Peoples-Stokes.