Andrew Cuomo
Byford said Cuomo made his job 'intolerable'
The former New York City Transit chief explained how the governor's micromanaging led him to resign.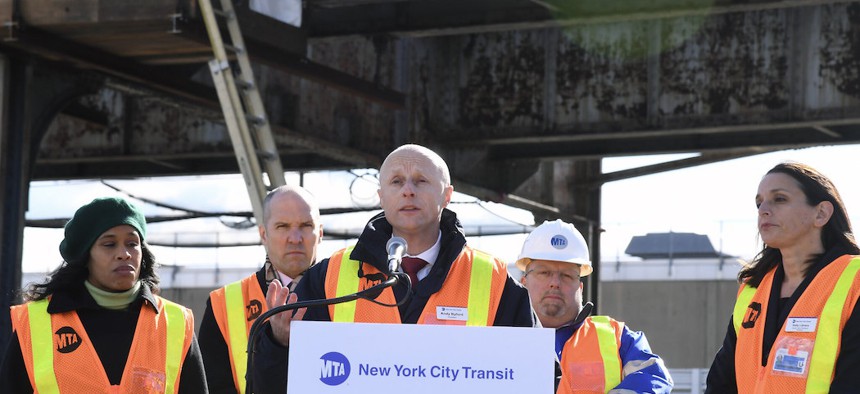 On Friday, former New York City Transit President Andy Byford finally dished on why he decided to leave his post during an interview with CBS New York's Marcia Kramer. The so-called Train Daddy said that he felt "undermined" by Gov. Andrew Cuomo, who he said was giving orders about how to run the subways and buses.
"Towards the end of my tenure, I felt that the job had become somewhat intolerable," Byford said.
Byford announced his resignation on Jan. 23 and worked his last day at the agency on Feb. 21. He had reportedly submitted his resignation letter in October, which many speculated had to do with his bumpy relationship with the governor, but ultimately withdrew the letter and decided to stay on.
Among Byford's accomplishments, he oversaw a sharp increase in subway on-time performance. Last year, more than 80% of subway trains were on-time during the week, up from 67.1% in 2018. He also unveiled his sweeping Fast Forward plan to modernize the subway system over the next decade by updating its faulty signals, creating a new payment system, and adding more elevators and subway cars. Byford hired Alex Elegudin to be the first New York City Transit accessibility chief, which helped elevate issues around people with disabilities being able to more easily use public transit.
Before coming to New York City in 2018, Byford was the CEO of the Toronto Transit Commission, where he helped modernize the city's transit system.
Byford told Kramer, however, that he felt progressively "excluded" from meetings about running New York City Transit. "It got to a point where it was obvious that even the dumbed-down role, the reduced role that I found myself in, even that I was not going to be allowed to get on with what needed to be done," Byford said. "It's the governor's prerogative to see whomever he wants, I get that, but I just would not accept the fact that my people were being yelled at, they were being given direction, and I was deliberately excluded from those meetings. That's just not right."
Byford added that he feels it is "actually dangerous" to have people who are not "professionally qualified" – such as the governor – giving operational directions. "I had to (make up my mind), as a person with very strong principles, can I accept … a situation where I'm in a safety-critical role and the people are being given direction on operational matters behind my back," he said.
Cuomo denied Byford's claims that he undermined the transit chief when asked at a coronavirus press conference. The governor said that he had only worked with Byford's "higher-ups," like Metropolitan Transportation Authority Chairman and CEO Patrick Foye. "If anything, he was overmined because I dealt with his bosses."