New York City
Can NYC expect a "shelter in place" order?
It's highly unlikely – at the moment.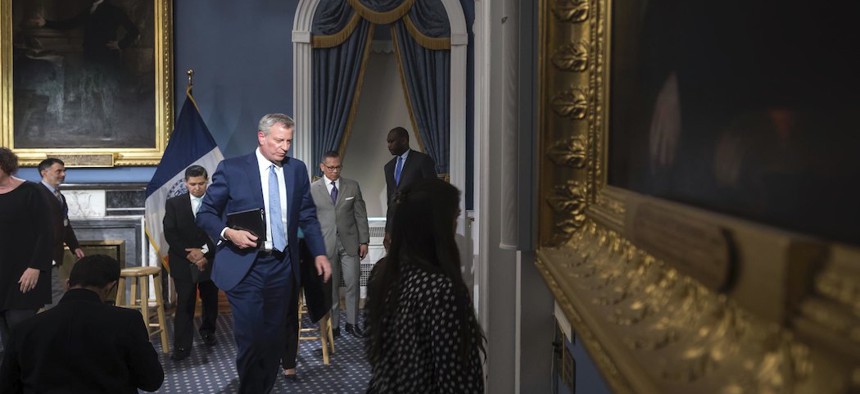 On Tuesday afternoon, New York City Mayor Bill de Blasio told reporters that city residents should prepare themselves for a "shelter in place" order within the next 48 hours. The order could've included only being allowed to leave your home for necessary trips, like getting groceries or going to the doctor, or limiting commuting to essential workers. It would be a much more drastic approach to curbing the spread of COVID-19 in the city, where schools, museums, gyms and bars have already been closed.
"New Yorkers should be prepared right now for the possibility of a shelter in place order," de Blasio said during a press conference. "It's gotten to the point where a decision has to be made very soon."
The mayor said that the consideration of this extreme measure came after the city's number of confirmed COVID-19 cases rose to 814 on Tuesday. By Wednesday afternoon that number climbed up to 1,339.
However, Gov. Andrew Cuomo quickly responded to de Blasio's announcement during an appearance on NY1 on Tuesday, saying that only he could enact such an order and that he is not considering that option at this time. "There's not going to be any quarantines where we contain people in an area or block people from an area," Cuomo said. "There's not going to be any 'you must stay in your house' rule, because again that will just cause people to go somewhere else and that would be counterproductive."
It's true that only Cuomo has the ability to enact a shelter in place order. Thanks to legislation passed on March 3 that expanded his executive powers, Cuomo can make any directive, or order, that he wants during the current state of emergency. The bill's language states that Cuomo can override any local law, ordinance, order, rule or regulation that he deems necessary.
On Wednesday morning, Cuomo reiterated that the state will not be approving any shelter in place orders during an appearance on The New York Times' "The Daily" podcast. "That is not going to happen, shelter in place, for New York City," the governor said. "For any city or county to take an emergency action, the state has to approve it. And I wouldn't approve shelter in place. That scares people, right? Quarantine in place – you can't leave your home. The fear, the panic, is a bigger problem than the virus."
On Wednesday morning, de Blasio also acknowledged that the state would have the final say in the matter, during an appearance on the radio show "Ebro in the Morning." However, the mayor also said, "We have to take shelter in place very seriously as an option because this disease is bearing down on us."
Confining the city's 8.6 million residents to their homes would be quite an undertaking, and it's unclear what restrictions would be placed on the city's residents as of now. However, the city and state can look to San Francisco, which announced a shelter in place order on Monday, as a model of what they could do in the future.
San Francisco's order states that its residents should not leave their homes unless it is absolutely essential. This includes outings to pick up groceries, see a doctor, pick up medicine or other necessary errands. However, San Franciscans are allowed to go outside for exercise as long as they stay 6 feet away from other people. Residents that work for the city, as well as health care workers, will be able to go to work as normal.
"With this order in place, you will still be able to get food, care for relatives, run necessary errands and conduct the essential parts of your life," Dr. Grant Colfax, director of the San Francisco Department of Public Health said. "You will still be able to walk your dog or go on a hike alone or with someone you live with or even with another person as long as you keep 6 feet between you."
Nonessential businesses, such as bars, gyms and retail shops, will also be forced to close, and restaurants will only be able to offer takeout or delivery. And any violation of the order could result in a misdemeanor charge.
Powered By
NEXT STORY: Is NYC destined to become the next Milan?