Coronavirus
Cuomo at war
Coronavirus has the governor fighting like never before. How will it end?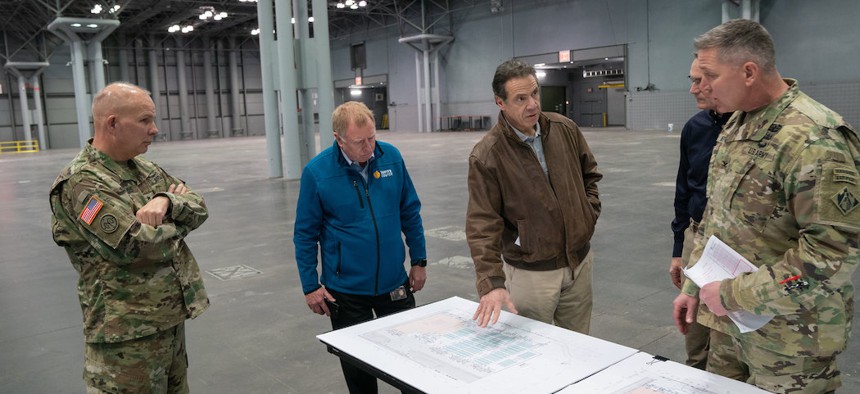 On a recent afternoon inside the Jacob K. Javits Convention Center, Gov. Andrew Cuomo inspected a bulwark in his self-declared war on the coronavirus. Two major generals and a colonel flanked Cuomo as he approached a lectern in his field khakis and a polo shirt. More than 150 pallets' worth of critical medical supplies had been assembled. A squad of soldiers from the National Guard stood by. Millions tuned in to watch the live briefing. 
Persuading President Donald Trump to dispatch the Army Corps of Engineers to build four new temporary hospitals in the massive Manhattan convention center had not been easy, but it was now underway. "You do what you have to do," Cuomo said. "That's the New York way. That's the American way." Meanwhile, #PresidentCuomo was trending on Twitter.
Cuomo returned to Javits the following day with another message for Trump: The situation is dire, and people will die without more supplies from the federal government. "You want a pat on the back for sending 400 ventilators?" Cuomo asked. "What are we going to do with 400 ventilators when we need 30,000 ventilators?" Trump, he said, faced two choices: Force private industry to make them, or tap the federal government's emergency stockpiles. "The president says it's a war," Cuomo said. "Well, then act like it's a war." 
There are no bombs or bullets flying, but with the death toll from the coronavirus rising, the three-term governor is certainly following his own advice. A state helicopter transports him around the state by day. He issues executive orders by night. And every midday he plays comforter in chief to the masses, his daily briefings a modern-day update on President Franklin Delano Roosevelt's famous fireside chats. 
"The president says it's a war. Well, then act like it's a war."
"This is a war," Cuomo said in mid-March. "It's a long-term war." He has hammered home the dire need for more supplies, drawing an analogy between the missiles produced during World War II and the ventilators badly needed for additional intensive care units. "We have to make those missiles, we have to make those ventilators, get them made, and that's what the president's talking about," Cuomo said. "But the question is, how will we manage it now? How will we operationalize and mobilize, and that's why the federal government is going to be key."
Last week, Cuomo invoked World War II again, this time seeking to reassure his fellow Americans. "They talk about the greatest generation, the generation that survived World War II," he said. "Dealing with hardship actually makes you stronger. Life on the individual level, on the collective level, on the social level. Life is not about avoiding challenges. ... And then life becomes about overcoming those challenges. That's what life is about. And that's what this country is about." 
The governor, who has exhorted retired nurses to "enlist," has also likened health care workers to troops on the front lines. "Can you imagine the nurses who leave their homes in the morning, who kiss their children goodbye, go to a hospital, put on gowns, deal with people who have the coronavirus?" Cuomo asked. "They're thinking all day long, oh, my God, I hope I don't get this. Oh, my God, I hope I don't get this and bring it home to my children. You want to talk about extraordinary individuals – extraordinary."
Famous as a micromanager with a domineering command over state politics, Cuomo in recent weeks has wrangled emergency power from the state Legislature, prodded Trump into authorizing the state to expand its testing for the virus and secured some federal help in boosting the capacity of a health care system straining to meet rising demand. And while COVID-19 cases are expected to hit a peak in coming days, Cuomo is simultaneously waging battles on other fronts – finalizing a state budget with a multibillion-dollar shortfall that is growing by the day, and seeking to cushion the blow to New Yorkers hammered by a severe economic crisis. 
"We have to make those missiles, we have to make those ventilators."
In some ways, this is all a well-trodden path for Cuomo, who has performed the political choreography of managing crises – floods, blizzards, hurricanes, terrorist attacks, Ebola – throughout his time in state and federal government. Only this time, the stakes are far higher and the spotlight is much brighter. And so far, taking on the trappings of a military leader seems to be working. While two of his chief political rivals, Trump and New York City Mayor Bill de Blasio, spent weeks trying to downplay the threat of the deadly virus, Cuomo has won widespread praise for his forceful response.
Prevailing in a life and death struggle is hard enough, but doing it in a way that translates into political success is not easy. If there's anything to all those #PresidentCuomo and #CuomoForPresident tweets, it could make him a formidable early frontrunner for the White House in another four or eight years (or, as some suggest, even sooner). WAMC radio host Alan Chartock asked Cuomo last week if his longtime denials of interest were "Shermanesque." Would he not run if nominated, nor serve if elected? "I'm not going to run for president," Cuomo replied. "I don't want to be vice president. I want to be the best governor I can be and I want to make a meaningful difference in this state. That's my ambition."
A number of military generals or war heroes – including George Washington, Andrew Jackson, Ulysses S. Grant, Theodore Roosevelt (who was elected New York governor after charging up San Juan Hill) and Dwight D. Eisenhower – went on to become president. For every Eisenhower and Grant, however, there are many more Douglas MacArthurs, George McClellans, John Frémonts and Wesley Clarks whose political ambitions fell short.
Closer to home, the careers of former New York City Mayor Rudy Giuliani and former New Jersey Gov. Chris Christie highlight how a major crisis can make a politician a national figure overnight. Like Cuomo, neither one was actually a military leader. Both men enjoyed immense popularity, but squandered it with a lack of effective follow-up, according to Bruce Gyory, an adjunct professor of political science at the University at Albany. "You can't coast on being America's mayor from 9/11 or America's governor from Sandy and then not follow up on other things," Gyory said. The Bridgegate scandal doomed Christie, while Giuliani's 2008 presidential bid fizzled and his questionable maneuvers on behalf of Trump left his public reputation in shambles.
While Cuomo has long had an affinity for FDR, another analogy can be drawn to Roosevelt's predecessor, Herbert Hoover. A trained engineer, Hoover first found fame as the head of a successful food program that saved nine million Europeans from starvation during World War I. "He scolded, threatened, and out-bullied every human obstacle," one contemporary wrote of his efforts. Presidential chatter followed. "Hoover is certainly a wonder," Roosevelt himself wrote in 1920. "I wish I could make him President of the United States. There could not be a better one." Twelve years later, in the midst of the Great Depression, people were throwing tomatoes at Hoover, and Roosevelt won the presidency in a landslide. A lot can change in politics, especially when the stock market crashes and millions of lives are in danger.
As for FDR, there are some parallels between the crisis that he faced in the early days of the Great Depression when he was still governor of New York and what Cuomo confronts today. The economy sputtered. Unemployment shot up. The incumbent president struggled to inspire confidence across the political spectrum. Cuomo is not waging a war in the literal sense. Aside from the limited involvement of the National Guard and the U.S. military, he is mostly leaning on the state government to get things done – just like FDR nearly a century ago. 
Cuomo is also not the first politician to stretch the meaning of the word "war." The appeal of a martial response is obvious. The pandemic is an emergency threatening the lives of millions of people in New York and across the country. Injecting some rhetorical urgency can make the difference between things getting done, or not. "Words matter," Cuomo said while describing the battle on the homefront in mid-March. "We're fighting the virus and we're fighting fear and panic," he said on the Today Show. But wars are hard to win. Just ask Lyndon B. Johnson, who lost his wars against poverty and communists alike.
Unlike many past leaders, Cuomo has stated an achievable aim in his war against the virus. Slowing the rate of infections has been a key tactic, a point Cuomo makes repeatedly. Throughout his first month as a wartime governor, that message has increasingly won Cuomo more national exposure at what appears to be a crucial moment in American history. 
The economy is tanking. Many Americans have hunkered down in their homes in fear of a deadly virus. Trump's reelection is in doubt. The presumptive Democratic nominee – former Vice President Joe Biden – has largely dropped out of the public eye, while Cuomo is popping up on national television multiple times a day. All the while, even his critics agree that the notoriously relentless governor has not changed much. As he told his brother, Chris Cuomo, on CNN on a recent night, "I'm doing what I do, and I've been doing it the same way."