Michael Bloomberg
Disease and dropouts
Rounding up the week's political news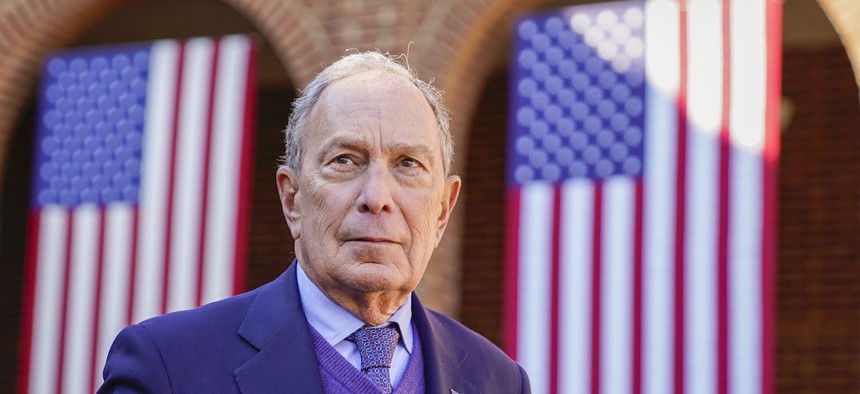 There's been a lot of craziness on display in response to the new coronavirus in New York. Hand sanitizer is sold out everywhere, people are stocking up on bottled water for some reason and at least one guy thinks spraying Febreze at a random Asian man on the subway is going to keep COVID-19 at bay. One of the craziest things perhaps is a major televangelist selling something called Silver Solution – consumption of which the CDC warns could cause serious harm – as a cure for the new coronavirus. This apparently caught the attention of state Attorney General Letitia James, who has actually issued a cease-and-desist letter to get him to stop. Remember, no need for snake oil, just wash your hands and quit touching your face so much. For more on the new coronavirus, and the rest of the week's news, keep reading.
Michael Bloomberg drops out
Several months after he announced his bid for president, former New York City Mayor Michael Bloomberg ended his campaign and endorsed former Vice President Joe Biden. He spent more than $500 million on ads, the most ever spent by a candidate during a primary, that flooded the media markets of Super Tuesday states, the first places his name appeared on the ballot. But when it was do-or-die time, Bloomberg fell short. He performed poorly on Super Tuesday, only winning the caucuses in American Samoa and placing no higher than third in any of the 14 states that voted. All told, according to The Associated Press Bloomberg now has 60 delegates – more than any other New York City mayor in history, but nowhere near what he had been hoping for. In an emotional address to his supporters, Bloomberg said that while he was ending his campaign, he will still do whatever he could to ensure that President Donald Trump doesn't get reelected.
Schumer gets reprimanded
U.S. Senate Minority Leader Charles Schumer received a rare rebuke from Chief Justice John Roberts and backlash from Republicans after making controversial comments during an abortion rights rally. Schumer said that U.S. Supreme Court Justices Brett Kavanaugh and Neil Gorsuch, President Donald Trump's two appointees to the court, would "pay the price" for making decisions that would limit abortion rights. Roberts called Schumer's "threatening statement" both "inappropriate" and "dangerous." U.S. Senate Majority Leader Mitch McConnell also condemned Schumer's remarks, calling on him to apologize, while Trump tweeted that Schumer "brought great danger" to the Supreme Court steps. For his part, Schumer expressed regret for his poor choice of words, insisting that he was not threatening Kavanaugh and Gorsuch, but also defended the passion with which he spoke.
Coronavirus continues to spread
The state has confirmed roughly three dozen people have been diagnosed with the new coronavirus, COVID-19. The majority of cases are in Westchester County, with many connected to a man who had previously tested positive, including members of his family and a neighbor who drove him to the hospital. There have also been cases reported in New York City and Long Island. The outbreak has led to several public school districts to temporarily close in Westchester County, as well as some private schools, as precautions. State University of New York and City University of New York students studying abroad in affected countries like China, Italy and Iran have also been ordered to come back, while the future study abroad trips to those countries have been canceled.
Gov. Andrew Cuomo last Tuesday signed a bill authorizing $40 million to fight the spread of the new coronavirus. The bill, which quickly passed in the state Legislature, also expands Cuomo's emergency powers. It permits him to suspend any state or local law and to issue any directive through executive order. Congress also passed an $8.3 billion funding to aid in the coronavirus response, including $35 million for New York. However, Cuomo said that sum is insufficient.
New York City sees a spike in crime
For the second month in a row, the New York City Police Department recorded a sharp increase in major crimes, and officials are placing the blame squarely on bail reform. Overall, crime is up 21% so far this year compared to the same period last year. The NYPD said that since the beginning of 2020, 482 people released without bail on felony charges were rearrested for 846 crimes. However, a coalition of public defenders allege that the NYPD is artificially inflating the crime stats by arresting more people who don't end up getting formally charged. According to the public defenders, the number of complaints on court dockets in the city has decreased over the past year, a fact that appears to be at odds with a supposed increase in crime.