Coronavirus
Is coronavirus de Blasio's Katrina?
The mayor seems to be leading New York City from behind.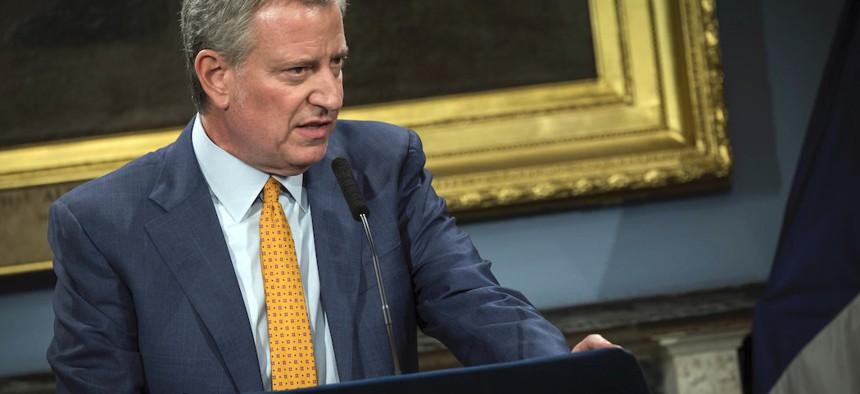 New York City Mayor Bill de Blasio spent the first Monday morning of a worldwide pandemic like he spends every other Monday morning – driving 11 miles to the Prospect Park YMCA for a leisurely workout. 
It was just the latest sign that de Blasio isn't taking the coronavirus outbreak nearly as seriously as public health experts say Americans should. While smaller cities less affected by the disease known as covid-19 were taking radical steps to contain the disease, de Blasio spent the last week leading from behind, only seeming to make decisions after public uproar reached a fever pitch.
"He has been slow to act, not realizing the seriousness of the situation," a former de Blasio staffer told City & State, on condition of anonymity to speak freely about a former boss. "His normal reluctance to offend important interest groups has proved catastrophic during an epidemic."
Current employees too, found themselves frustrated by de Blasio's mismanagement. The Daily News reported Monday that leadership at the New York City Department of Health and Mental Hygiene threatened to resign if the mayor wouldn't take a bolder approach. De Blasio denied the reports at a Monday press conference. "I know when somebody comes up to me and says 'I want to resign,'" he said. "That has not happened."
De Blasio's reluctance to take measures experts say are necessary to protect the city, such as closing schools and bars and restaurants, has drawn widespread criticism. In Italy, the authorities' same behaviors led to the explosion of cases and a public health infrastructure so overburdened that respirators are being rationed, with many of the elderly simply left to die. Italians have taken to airwaves and op-ed pages to warn Americans not to repeat their same mistakes. On March 11, former Italian Prime Minister Matteo Renzi went on CNN to say, "Italy wasted time and this was a mistake." 
Last week, many states that are smaller, less densely populated, and less affected by the coronavirus than the New York City region, including Maryland, Michigan, New Mexico, Ohio and Oregon, heeded the message and closed schools. Cities such as Los Angeles and Houston also closed their public schools. Yet de Blasio, who likes to play up his Italian heritage and his connection to Italy, didn't. Instead he emphasized the importance of giving parents the freedom to go to work, rather than stay at home with their kids. "That includes people we desperately need," he told CNN on Thursday. "Like first responders. Educators. Health-care professionals." And while the city and the state asked bars and restaurants to halve their capacity over the weekend, de Blasio still encouraged New Yorkers to go out. "I am not ready today at this hour to say, let's have a city with no bars, no restaurants, no rec centers, no libraries," he said Saturday.
Now former allies think his slow response and muddled messaging could cause deaths in the city. "By acting sooner and sooner, he could have saved lives. He didn't," the former staffer said. "'He is not a wartime mayor, and this is war."
As the crisis gathered momentum and de Blasio finally began to take actions he's been urged to do for days, it raises the question as to whether he will go down in the history books as a failure who cost lives because he was more worried about keeping New Yorkers spending money in bars for a few extra days.
"If you love your neighborhood bar, go there now," de Blasio said at a City Hall press conference Sunday evening. Merely hours later, de Blasio finally announced that all restaurants had to move to take-out only. Bars that didn't serve food would close, and movie theaters and all other entertainment venues must close too. The executive order would go into effect Tuesday at 9 a.m. 
That was a move that the other citywide elected officials had been encouraging for days, especially after the bars and restaurants were packed with business-as-usual over the weekend. Although – in the absence of mayoral action – bars and restaurants were under an order from Gov. Andrew Cuomo to reduce their capacity by 50 percent, social media reports indicated that the rule was widely flouted and the city took no enforcement action against violators. As one bargoer told Gothamist on Saturday night, ""I'm waiting for the government to tell me I should be more concerned, if I'm being honest."New York City Comptroller Scott Stringer, a leading mayoral candidate in 2021, said on Saturday morning that all non-essential businesses in the city should close. New York City Council Speaker Corey Johnson, another leading mayoral candidate echoed his call early on Saturday afternoon. New York City Public Advocate Jumaane Williams called for a massive shutdown on Sunday afternoon. 
De Blasio's former press secretary, Eric Phillips, jumped into crisis communications mode, tweeting Sunday morning that "Elected officials calling for things to 'shut down' when they don't have any responsibility/accountability for what that looks like or what comes after it don't move me much." Of course, making contingency plans so that things can be shut down, is part of what a far-sighted executive might have been doing since the virus was first discovered in January. 
The governor always seemed to be one step ahead of the mayor. Soon after de Blasio announced the shutdown of restaurants and bars and other businesses by 9 a.m. Tuesday, Cuomo announced that, actually, they would have to shut down by 8 p.m. Monday. And after a week of back-and-forth on whether to close schools, the governor pre-empted the mayor, and Cuomo announced the shutdown less than an hour before de Blasio did. 
De Blasio insisted it was his decision, saying Sunday, "That's me. Mayoral responsibility for city schools," but the decision only came after the threat of a lawsuit from the teachers' union, which was worried about its members' health. 
Of course, Cuomo shouldn't be given too much credit as a quick actor either. By the time the governor announced that all schools would shut down statewide on Monday, a host of other states already had done the same. And while Cuomo held a press conference with governors of New Jersey and Connecticut on Monday to discuss a regional response, the city of Hoboken, NJ, just across the Hudson River from Manhattan, announced Saturday it would shut down all bars, in what a public health expert called a "model" response. 
History looks back poorly on both the local New Orleans' government's response to Hurricane Katrina, and that of the federal government. While much could be said of President Donald Trump's lack of expediency in responding to coronavirus on the national level, de Blasio may be remembered for going to the gym.
That didn't seem to bother the mayor. "I'm very comfortable with what I did," de Blasio said nonchalantly at a press conference Monday. "They're all closing down today anyway."
But not even longtime friends could defend the mayor's visit to the YMCA. Rebecca Katz, a former top advisor to the mayor, called it "inexcusable and reckless." And BerlinRosen's Jonathan Rosen, one of the mayor's top allies, similarly broke ranks, tweeting Monday that it was "pathetic. Self-involved. Inexcusable."