Coronavirus
New York can't test enough people for coronavirus
The lack of testing risks worsening the pandemic.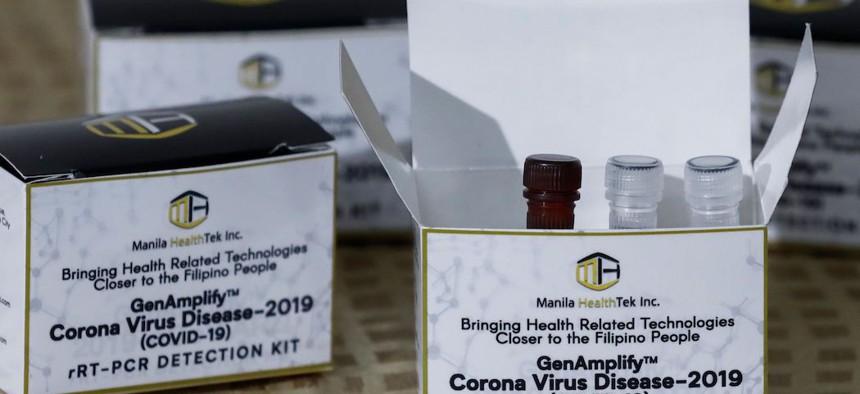 President Donald Trump has said that everyone who wants to get tested for the coronavirus can – but that's just not the case in New York.
Gov. Andrew Cuomo has said several times since the coronavirus outbreak began that he wants the state to process 1,000 tests per day but it hasn't been able to meet that goal yet. On Sunday, Cuomo slammed the federal Centers for Disease Control and Prevention for not giving private labs within the state the clearance to test for the virus. However, the governor announced on Wednesday that 28 private labs throughout the state will soon be able to test for the virus, increasing the state's testing capacity. At a press conference, Cuomo said that the state is "continuing to prioritize ramping up testing capacity because the more people you identify as having the virus, the better you can contain it."
New York City's public health laboratory is currently only able to process "samples for 60 people" each day, according to Dr. Oxiris Barbot, the city's health commissioner – though she hopes they'll soon be able to bump that number up to 100. Despite the city's limited testing capabilities, Mayor Bill de Blasio has been urging the city's residents to pursue testing as quickly as possible. "So, we want to keep telling parents, keep telling school personnel — get tested immediately," the mayor has said. "That is the ballgame. So, we're continuing to pump out that message."
However, those who suspect that they may have contracted the virus are being turned away from doctors and hospitals, The New York Times reports, as tests are being rationed for only the sickest and most vulnerable patients. "Given that we have now crossed into community spread, it's not a good use of scarce testing resources to test thousands of people who are asymptomatic just because they were in the same room of someone who tested positive," City Councilman Mark Levine told the Times.
Many individuals have probably already contracted the virus but are either asymptomatic or having mild symptoms, which means they don't necessarily meet the CDC's testing criteria. In order to qualify for the coronavirus test, individuals need to have either a fever, acute respiratory symptoms such as coughing or difficulty breathing, have been in contact with someone who has tested positive for the virus or have travelled to one of the most affected areas such as Italy, China, Iran, and so on.
But New York isn't the only state coming up against testing issues. Public health labs all over the country are concerned that they'll soon run out of chemicals and materials required to test for the virus. "When they do the retrospective on this one, they are going to say, 'Why did it take the United States so long to bring up the testing capacity?'" Cuomo said on the "TODAY" show, Wednesday. "China did something like 200,000 tests per day. South Korea did about 15,000 tests per day. The United States has only done about 5,000 tests to date."
Without testing people it's hard to know what's working and what isn't, as well as what measures should or need to be taken to prevent further spread of the virus, which is part of what makes testing paramount to fighting the virus.
South Korea has been especially proactive when it comes to testing and is currently testing around 20,000 people per day and has even launched drive-through testing areas to screen as many people as possible. South Korea's death rate is currently .07%. The U.S., has only tested about 3,800 people across the country to date and as of March 6 had a 6% death rate, which probably indicates that many Americans with coronavirus but less severe symptoms haven't been tested. Some suspect that South Korea's extensive testing has been key to keeping its death toll at a minimum.
"I think that early patient detection with accurate tests followed by isolation can lower the mortality rate and prevent the virus from spreading," Professor Gye Cheol Kwon, chairman of the Laboratory Medicine Foundation a genomic testing company, told the BBC. "To learn from the past (Middle East Respiratory syndrome outbreak in 2015) and prepare systems in advance… that might be the true power to overcome this new kind of disaster."