Coronavirus
NYC's hospitals are in dire straits
Without protective gear, ventilators and available beds, the city's hospitals are overrun with coronavirus patients and nearing their breaking points.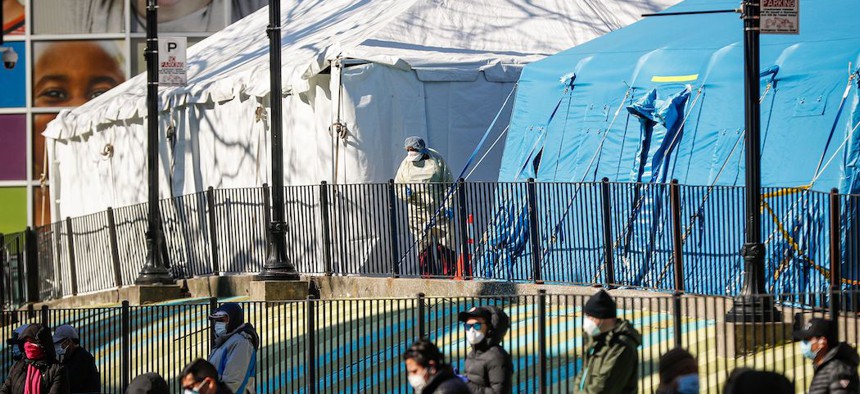 The coronavirus is ravaging New York City's hospitals. On Wednesday, the city had its highest number of 911 calls since 9/11. And daily reports have been detailing hospitals' rapid decline as they run out of supplies, beds and ventilators.
"It's apocalyptic," Dr. Ashley Bray, a general medicine resident at Elmhurst Hospital in Queens, told The New York Times. Queens has been the hardest-hit borough, with 7,362 cases as of Thursday evening.
A video, published by the Times on Wednesday, gave a harrowing glimpse inside the hospital, which has quickly become overwhelmed by COVID-19 patients. As Dr. Colleen Smith, the emergency room physician who recorded footage and narrated the video, shows the busy hospital, every bed is filled with patients who have contracted the virus and doctors are wearing protective gear head-to-toe. She explained that the emergency room typically sees 200 patients on average per day when busy but now the hospital is seeing upward of 400 patients a day. The hospital is operating at more than 125% of its usual capacity.
Smith also explained that ventilators are scarce, and it's likely that the hospital will soon need to beg for more, in addition to other supplies.
On Thursday evening, President Donald Trump told Sean Hannity on Fox News that he doesn't believe New York needs the number of ventilators that it's asking for, minimizing the severity of the state's COVID-19 outbreak. "I have a feeling that a lot of the numbers that are being said in some areas are just bigger than they're going to be," Trump said. "I don't believe you need 40,000 or 30,000 ventilators. You go into major hospitals sometimes, and they'll have two ventilators. And now all of a sudden they're saying, 'Can we order 30,000 ventilators?'"
Ventilators have become so scarce in the city that New York-Presbyterian Hospital requested – and was approved – to hook up two people to one ventilator, a controversial practice. The city has received 2,500 ventilators in the past week, according to New York City Mayor Bill de Blasio, but he expects that it will need 15,000 soon. On Thursday evening, the mayor announced that Elon Musk will be donating hundreds of ventilators to the city and state to combat the shortage. The city also sent 40 more ventilators to Elmhurst Hospital on Thursday, which is its fourth shipment of additional ventilators in the past 10 days.
Other hospital supplies, such as masks, gloves and other protective gear have also been in short supply, forcing medical workers to reuse what they have. On Friday, de Blasio announced that 8,000 N95 masks, 18,000 head covers and 2,000 booties would be sent to Elmhurst Hospital, though other hospitals are continuing to struggle.
On Wednesday, a photo of two nurses at Mount Sinai West in Manhattan wearing garbage bags as protective gear went viral, highlighting the desperate conditions for workers as hospitals run out of supplies like gowns.
The city has been signing contracts with manufacturers to provide hospitals with more supplies, such as face shields, medical gowns and hand sanitizer. It's estimated that 240,000 face shields will be produced for hospitals by the end of next week. People are even sewing and donating homemade masks to help protect medical workers.
Medical staffers are being stretched thin, working long hours several days in a row. Many medical workers have said that the lack of protective equipment and other supplies puts them at a greater risk of contracting COVID-19. A number of medical workers have already tested positive for the virus, though the exact number of medical workers who have COVID-19 is not known.
On Thursday, the city sent 56 new staff members to Elmhurst Hospital to tackle its increasing number of COVID-19 patients. New York University has offered to let its medical students graduate three months early to help the city's hospitals maintain their staffing levels. The city and state have even asked retired and private medical workers to volunteer at hospitals in desperate need of staff – so far 40,000 have answered Gov. Andrew Cuomo's call.
Elmhurst Hospital has even been using some of its younger fellows and residents because it's so short-staffed, leaving less experienced doctors and students to deal with complicated medical cases, The City reports. Nurses have also been asked to handle more intense cases than they were trained for. "The reason they're able to deal with the staffing is because they're able to throw a lot of trainees into the line of fire," an Elmhurst Hospital doctor told The City. "You're asking (medical) residents to assume care of tons of complex, intubated patients."
Hospital beds are also quickly being taken up by COVID-19 patients. Some patients have even died in the emergency room while waiting for a bed. "It's just like a tidal wave," an Elmhurst Hospital doctor told The City. "The only beds we've been able to free up are people who have died."
Hospitals, such as Mount Sinai Queens, have begun building triage units outside to create more space for patients.
Mount Sinai Queens started building a triage tent outside its emergency room Thursday.
The Astoria hospital is among seven Mount Sinai locations getting a tent, which will expand emergency department capacity for the coronavirus pandemic.https://t.co/g1KyJqG6l0 pic.twitter.com/NrEg0LDarH

— Maya Kaufman (@mayakauf) March 27, 2020
On Thursday, de Blasio announced that the city is aiming to triple the number of hospital beds it has to 60,000 by May. However, the city has been secretive about the number of intensive care unit beds it has currently or has already filled. It's estimated that the city has around 1,800 total ICU beds and 840 ICU patients. It's expected those remaining beds will be filled within the next couple days.
A Navy hospital ship, the USNS Comfort, which contains 1,000 hospital beds, is expected to arrive in the city on Monday. The Javits Center, which is being transformed into a field hospital with up to 2,000 beds, is expected to open on Monday. Even colleges across the city have begun to free up their dorms for the city to possibly use for patients.
The seemingly miles of beds being set up at Javits. It is absolutely unreal to see what the National Guard & first responders have put together here in just days. pic.twitter.com/dD0AQg4PO4

— Sarah Boxer (@Sarah_Boxer) March 27, 2020
The state has 53,000 total hospital beds but expects it will need 140,000 beds as the number of coronavirus cases peaks in about two weeks, according to Cuomo.
In the Times' video, Smith also said that Elmhurst Hospital had rented a refrigerated truck to store the bodies of deceased COVID-19 patients because they didn't have the space for them. Refrigerated units being used as makeshift morgues have also been spotted outside of Bellevue Hospital in Manhattan. Morgues all over the city have become overrun because of the high number of coronavirus-related deaths, and the city's morgues are close to reaching their capacity. Should the city run out of space for bodies, it would most likely ask for federal mortuary assistance, as it did after 9/11, which should provide hospitals with the space they need to house the deceased. However, the New York City Office of Chief Medical Examiner feels the city will not have problems with a lack of morgue space, as its morgues can house up to 900 bodies.
"We have the ability to expand pretty dramatically," Aja Worthy-Davis, a spokeswoman for the office, told Politico. "If you look back at what we did during 9/11, we have the ability to create mobile stations that allow us to house bodies if we run out of space."